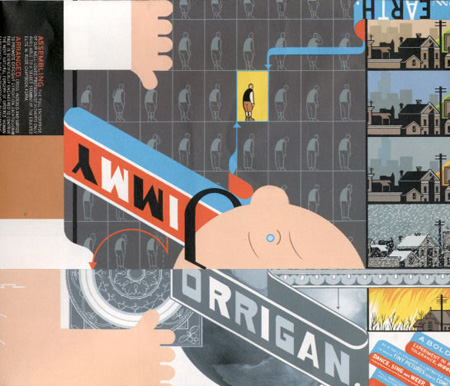 Chris Ware is my neighbor. I've never met him, but when I heard that the famous cartoonist recently moved from the city's North side out to our sylvanian, sub-urban borough, I was compelled to no longer put off a thoroughgoing perusal of his much lauded, frequently praised opus, Jimmy Corrigan: The Smartest Kid on Earth.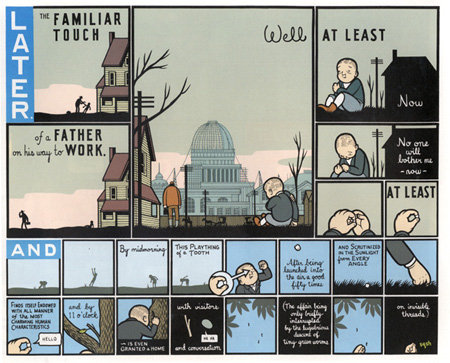 The book clearly deserves its every laudatory mention. Right from the beginning, its design inspires fetishistic attentions. Under the editorial eye of Chip Kidd, the cartoonist himself designed his book to have an odd little brick-like shape and heft. It's oblong pages lie flat, and a richly scented (soy-based?) ink has been laid onto heavy, uncoated, cream-color pages.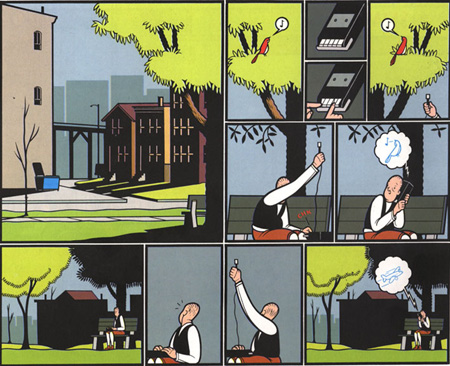 Jimmy Corrigan is an anthology of cartoons that appeared in serial form in the pages of Chicago's New City magazine and Ware's own ACME Novelty Library from 1993 to 1999. At the center of the book, evident upon the most cursory glance at its contents, is #1: an absolutely bleak view of the modern world, and #2: a nearly religious devotion to, and evangelical promotion of, the more civilized architecture of communication that Ware finds in old-timey music, vintage print advertising, illustrated booklets, pamphlets, gazettes, broadsheets and tracts of all kinds.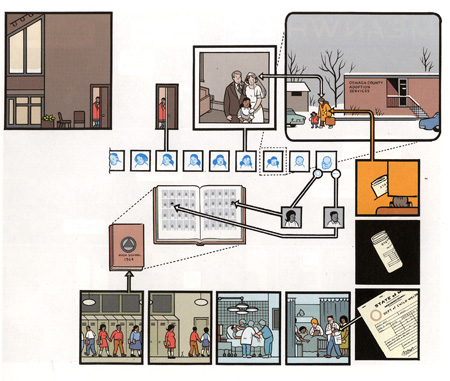 Finally, Mr. Ware's playmaking with the comic-strip medium is almost as much a subject as his characters are. His cartooning language has been called musical. Rythmically like rag-time, jazz, and visually like a player-piano roll. Ware's art finds it's substance in a brew of antipathy for the anonymous, inhumane products of capitalistic excess and mass production, and a heartfelt love for the hand-made, personal, emotionally dense surfaces of baroque, turn-of-the-century clutter.
Quite literally at the center of The Smartest Kid on Earth, we get the juxtaposition of a sprawling, gray contemporary mid-western town with Chicago's 1892 Columbian Exposition. And at the risk of belaboring things, I'll just point out that Ware has the elder Corrigan abandon his nine-year-old at the highest point atop the largest of the Exposition's colossial structures.
Formally, Jimmy Corrigan is conservative in its obvious foregrounding of its creator's hand. No two pages are similar in format, composition or use of narrative strategy. Among Ware's innovative use of narrative conceits are his employment of subjective, mumbling thought bubbles which do not advance our tale, but expand on it's color and timbre with glimpses into the nearly-mute narrator's equally non-linear thoughts. Also used are "piquant diversions" like tiny postcards from the desolate town of Waukosha, Michigan in 1983, tiny cut-out scenes, and dream sequences which deepen and divert even further the meandering perambulations of our story.
Upon visiting Chris Ware's home to conduct an interview, Daniel Raeburn made the insightful and terse observation that if anyone living among Ware's collection of banjos, books, antique toys, sheet music and long play record albums, "would never commit suicide." (Volume 1, No. 3, 1999, p 1)
Indeed this is the effect Jimmy Corrigan has on the reader. Because Ware doesn't avoid gazing into the unblinking depths of loneliness and emotional lassitude "even despair" the reader is able to experience the private, personal, home-body's spell cast by a penny's-worth of boxtop civilization. Drawn from knick-knacks and curios, little rythmic hand-lettered titles and intermittent curlyques, The Smartest Kid on Earth declines projecting outward either the instant gratification often served up in spectacular escape, or the familiar, grumpy identification with type-cast anti-heroes. Ware chooses instead to take the reader further in. Behind the mimetic illusion of his pictures is a redeeming, workmanlike art that employed by less perfectionistic hands would surely come across as nihilistic and hopeless.
Text: Matt Smith from Clean Magazine
Images courtesy of Chris Ware and Pantheon Graphic Novels
[Help wanted]
Inviting volunteer staff / pro bono for contribution and translation. Please
e-mail
to us.