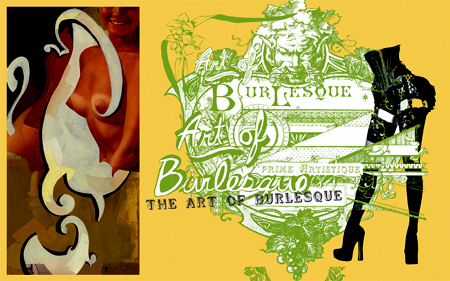 The Illustration Collective Repless Abandon teamed up with Fluffgirl Burlesque Society to hold a 2 night event showcasing Burlesque inspired art, Burlesque performance and Jazz music. Burlesque sprung up in the early 1900's and started as a variety show featuring comedians and strip-tease dancers.
The event was held at the very fitting venue, The Gladstone Hotel. Established in 1889, the hotel was one of Canada's first Burlesque halls and performance venues. The exhibit showcased over 40 original paintings in a variety of media from oil to digital. The opening night of the event also featured a performance by jazz singer Alex Pangman and her Alleycats.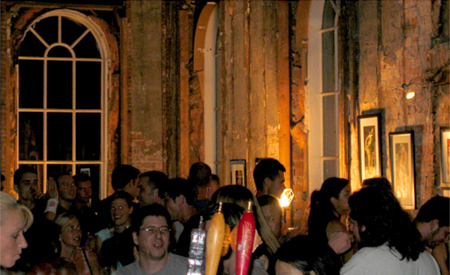 When asked where the group got the idea to create the event, Darren Booth, one of the illustrators and event organizers replied, "We had an urge to host an art exhibition, but through our involvement with the Heaven and Hell book project by Murphy Design, we realized that we should make our exhibition more of an event, just as Mark Murphy did with Heaven and Hell – travelling exhibitions, book launches, parties, awards, sponsorships, etc. With the idea of hosting an exhibition, a few of us RA members went to a Fluffgirl Burlesque show and the immediate vibe from the show gave us each enough inspiration to take advantage of the situation and develop it into 'The Art of Burlesque".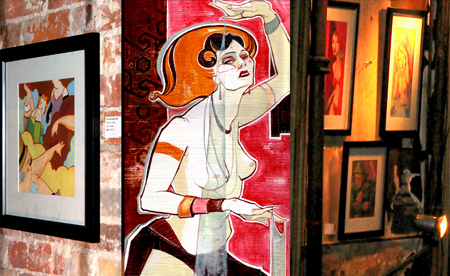 The Repless Abandon crew consists of Darren Booth, Jacqui Oakley, Skodt McNalty, Dav Bordeleau, Adam Bowhey, Devon Bowman, Erin and Kelly Carty, Marco Cibola, Kara Fraser, Merrilee Liddiard, Rachel Ann Lindsay, Dushan Milic, Kyle Reed, Vlad Yakobchuk and Brian Young. In addition to the Repless Abandon illustrators, the show also featured work by guests Joe Morse, Gary Taxali, Lorainne Tuson and myself.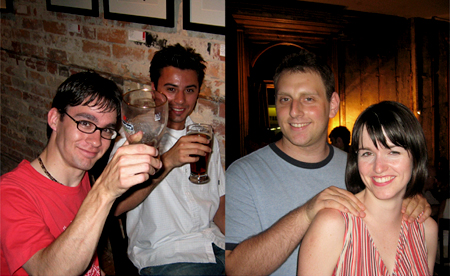 I arrived at the show fashionably late with new media designer Jason Hyde. As we were right in the middle of a major heat wave, it was unbelievably hot inside. Perfect for setting the mood for an evening of the Burlesque. People were crammed in, overheated and drinking fairly heavily in order to cool down. Standing around in the smokey air of the old building while sweating and trying to hear conversations on art, alcohol, and girls really gave me a sense of what an old Burlesque hall would have really been like. As expected, I was very impressed by all of the work shown. The collective seems to operate as a like-minded group of artists while still maintaining very strong individual identities. It was fun to see how each member interpreted the Burlesque theme. Standing in line waiting for a beer, I overheard someone's comments on the piece, which I had submitted, "It seems very angry". I had to laugh.
The Art of Burlesque show may be travelling to Montreal in the near future, so if you're interested, keep an eye out for information on the Repless Abandon website.
The Art of Burlesque
Date : 4th and 5th July 2003
Place : The Gladstone Hotel
Address : 1214 Queen St. West, Toronto
www.replessabandon.com
www.fluffgirlburlesque.com
Text and Photo: Mikey Richardson from Amoeba Corp
[Help wanted]
Inviting volunteer staff / pro bono for contribution and translation. Please
e-mail
to us.