Jump on a train from Centraal Station in the direction of the sea and within 15 minutes you'll end up in Haarlem. This is the home of Josh Baumgarten, originally from New York and now happily settled in the Netherlands. An independent soul, Josh is the man behind The Irrational Library which in his own words is, "an collaboration of art, music, poetry and performance celebrating the absurdity of life."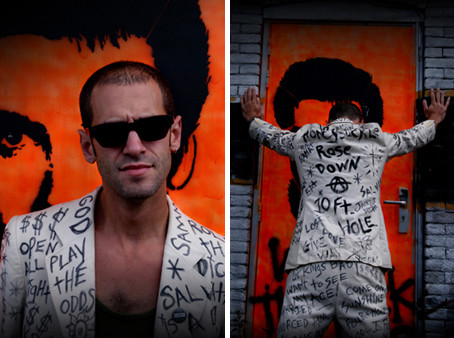 The Irrational Library had its debut last year in Haarlem's unofficial cultural centrum – De FietsznFabriek. Now sadly closed since February, De FietsznFabriek occupied a special position in Haarlem's alternative scene for over 3 years and was home to an eclectic mixture of events including live music, art exhibitions, flea markets, talent shows and even bingo nights. Its discos became popular because they played against the trend of house music in Holland and you could expect to hear anything from 70's soul and hip-hop through to punk rock. What also made this place remarkable was the diverse crowd it attracted both in interests and in ages. On some nights it was not uncommon to see teenagers sitting next to elderly artists discussing the evenings events. At the start of this year however, much to everyone's distress, their lease was not renewed and so De FietsznFabriek became homeless and is currently still looking for a new place to base itself.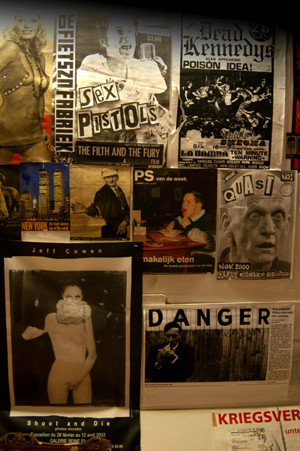 It was during its heyday however that Josh got involved in De FietsznFabriek and got to know all the interesting characters surrounding it. After leaving Los Angeles, Josh decided to travel round Europe on his own and see where it took him. He ended up in Haarlem and quickly became absorbed into the various things going on in the city.
"After finding nothing that attractive or stimulating in the US, it was incredible to suddenly be exposed to all this new wealth of old knowledge and experience that I found in Europe. Meeting new people and finding out about what they did whether it be art, music or performance really made me enthusiastic myself. I had just come from working in room service in a Los Angeles five-star hotel where I made lots of money and met rock stars and the super wealthy. I had pretty much isolated myself in the US and concentrated on doing my own thing – writing small books, poems, making art. What I found in Haarlem made me want to be part of something again and I found the people around me really passionate about their crafts and incredibly engaging. During all this time I kept writing to my friend Ross back home. I described everything to him, all my experiences and the people I met and sometimes I'd end up writing two or three letters a day. He would write back to me about what he was doing too, what music he had heard, all sorts of stuff. It became almost like a competition of letter writing."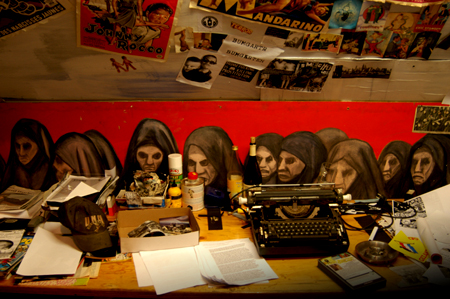 It was out of this letter writing that the basic idea behind The Irrational Library was born. Josh was also interested in spoken-word events but as most people had bad preconceived ideas about them. The ones he'd visited in NY and Amsterdam were good but more hip-hop orientated and he was quite keen to develop his own way with poems. His theory was to keep everything as simple as possible (with no pretence over his work or himself) and to draw upon influences from his own punk rock New York background. Josh was also inspired by the idea that everyone has a choice of what to like, listen to or put in his or her mind. "I wanted to allow people to choose different pieces and fill their own brain. I wanted them to create their own likes and dislikes." By presenting a diverse selection of performers, artists and musicians all packed into one night, The Irrational Library would provide its audience with choice. Friend and member of De FietsznFabriek, Martin Kruyver offered to help with the design side of Irrational Library and helped develop its distinctive posters, flyers and publications.
Read more ...

1
2
[Help wanted]
Inviting volunteer staff / pro bono for contribution and translation. Please
e-mail
to us.