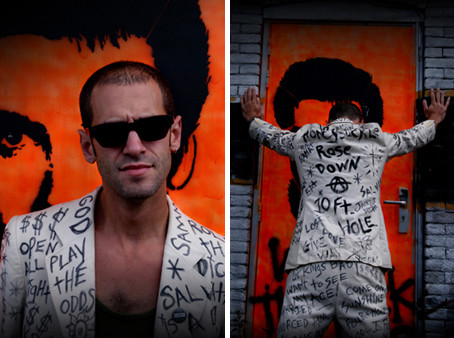 Jump on a train from Centraal Station in the direction of the sea and within15minutes you'll end up in Haarlem. This is the home of Josh Baumgarten, originally from New York and now happily settled in the Netherlands. An independent soul, Josh is the man behind The Irrational Library which in his own words is, "an collaboration of art, music, poetry and performance celebrating the absurdity of life."
The Irrational Library had its debut last year in Haarlem's unofficial cultural centrum – De FietsznFabriek. Now sadly closed since February, De FietsznFabriek occupied a special position in Haarlem's alternative scene for over 3 years and was home to an eclectic mixture of events including live music, art exhibitions, flea markets, talent shows and even bingo nights. Its discos became popular because they played against the trend of house music in Holland and you could expect to hear anything from 70's soul and hip-hop through to punk rock. What also made this place remarkable was the diverse crowd it attracted both in interests and in ages. On some nights it was not uncommon to see teenagers sitting next to elderly artists discussing the evenings events. At the start of this year however, much to everyone's distress, their lease was not renewed and so De FietsznFabriek became homeless and is currently still looking for a new place to base itself.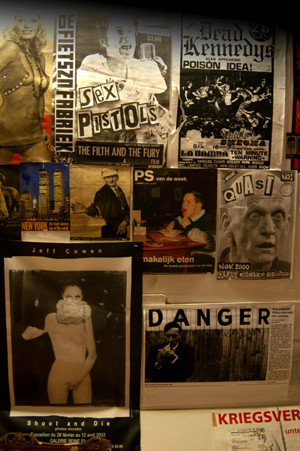 It was during its heyday however that Josh got involved in De FietsznFabriek and got to know all the interesting characters surrounding it. After leaving Los Angeles, Josh decided to travel round Europe on his own and see where it took him. He ended up in Haarlem and quickly became absorbed into the various things going on in the city.
"After finding nothing that attractive or stimulating in the US, it was incredible to suddenly be exposed to all this new wealth of old knowledge and experience that I found in Europe. Meeting new people and finding out about what they did whether it be art, music or performance really made me enthusiastic myself. I had just come from working in room service in a Los Angeles five-star hotel where I made lots of money and met rock stars and the super wealthy. I had pretty much isolated myself in the US and concentrated on doing my own thing – writing small books, poems, making art. What I found in Haarlem made me want to be part of something again and I found the people around me really passionate about their crafts and incredibly engaging.
During all this time I kept writing to my friend Ross back home. I described everything to him, all my experiences and the people I met and sometimes I'd end up writing two or three letters a day. He would write back to me about what he was doing too, what music he had heard, all sorts of stuff. It became almost like a competition of letter writing."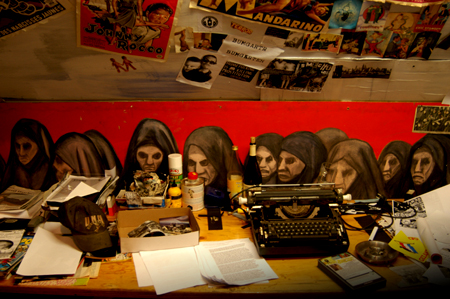 It was out of this letter writing that the basic idea behind The Irrational Library was born. Josh was also interested in spoken-word events but as most people had bad preconceived ideas about them. The ones he'd visited in NY and Amsterdam were good but more hip-hop orientated and he was quite keen to develop his own way with poems. His theory was to keep everything as simple as possible (with no pretence over his work or himself) and to draw upon influences from his own punk rock New York background. Josh was also inspired by the idea that everyone has a choice of what to like, listen to or put in his or her mind. "I wanted to allow people to choose different pieces and fill their own brain. I wanted them to create their own likes and dislikes." By presenting a diverse selection of performers, artists and musicians all packed into one night, The Irrational Library would provide its audience with choice. Friend and member of De FietsznFabriek, Martin Kruyver offered to help with the design side of Irrational Library and helped develop its distinctive posters, flyers and publications.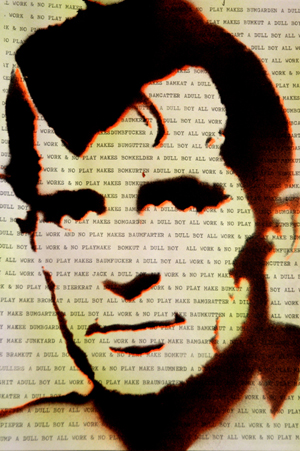 The first Irrational Library was held at De FietsznFabriek in April 2002 and featured a whole range of performers including local respected artist Frans Klerkx reciting poetry alongside his son, Boris (described by Josh as "a young stinky prodigy with an exceptional talent as a performer, artists, writer and musician"). There was live music courtesy of the obscure rock sounds of Danica and some of the founding fathers and mothers of De FietsznFabriek were also present as members of the absurd comedy troupe, Badmutz. A collective of painters, writers and artists (the troupe are aged between 40 and mid-60's), they are led by Piet Zwaanswijk – another treasurec Haarlem artist who is sadly nationally under-appreciated. Their trademark is unpredictability and many of their sketches are completely bizarre, precisely what Josh wanted The Irrational Library to have on offer.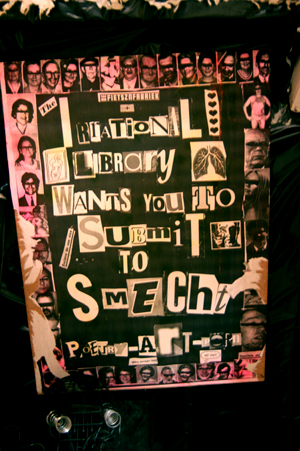 Also developing alongside the live performance night, was The Irrational Library fanzine, Smecht. "It was also born out of the history that me and Martijn share. We both used to like punk fanzines and so it seemed natural to draw inspiration from that source. It's independent publishing at it's most basic. All you need is a typewriter, glue, scissors, staples and good ideas. Smecht goes way back to the Dada movement – it's something new I've started researching. I like the idea of cut and paste – selecting new stuff from reality, taking it apart and creating a new reality from it. Smecht features all the poets and artists working with The Irrational Library but we are always seeking other poets and artists to make it as international as possible."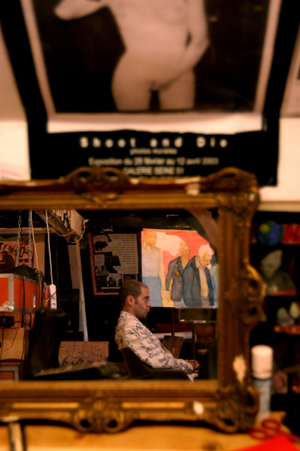 A great success, The Irrational Library quickly developed a name for itself with a loyal following right up to the closing of De FietsznFabriek. It was at that point that Josh decided to look further afield and take the experience into Amsterdam. So far there have been two Irrational Library events, the first at the smaller squatter cafŽ Bungaloo (close to the Artis) and the second at the larger cultural space Occii (by the Vondelpark). Both were received with great interest, "but it's like any new project you have to develop a name and reputation for yourself. It's a matter of time and desire to develop a project and see what is possible."
So what is the future for The Irrational Library?
I want to create a seamless evening of diverse musical talent (ranging from jazz fusion, punk right through to latin) as well as poets, actors and performers, all getting it on together. I like that The Irrational Library can also be a platform for people doing things for the first time (like the poet doing his first ever public reading), open mike sessions and having older established artists who have honed their craft over 50 years. Our next edition of Smecht will be ready over the next few months so that's quite exciting plus we're currently working on both a compilation CD and also a theatre performance featuring all the visionaries involved to date with The Irrational Library. We're hoping the musical soundtrack will be provided by Adriaan Alsema And The Good-Looking Intellectuals. As for the compilation CD, it'll be a Smecht for your ears. It will feature bands that have performed in the past including ska outfit, The Breadcock Specials. It'll also have poems recited by contributors and anything else we can find for it. We're aiming to make it like a sound collage with, of course, a booklet to accompany it. The Irrational Library will also be returning to New York for the summer to scoure the underground for collaborators and comrades. In the meantime, we are all still working to find a new home for De FietsznFabriek and no doubt and once we do The Irrational Library will continue on with a vengeance.'
The latest editions of Smecht and other works published by The Irrational Library Publishing Foundation are available from Atheneum Boekhandel in Amsterdam (Spui Straat) and Haarlem (Gedempte Oude Gracht) and also selected independent record stores in Haarlem, Amsterdam and New York.
For more information on The Irrational Library or if you would like to contribute to Smecht please contact Josh at joshua82371@hotmail.com
Text: Ania Markham from PostPanic
Photos: Mark Visser from PostPanic
[Help wanted]
Inviting volunteer staff / pro bono for contribution and translation. Please
e-mail
to us.