ECHIGO-TSUMARI ART TRIENNIAL 2003
Saturday the 19th of July.It was the first day of the three-day-long national holidays as well asthe summer holiday for students. I got my friend's car with a long face because I just got back from Europe and I stayed two nights on airplanes. However, I kept hope in my mind that fresh air and a nice hot spring in Tsumari would ease my travel strain. Traffic congestion eased as soon as we got to Kanetsu Highway. A little sunlight was coming through the clouds. As I was remembering a nice memory in Echigo-Tsumari from three years ago, we got off the highway at Shiozawa-Ishiuchi IC and drove a national road into mountains.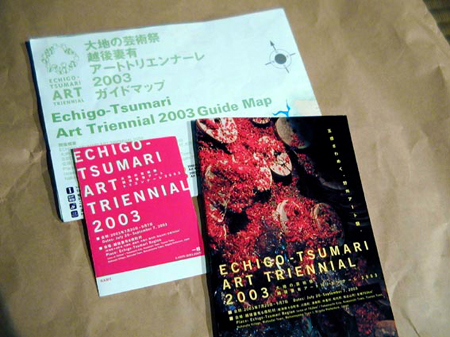 This year, "Echigo-Tsumari Art Triennial 2003" had ite second round. This is g festival for nature, art and human beings that encompasses 762 square kilometers in six municipalities of Echigo-Tsumari (Tokamachi City, Kawanishi Town, Tsunan Town, Nakasato Village, Matsudai Town, Matsunoyama Town). The scenery of these areas is as beautiful as a postcard. The calm areas are covered with more than 3 meters of snow during the winter. Depopulation is a severe problem in these mountain villages. The aims of this festival are rediscovering the beauty of Tsumari area and discovering the wisdom and pride of people throughart.
157 artists from twenty-three countries participated in this year's festival. Sixty-seven works, which were created during the last festival, are still in the area, so the number of works is more than 250. The scale of this festival islarge with works spread among more than 50 communities. In addition, a Short Video Festival, concerts and events are held during the festival. Various kinds of arts get together in the Tsumari region. I had only three days for this festival and I wondered how many works I could see within the limited time. There was a stamp section in the pass and if I could complete this, 250 stamps would be there. It seemed to be totally impossible to get all the stamps but after I got the first one, I went to the opening ceremony of Kiki Smith's exhibition at Dragon Museum of Contemporary Art. It was directed by Cai Guo Qiang.
The artist Cai Guo Qiang made this Dragon Museum of Contemporary Art in last Triennial and this is not only the smallest museum in the world but also has the strongest contents.Mr Qiang is director of this place and he reconstructed this Chinese traditional kiln (the kiln is on a slope and inside of the kiln, people have to climb up) in Japan.Smith is a sculptor based in NY and her exhibition "A Short Rest" is the first exhibition for this museum.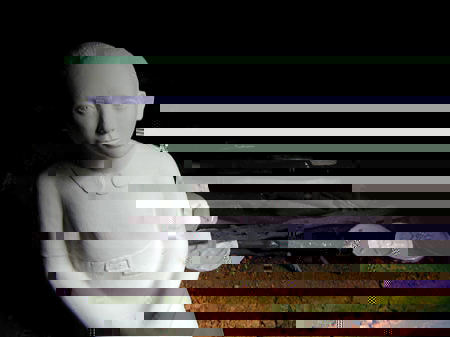 Chinaware objects of a girl, firewood, snow crystals and cherry blossoms were displayed in a line in the dark kiln. The girl looked very calm and I slowly passed by her to see the exhibition more in details. The atmosphere was like straying into a church on a foreign island. Smith is well known by her shocking sculptures about bodies and gender but I could see other aspects of her in this exhibition. It was a great experience seeing her new works in the depths of the mountains.
After leaving the Dragon Museum, I climbedand reached the top of the mountain. The view from the top was spectacular."This panoramic view is the stage of our triennial."This is a quote from Mr Fram Kitagawa, director of this year's festival,spoken last year. and I was remembering his words when I saw the view again. The photo above is the work of Stefan Ban from Switzerland and it is called "Garden for us".Looking at the flower gardens from an observation platform is the aim of this work. Even though I concentrated on finding them, I could not find anything there."Maybe we have to imagine the flower gardens." I said to strangers.I could see the historical references about the community in the observation platform.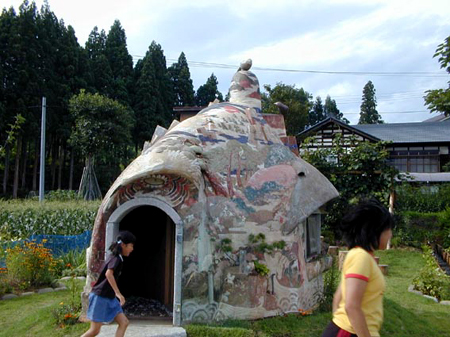 Then, I climbed down the mountain and came across the unveiling ceremony of "A house of magpie" by Kim Koohan from Korea.This house is made of soil, sand, fire and woods. The whole of house was covered by a kiln and it took about one and a half months to bake. Since the house was in a miniature garden, it was like a fairyland. The inside of the house was cooler and I was impressed with the comfort of the technology from old times. Koohan and local people worked together to build this house. Kiki Smith also worked with local people and Kohebitai (a volunteer support group of this festival). The festival strongly appeals the point that artists, local people and the volunteer staff worked together to hold this festival. And I saw many works like them afterward.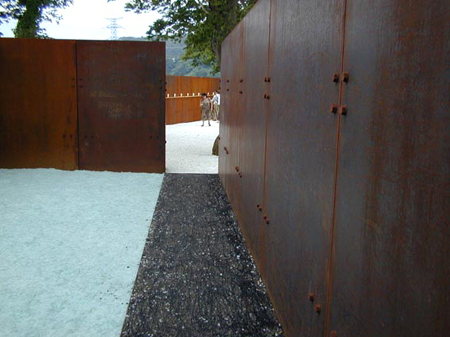 I found a space surrounded by red iron walls in Nakasato Village.This is a park made by an architectural unit from Finland: Casagrande & Rintala.Passing through a corrido with many pebbles and glasse, there was an open space with white graves. Tall and big trees seemed to welcome us and the space gave me a peaceful impression. The concepts of this long and narrow park are nature, agriculture and manufacturing industry. The park was like a Buddhitm garden with a silent and peaceful min. It has humorous points as well by leaving shovels in some places. Casagrande & Rintala chose this place from several candidate sites and brought architects from Alaska, Puerto Rico and France. Many elements are pulled together into this minimal design. Since the design is very simple and neutral, I thought people will love this park for a long time.
Three stages are built as bases for the community development in this year's festival. The eve of the triennial was held at one of the stages: "Matsudai Village of Farming and Snow Culture Center".This chalky stage was located in a paddy field andarchitectural unit from The Netherlands, MVRDV was in charge of designing it. The building is strong in heavy snow and this is the place where people get together. These functions are designed within this building and the exterior looked very beautiful. Many works, which were introduced in the previous triennial, are still around the stage and new works, such as a brilliant colored flower architecture of Yayoi Kusama and "Boiled fish paste shaped warehouse project" join them.Since it looked like an art theme park, this modern building seemed acclimatized to the paddy fields.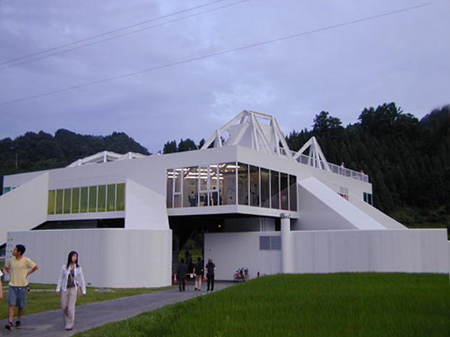 On the stage, I saw a mirror table and photos at a restaurant designed by Jean-Luc Vilmouth and a hearth designed by Fabrice Hybert, and they work as parts of facilities. However, passages are like a maze and it was hard to reach a room I wanted to visit. Also, it took time to acclimate to loud-coloured lift halls and to understand how to use doors.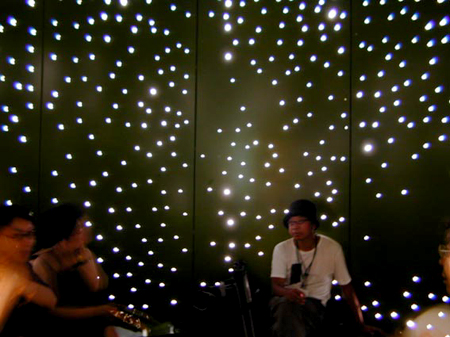 "King Lear the Echigo-Tsumari version" was played as the opening of the pilot on the eve."Should live or die?"Shakespearean "King Lear" was adapted with the theme of depopulation. Elders in Tsumari played this unique contemporary drama.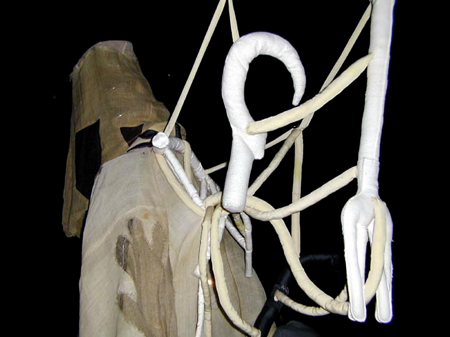 The elders were at the right side of the venue at first but as soon as the play started, they moved to the stage and quietly started to drink and eat.It might be a setting of a Buddhist memorial service (Japanese have a party after this service).A narration of elders about wars and lives in depopulated areas came from speakers.Costumes, which were made of various materials that can be got in Tsumari area,were hanging from the ceiling, and they sometimes were spotted by light like ghosts.A question "what need one?" was repeating again and again.The elders, who were continuing to have a party, looked miserable.And I was wondering where this heavy guilty feeling came.
[NEXT]