The project exhibitions "Tokyo Art Frontline" will be held for four months at Soso Cafe in Sapporo from this month. We will invite artists in the forefront every month in order to let visitors feel creators' worlds closer than before through exhibitions and performance events. The fist artist for this project is Yutanpo Shirane He made the cover design for this issue. From magazines to advertisements and CD sleeves, his field of illustration is quite wide. Find out more about him.
Please introduce yourself.
I am working as an illustrator with the pen name "Yutanpo Shirane" in Tokyo. I was born in 1968 in Saitama, and became a freelance illustrator after graduating from a design school. I used to make photo-collage works by PhotoShop in the CG unit "Spark". After I left that unit, I had mainly been drawing illustrations with acrylic colours but I have been using Mac instead of acrylic colours starting 3 years ago. Anyway, 10 years have passed since I became an illustrator.
What kind of works do you usually do?
More than half of my works are cuts for magazines and covers for books. From adult magazines to ladies' fashion magazines and kids magazines, the genres of magazines I draw illustrations vary. I draw comics as well as illustrations for CD sleeves and advertisements. I am making an original DVD and figures at the moment, too. The routine works do not allow me to spend more time for DVDs and figures but I hope I could finish them within this year.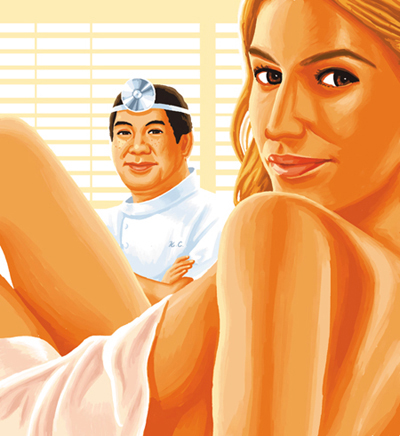 Where do you put the line between illustrations for clients and for exhibitions?
Whether I can make clients satisfied or not is the most important thing when I do client works. Once I can reach a certain level, I include various things I want to as additional fun elements. So my work style and the points I put my ideas are different. It depends on the works.
I take an exhibition as a place where I can freely compose my own place to express my world. As I do the client works, I try to make staff at a gallery satisfied but the big difference in this case is that I start to consider contents of the exhibition from scratch. So my work style is different as well. The client works and the exhibitions are different things but I enjoy both of them.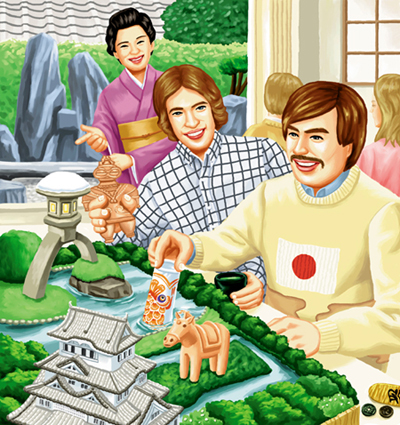 Please explain your exhibition "PRT regeneration" that is on at Soso Cafe at the moment. What does the theme "PRT=PhotoRetouch" mean?
This is a travelling exhibition of "PRT" that was held at "Sign" in Gaienmae, Tokyo last year. I retouched photos in Mac and make them as painting works. I found this way from my idea that creating something in a way that everybody can do. Basically, I am not interested in styles of painting that are made in later stages or characters that can be found from styles of works. So this is a kind of experimental exhibition to show the works that are without these points. I chose simple motifs, such as "hair only", "a close-up photo of a lace part of a underwear" or "a close-up photo of a groove of a tire" unlike making one work with many motifs.
I will have a live painting at the opening party. It might make visitors bored if I just show them how to retouch photos, so I will present them how I usually draw illustrations with paint softwear, called "Painter" in this event. I don't think many people have seen the progress of work of drawing illustrations with Painter. Also, Painter works in various ways depend on how you draw, so if you are interested in that kind of thing, it would be a good opportunity.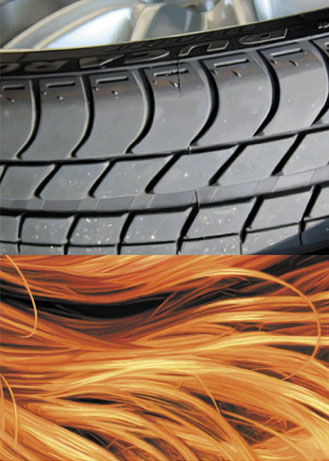 Can you explain the progress of photo-retouched works?
I download photos, which I get somewhere or I took them by a digital camera, into a Mac. Then, I trimmed parts I want to use by PhotoShop and retouch them by Painter. It's a simple and repeating process because I just get colours from a photo and paint a work with them. Just simply tracing a screen is a knack of this process. I call it "the process that is worth about a 820 yen per hour part-time job".
What are you careful at when you choose the photos? What is your favourite?
I try to choose the photos that can be interesting ones after I retouch them. Since I wanted to show my works in big-sized papers, I chose photos that look like patterns if I look at them closely but if I take about 2-meter-distance, I can see what they are.
My favourite is sexy pinup photos, no matter if the girls are Japanese or foreigner (laugh). I buy magazines "FHM" and "MAXIM" frequently. The feature article about swimsuits in "Sports Illustrated" is my annual enjoyable event. Photos that I can feel tastes of photographer are fine but I prefer photos with unnatural universality and scenery photos that are taken randomly.
Where do you get ideas and inspirations when you draw something?
Works of modern artists, films, music and scenery of towns… All of them are really usual things but I get ideas and inspirations from daily life. My tension tend to be high after I traveled somewhere, so I often use photos I took there or put atmosphere there into my works.
As for the illustrations, I think it's important to have many interests or going out to know new things (i.e. what types of fashion are popular with girls in their twenties? How do I draw the different atmospheres in Shibuya and Omotesando? Or interiors of popular bars and how do young people have parties?) because I sometimes have to draw today's manners or situations. It sounds like I have fun more than working but I want to note here that I am collecting ideas or information through them (laugh).
Please explain about the cover design you made for this issue. What did you image and how did you make it?
Since I present the photo retouch works in the exhibition, I wanted to recompose them and make animation with them. I put an effect that the images are drawn in papers. It might be just my imagination "I actually don't it but it must be really exciting if I could tear my works" but I tried to expressed this in this work.
What are you recently interested in the most?
It seems to be too late but I now found TIKI is interesting. Also, it's definitely too late but I found a VJ play is great fun. I notice that when I was researching software that is able to show films. I am playing with my desktop at my place as if I were a VJ sometimes. I have seen Matrix Reloaded twice because it's pretty fun and I think I will go to a theatre at least once more.
Please tell us your future plans.
Illustrations, but also I want to make more things that I can send messages. They will be DVDS or books. Not so many people know this but I draw the visual for the event of Sourthern All Starts (a famous Japanese band) that will be held in Odaiba, Tokyo in this summer. This work is also a photo retouched one. I want to make more photo retouched works as well.
Please leave a message to SHIFT readers.
I continue to draw many things from easy things to serious things. Illustrators are happy if you try to remember their names when you find their works in magazines or books and check credits. Please do so when you have a chance.
Yutanpo Shirane
ynpo@mac.com
http://www009.upp.so-net.ne.jp/yuroom/
Text: Sachiko Kurashina
[Help wanted]
Inviting volunteer staff / pro bono for contribution and translation. Please
e-mail
to us.