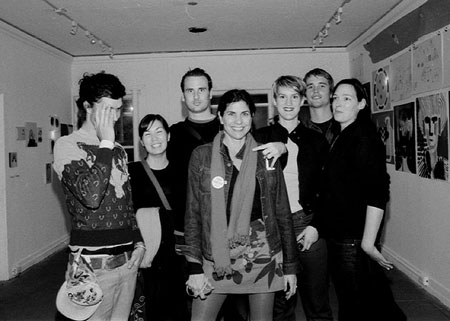 Skateboarding is Art.
It is Craft. It is Culture.
The creativity is continuous.
The brush will roll.
The canvas in this case has evolved beyond the concrete and into the temporary. The subject matter is constant: Disassociation, revolution, desire, apathy. This collection was as sensual and violent as the city itself.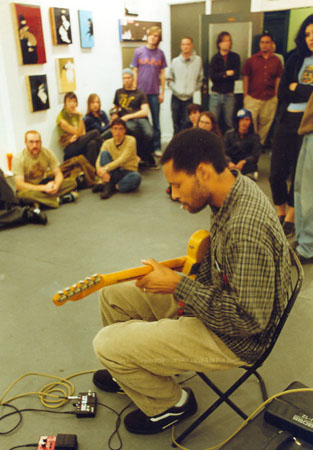 Once a pro skateboarder himself, Ray Barbee and friends played a set of original music to set the tone. Initially planned to play for opening night, due to the black out incident, the gig realized 2 weeks later on.
Spike Jonze and Mark Gonzalez made short film shorter in a feature were Mark skated through the city dressed in his own art. This breathtaking piece must have taken minutes to produce. Girls-Chocolate artist Evan Hecox headlined, with a visual sampling of working class Tokyo. Four more San Francisco artists were featured, with ideas and textures as varied as the place they call home.
Both tortured and compassionate, these various paintings evoke a world overlooked, known only by those who go through it sideways.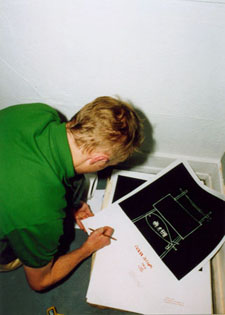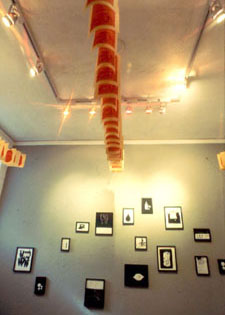 Evan Hecox
Choosing to refresh the senses, Evan chose subjects so obvious as to be neglected. In keeping with a minimalist approach, each print contained two basic colors, a third being used sparingly for script. Striking and simple, this collection silenced the mind while minding the memory.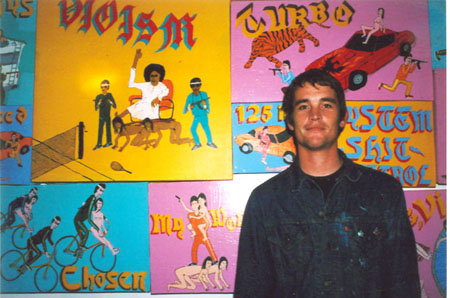 Chris Lindig
Ugly pictures on purpose. Tying lines between prehistoric civilization and modern day Queens, we were forced to see the beautiful horror which is the male ego. His mockery being clearly stated, Chris expressed sympathy for the women who were forced to find relative peace in their disappointment.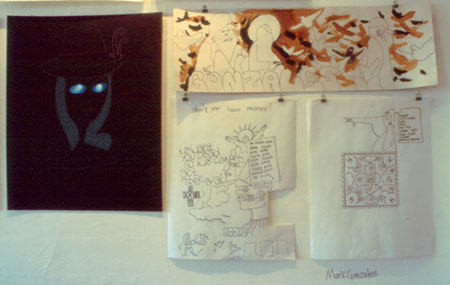 Mark Gonzales
A child at play. Brush strokes are strong and intentional. Rough blueprints and unfinished genius. Words misspelled on purpose. Zero pre-conception. People are drawn so the eyes can see you, wondering if you know them. As much heart and humility as can be found anywhere on earth.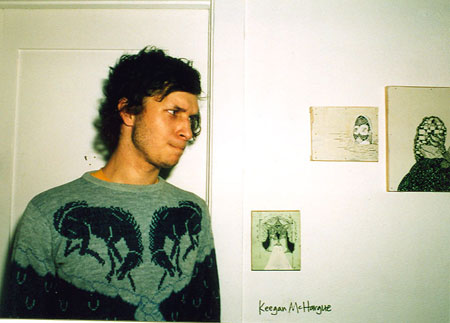 Keegan McHargue
Conflict and confusion share center stage in these frustrating sketches. Black, red, and white, dots and spirals, lines and dilemmas, all collide to paint a picture of a mind above yours.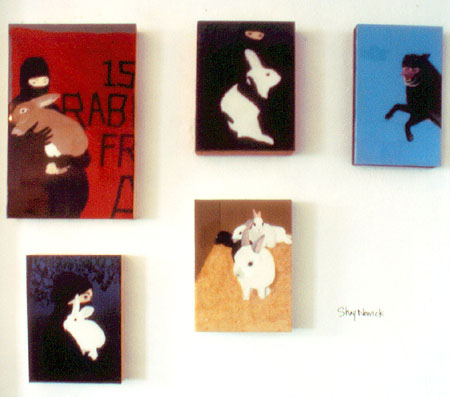 Shay Nowick
Ninjas and bunny rabbits, innocent killers. These striking pieces were richly saturated with liquid colors and mirror finishes. As with each of the other artists, craft and structure were deemed less important than the emotional response they brought forth. In this case, we are convinced that a murderous heart will still protect the innocent.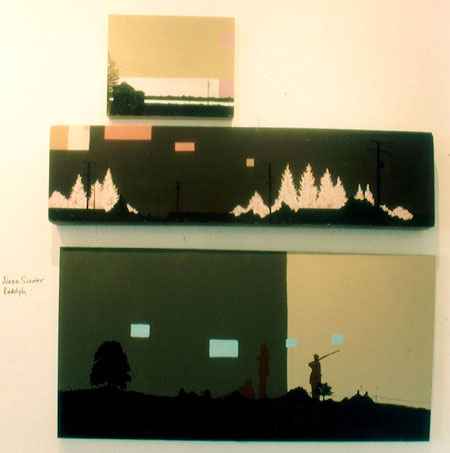 Alena Scooter Rudolph
Realistic urban houses appear sad and quiet. Dismal brown tones convey dusk in winter. Scenes are lightened by tan and pink reflections, reminding us tomorrow is a good enough reason to hope. San Francisco's Sunset District could have influenced this collection, however the artist seemed more intent on conveying an internal landscape.

Evan Hecox "Tokyo: Travel Visualogue"
"From The Trenches" Curated by Chris Lindig
Date : 9th -30th December 2002
Place : New Image Art Gallery
Address : 7906 Santa Monica blvd. #208, Los Angeles, CA 90046
Tel: (323) 654-2192
newimageart@aol.com
www.newimageartgallery.com
Text: Benjamin Roy
Photos: Aya Muto from New Image Art Gallery
[Help wanted]
Inviting volunteer staff / pro bono for contribution and translation. Please
e-mail
to us.