HOW WILL I EVER BE SIMPLE AGAIN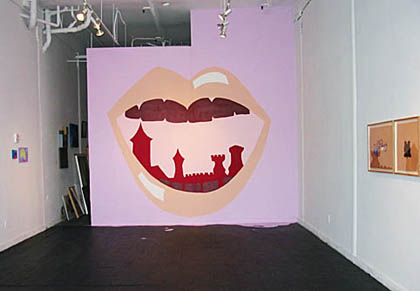 Jo Jackson, We have always lived in a castle

The title: How will I ever Be Simple Again, is the title of a Richard Thompson Song.
Included in this group show are four artists working in mediums ranging from drawing to video. Upon entering the gallery, Jo Jackson's "We have always lived in a castle" speaks for itself.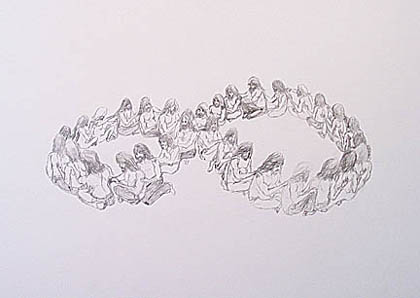 Christopher Garret, Untitled
Projecting out from this vocal point are some small paintings by Jo followed by a stream of conscious mix of Christopher Garret drawings with Shaun O'dell and Bob Linder's work parallel.
Garret's work is a sort of narrative which leaves you simultaneously cringing at the absurdity of some pieces and awing over the simplistic beauty of others like this one below.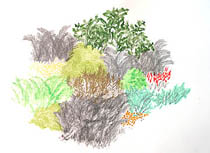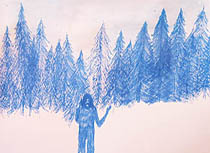 Christopher Garret Left: Natural Progression, Right: Untitled.
To the side of Jo's wall piece are a group of small paintings. Jo's work embodies an engaged simplicity. Her use of stencil-like style gets straight to the point, and even when she paints a wide open mouth on the wall ("We have always lived in a castle") the visual may say "scream", but an eery silence echo's and falls to the floor to reveal shards of reality.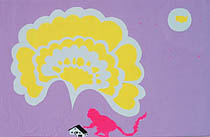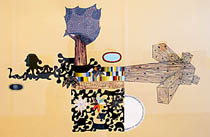 Left: Jo Jackson, Untitled. Right: Shaun O'dell.
A trip-dic by shaun o'dell combines simple icons in a complex of imagery.
lO'Dell's work merges elements of human and natural systems, architectural structures and wildlife into an interlocking narrative. The drawings are composed of an intricate hierarchy of symbols which weave together disparate aspects of contemporary life. He creates a visual syntax from the complex American psyche. O'Dell combines symbols of our American mythology, western expansion and ecological connections with creations purely imagined. Images of our founding father merge with organic structures and wildlife in a vaguely diagrammatic visual system. (text by Griff Williams, Gallery 16)
So back to simplicity. Above Jack pulls up a chair to accommodate me as I ate my lunch with him. Since I have known Jack I have found that we share a similar neurosis for searching for land in obscure places on the internet.
Recently he has been looking in Astonia and I have been looking in Dunedin, New Zealand. Neither of us have bought anything in either place but we both entertain the notion of this quite frequently. I hope to feature Jack in the next issue, but for now I will just do a brief introduction.
Jack Hanley has a knack for showing incredible artwork and running a great space in San Francisco. He also travels to many festivals and fairs to represent his artists and share them with the world. I have only know Jack for a short time, but with his proliferation comes a calmness that seems to attract good eggs.
Recently he was describing a book he was reading on the History of the Grateful Dead.
He was describing the cafe scene in Palo Alto as a place which nurtured Beat culture. He says, "it was sort of a minor thing with the best intention". I think his might be what you feel upon entering his gallery.
Jack is currently reading:
-The speeches from dali lama
-What a Long, Strange Trip, by Dennis McNaley.
Jack Hanley is located at 395 Valencia Street in the Mission District of San Francisco not far from the Adobe Bookstore.
How will I ever be simple again
Date : August 2nd to 31st, 2002
Open : Tuesday to Saturday, 11am-6pm
Place : At Jack Hanley Gallery
Address : 395Valencia Street, San Francisco, CA 94103, USA
Tel: +1-415-522-1623
Fax +1-415-522-1631
jackhanley@aol.com
http://www.jackhanley.com
Text and Photos: Amy Franceschini from Futurefarmers
[Help wanted]
Inviting volunteer staff / pro bono for contribution and translation. Please
e-mail
to us.