STANFORD UNIVERSITY MFA SHOW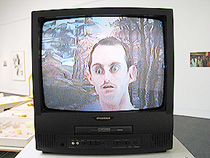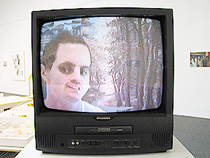 The Stanford University Master of Fine Arts Program in Studio Art will be graduating five students in June. The program prepares a small number of carefully selected graduate students for professional careers in the visual arts. The thesis exhibition is a requirement for graduation, and an occasion for celebration at the end of two years of study. This year the Master of Fine Arts candidates are Ivan Berry, Amy Franceschini, Gauri Gill, Jason Jagel, Robert Linder. The five artists will present a lively mix of works in various mediums, including sculpture, video, painting, photography, and installation.
Ivan Berry will present an installation entitled City Simulacra, which investigates aspects of the urban or downtown image at night, its component elements of lights, buildings, spaces, and materials as well as its perception and function as a metaphorical landscape. Berry earned a BA in Studio Art (1993) and a BA in Honors English (1995) from the University of Texas at Austin.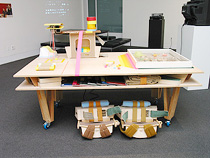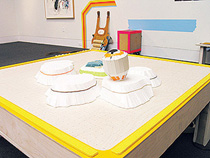 Amy Franceschini's work intertwines notions of online spaces and connectivity with real world concerns of community and environment. It reflects the artist's interest in nomadic cultures, temporary architecture and an ongoing inquiry into the conflicting rituals of humans and nature. The forms she uses to communicate these ideas take shape in backpacks, tents, and convertible furniture. Her most recent work includes an air hockey type table which produces a surface in which objects can hover and glide across. Amy Franceschini graduated with a BFA in Art from San Francisco State University in 1992.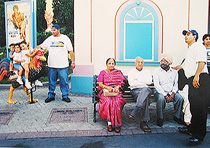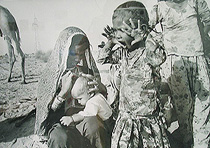 Gauri Gill is exhibiting work from two long term projects: Rural Communities in Western Rajasthan, and Indian Immigrants in America. She is interested in the quotidian life of communities – often marginalised ones – in assimilation, resistance, and the dynamics of
power. "I am drawn to women's stories, and to examine my own place in these other worlds, as an urban Indian woman. Yet both bodies of work have several narratives in them, intentional and unintentional, and I hesitate to constrict them, instead I wish for the work to keep opening up." Gauri Gill studied at Delhi College of Art, earning a BFA in 1992, and a the Parsons School of Design, New York, where she received BFA in Photography (1994).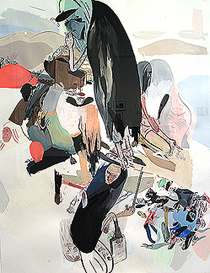 The exhibition will include paintings and two- and three – dimensional drawings by Jason Jagel. Jagel begins with stream of nsciousness, intuitive action, and his lifelong dual obsession with stories and drawing. He states that he "wants to make things that I can psychically slip into, always beginning and ending at different points, navigated by visual elements." In his undergraduate studies, Jagel attended the California College of Arts & Crafts, where he earned a BFA in Painting in 1995.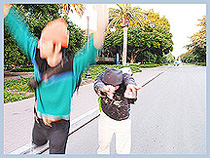 Robert Linder works primarily in video. This exhibition will include two videos and a number of large photographs. Linder's work investigates issues of perception and anxiety, often evoking the uncanny. Lindner received a BFA in Fine Art (1998) from the San Francisco Art Institute.
There will be an opening celebration of The Master of Fine Arts Exhibition on Friday, May 17, from 5:00 p.m. to 8:00 p.m. The public is invited to attend.
The Master of Fine Arts Exhibition
Friday the May 17th, 2002
from 5:00 p.m. to 8:00 p.m.
At The T.W. Stanford Gallery
near the Hoover Tower
on the Stanford University campus
open to the public: Tuesdays through Fridays from 10 a.m. to 5 p.m. Saturdays and Sundays from 1 p.m. to 5 p.m. Closed Mondays.
Tel: +1 650-723-3404
Admission free
Text and Photos: Amy Franceschini from Future Farmers
[Help wanted]
Inviting volunteer staff / pro bono for contribution and translation. Please
e-mail
to us.