It began with an email containing the subject line "THE NYC ELEPHANT WALK IS COMING!" I would learn that the occasion was for the annual parade of pachyderms that make their way across Manhattan over the Queens Midtown Tunnel en route to Madison Square Garden. The event coincides with the arrival of the Ringling Brothers and Barnum & Bailey Circus.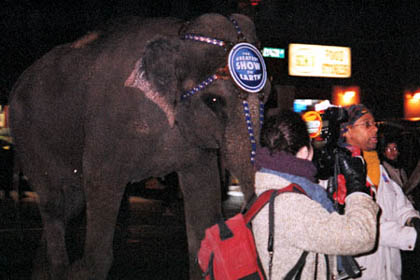 Here's some of the history. The trains that carry the elephants can't come onto Manhattan, as there's no freight train depot on the island. Instead, the pachyderms detrain in Queens and walk through the Midtown tunnel (one tube of which is closed to traffic). Then they march down 2nd Avenue to 34th Street, and across town to the Garden.
I arrived at the scene a little before midnight with three friends including Shift contributor, Rei Inamoto. Each of us was a novice to the event making us that much more anxious for the elephants arrival. As we waited patiently through the brisk evening, we witnessed not only those hoping to catch a glimpse but also those in protest of the actions pertaining to handling of animals. In response, scores of officers were on hand to not only direct traffic but to ensure peace in the event of upheaval. With the press also in attendance, we were approached and asked to give our thoughts on the event.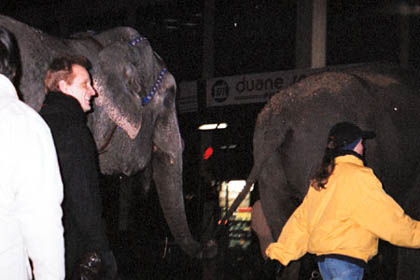 About an hour had passed, no elephants in sight and a crowd which now ballooned to a couple of hundred. Then a small motorcade emerged from the tunnel to reveal a train of elephants walking in single file. Without any notice, the elephants turned to the audience and took a bow. They continued out onto the streets of NYC with the street sweepers trailing closely.
The event then turned into what I would call a tune up for Spain's "running of the bulls". The ensuing crowd swallowed up unassuming bystanders along 34th street as they tried to keep pace with the elephants (which by the way move a lot faster than you would think). The four of us lost sight of one another. Eventually I fall off the pace but reunited with my friends. I can attest that you have to see it to believe it but will have to wait another year. In the meantime, you can checkout the "Greatest Show on Earth".
Ringling Brothers and Barnum & Bailey Circus
Date: March 21th – April 7th, 2002
Place: Madison Square Garden
Address: 4 Pennsylvania Plaza, New York, NY 10001
Tel: +1 212 465 6741
http://www.ringling.com
Text: Michael Foronda
Photos: Michael Foronda

[Help wanted]
Inviting volunteer staff / pro bono for contribution and translation. Please
e-mail
to us.