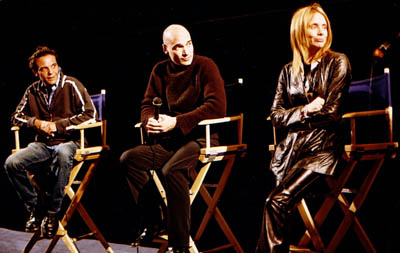 Most known as a man who 'goes back' to the ocean in "The Great Blue" (1988), Jean-Marc Barr has greeted Hollywood this time as a director, with his production partner Pascal Arnold. "Lovers" (1999), which also won a certified title of 'Dogme #5', and "Too Much Flesh" (2000), which Barr has a main role in front of camera, are the first two of the trilogy about freedom. Former deals with the freedom to love whomever you want, and latter explores in freedom of sexuality. Both films have been applauded by European audiences (and Japan as well), yet surprisingly, this turns out to be the first premiering in the City of Los Angeles. Must come to realize once again, how culturally blinding it could be when you have the mass-producing commercial film factory right above your brows. Hollywood could easily let this happen which became the dilemma for many film makers amongst all these years.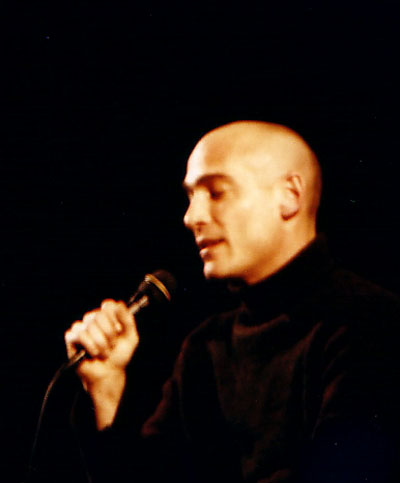 Born between American father and French mother in Germany, Barr resided in America, UK, and now down in France. Mainly to part from the American mainstream film making, where films are marketed towards the youth, and designed to cater their consuming tendency, Barr headed for Europe in search for more raw environment. Insisting on to be credited as "European Film Maker," he goes on to explain about their film which was taken with compact and intimate DV, Sony TRV900P. Apparently "Lovers" was made with 1/5 or 1/6 budget of the usual feature length movie shot on films. Also intimacy and the immediacy was allowed in relationship between the actors and the camera. Barr and Arnold's part on this film can be credited in full; original screenplay, direction, camera works, editing, and even to promote the film. In his voice, you can hear the passion and sincerity towards its own creation. His destination for this promoting tour goes around the globe.
The screening venue was Egyptian Theatre, the home base for American Cinematheque. Since their dawn in 1981, American Cinematheque has been hosting numbers of film screenings, usually followed by the appearance of film makers or actors. Their selection diverse amongst many countries and cultures, and yet they cherish the immediacy of "Hollywood films" as well. Lately, Egyptian Theatre has been supportive to many film festivals, i.e. AFIand RESFEST just to mention a few.
As an actor, Barr has starred in many Lars von Trier films ("Europa", "Breaking the Waves" and "Dancer in The Dark") and two naturally became very close friends. DOGME 95 rules came rather casually to Barr when he came across Dogme films in von Trier's guest house. Following is the famous THE VOW OF CHASTITY, the must requirements to be certified as the Dogme film by the Brothers.
1.Shooting must be done on location. Props and sets must not be brought in (if a particular prop is necessary for the story, a location must be chosen where this prop is to be found).
2.The sound must never be produced apart from the images or vice versa. (Music must not be used unless it occurs where the scene is being shot).
3. The camera must be hand-held. Any movement or immobility attainable in the hand is permitted. (The film must not take place where the camera is standing; shooting must take place where the film takes place).
4.The film must be in colour. Special lighting is not acceptable. (If there is too little light for exposure the scene must be cut or a single lamp be attached to the camera).
5.Optical work and filters are forbidden.
6.The film must not contain superficial action. (Murders, weapons, etc. must not occur.)
7.Temporal and geographical alienation are forbidden. (That is to say that the film takes place here and now.)
8.Genre movies are not acceptable.
9.The film format must be Academy 35 mm.
10.The director must not be credited.
© DOGME 95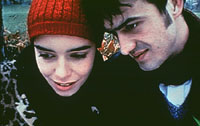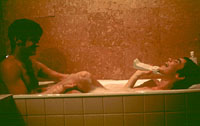 The official Dogme films are counting 25 as of today. "Lovers" won the title #5, also claimed the first non-Danish Dogme film. Bulgarian artist Dragan and Parisianne Jeanne who works at the bookstore falls in love. Copule's love story takes place in Paris, where Dragan is illegally residing. They fall for each other very hard and eventually Dragan pays its dues by being evicted out of the country. Dragan and Jeanne tries to deal with the problem but their relationship ends up in corruption. Unreasonable despair that leaves you no where to breathe will haunt you to death. The play or amusement, that are allowed in most movie is not at all accepted here. Elodie Bouchez, seen as Jeanne in the film, has saved the fall with her care-free kitchness, but overall it was not a light film to absorb. Must not forget, that is the achievement of Dogme, the movie made out of ultimate reality…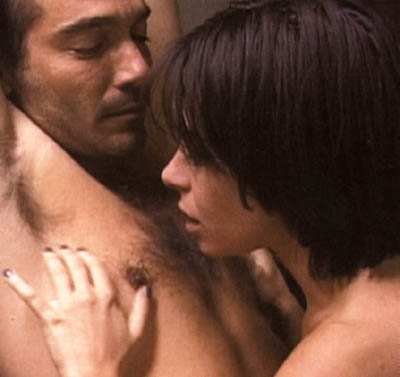 "Too Much Flesh" was in comparison visually open. Midwest America's yellow corn belt, deep blue sky, same scenery for miles to come. Then you gather the pieces of puzzle and realize that is the very problem. Film takes place in the town with population of 600, monotone puritan community, where to openly discuss about sexuality or even to question about it is a taboo. Surprisingly enough, Barr actually grew up in this town and admits that many of his family member contributed in making this film. Since the sexuality was dealt from the dead center, physically and mentally, I saw the success in exploring the theme to the very end without giving the sense of disgust. Maybe the dry and open scenery helped ease what to come in the end, where the ultimate despair comes with main character Lyle (played by Barr)'s slain by the exclusive community members (no, this is not a Dogme film). Yet I still like to send an applaud to the fresh portrayal of the theme "sexuality". Same DV was used in making of this film, and it caters the honest look by its casualty in the intimate scenes.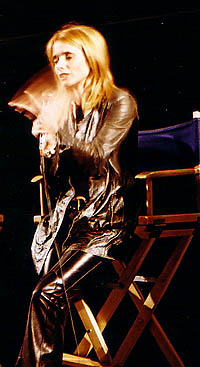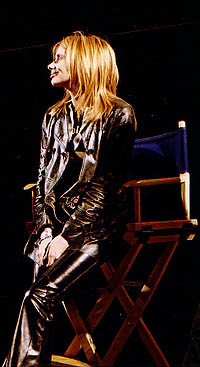 "You can deal with or pursue the theme 'sexuality' without actually being graphic, " says Barr. Co-star Rosanna Arquett (who resides in Hollywood, and arranged the baby sitter to attend the night's event) commented on the possibility of DV film making. "All movies should be shot in this way," explaining how light load it is on set and how it's less about getting the perfect shot out of 30 takes. That casualness allows the actors to be creative on set, and relationship with the camera is nurturing. Having 6 movies in production back to back when filming "Too Much Flesh", Arquett's words are convincing. The capacity of things you can do in the editing process simply allows DV to demand less takes than filming on film. "This intimacy level was made only possible because of the DV, " confirms Barr. Ironically, being known for the film taken by the director who completely went commercial, Barr's sincere words for his films had a confident message and European field seems very content for his film making aesthetics. It is a brave journey to bring the films themselves around the world and be responsible until when it reaches the audience. Their Tokyo visit is scheduled in April 2002.
For upcoming events at American Cinemateque, please contact Margot Gerber.
Text and Photos: Aya Muto from New Image Art Gallery
[Help wanted]
Inviting volunteer staff / pro bono for contribution and translation. Please
e-mail
to us.