'Neo-Tokyo: Japanese Art Now' presents the work of a generation of contemporary Japanese artists who have come to prominence, within their own country and abroad, during the second half of the 1990s. Predominantly born after 1960, these artists explore urban themes in engaging and diverse ways through their art practice. From corporate culture to convenience stores, their works offer insight into some of the key ideas and issues facing Japanese society at the start of the new millennium.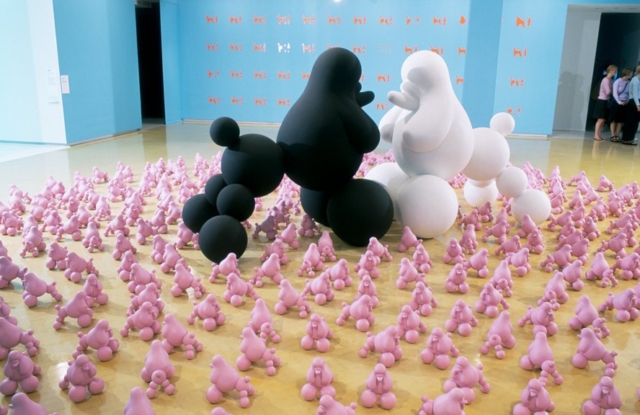 Myeong-eun Shin, Installation view, Neo-Tokyo: Japanese Art Now, MCA, 2001.
Evolving out of Japan's nuclear and environmental devastation at Hiroshima and Nagasaki, and the uncertain future facing us all with the global proliferation of nuclear power plants and weaponry, Kenji Yanobe's art takes a survival-manual approach with radiation-proof Atom suits, cars and other items designed to protect against world catastrophe.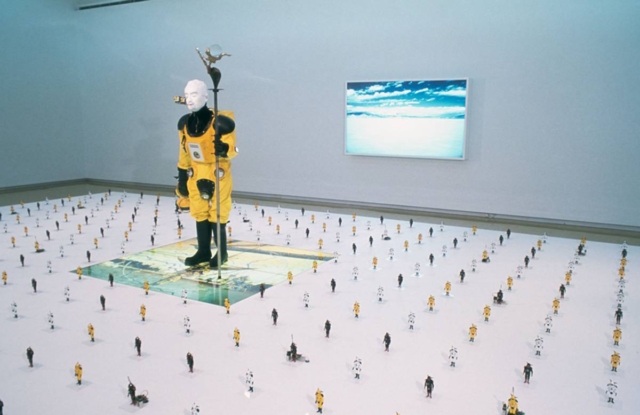 Kenji Yanobe, Installation view, Neo-Tokyo: Japanese Art Now, MCA, 2001.
Yanobe's most recent work, the major installation "Antenna of the Earth" (2001), presents the artist in his Atom suit at the centre of a field of 500 tiny atom figures clutching his helmet in one hand and a ceremonial staff in the other. Likening the role of the artist to that of an antenna for humankind, he is a prophetic figure bearing an important message for future generations.
Presented here for the first time in Australia, "Antenna of the Earth" is accompanied by a new photographic work, "The Ruins of the Future", which has been commissioned especially for this exhibition. It presents Yanobe in his Atom suit at the centre of a vast white field of salt, in what was once an inland lake. Indeterminate in location and time, it appears as though lost in a perpetual vacuum between past, present and the future awaiting us if we do not take heed.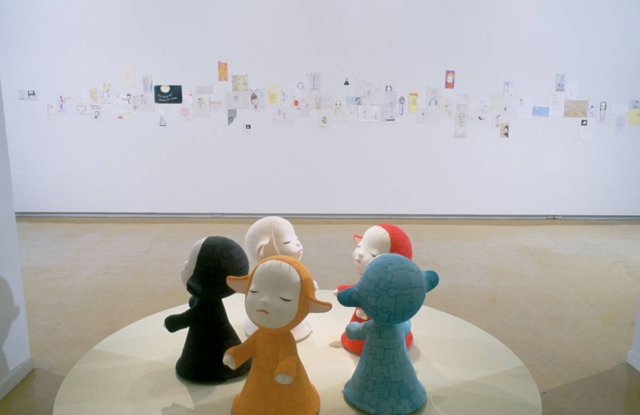 Yoshitomo Nara, Installation view, Neo-Tokyo: Japanese Art Now, MCA, 2001.
Yoshitomo Nara's paintings, drawings and sculptures evoke the dreamy and sometimes disquieting world of childhood. In this exhibition, Nara presents the sculptural work "Little Pilgrims (Nightwalkers)" (1998), a suite of drawings and three new dish paintings that have been made especially for their Sydney display.
Inspired by the cartoons of his youth, Nara's works are playful and sweet, and yet at the same time disturbing and overtly sinister. "Little Pilgrims" comprises a circle of five small figures which appear as though in a dream-like reverie.
Nara's drawings and paintings convey a range of emotions through facial expression and body language, from the awkwardness and shame of "Little Fat Girl" to the defiant rage of "Angry Girl". Described by the artist as both individual and collective portraits of a generation, these children symbolise an era marked by confusion and anxiety about an unknown future.
Artists: Command N, Satoshi Hirose, Yoshitomo Nara, Myeong-eun Shin, Shingo Suzuki, Momoyo Torimitsu, Miwa Yanagi, Kenji Yanobe
Neo-Tokyo: Japanese Art Now
Date: November 10th, 2001 – February 10th, 2002
Place: Museum of Contemporary Art Australia (MCA)
Address: 140 George Street, The Rocks, Sydney NSW 2000
Tel: +61 2 9245 2400
http://www.mca.com.au
Text: Luca Ionescu
Photo: Courtesy Museum of Contemporary Art Australia (MCA) © the artists

[Help wanted]
Inviting volunteer staff / pro bono for contribution and translation. Please
e-mail
to us.