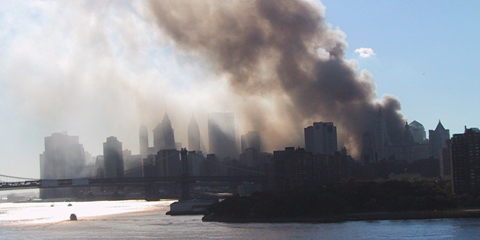 Around 9 o'clock in the morning of that day, as I walk out of the train and across Port Authority station on the 42nd street, I see an unusual crowd of people gathered around a television in front of the ticket booth. I swing by to find out what's so interesting is on TV. To my surprise, I discover that one of the buildings of the world-famous World Trade Center Twin Towers is on fire. The guy next to me tells me that a plane crashed into the building. I innocently assume that it's some private jet that lost control in the air and accidentally collided into it.
As I walk into the doors of my office, I see my co-workers in one of the meeting rooms gathered. I pay little attention and head to my desk, telling my friend, who is e-mailing at his desk, that a plane crashed into one of the Twin Towers. No one is at their desk so I head to the meeting room as well where everyone is. Only then do I discover that another airplane has crashed into the other Twin Tower and that it's actually not some private jet but commercial large airplanes that have crashed into each of the Twin Towers.
After watching the live coverage of this unbelievable event for about 15 minutes, I go back to my desk to make a couple of phone calls. I talk to my brother who works downtown (but not near the World Trade Center) and he tells me that he saw the airplane fly into the Tower and explode. I call my father in Japan, which at the time is around 11pm, and let him know that we are okay. Oblivious to what I tell him, he turns on a television and cannot believe what he sees.
I go back to the meeting room for the second time to see more of the news coverage, My co-workers and I watch live one of the Twin Towers collapse. For a brief moment that feels like an eternity, we are in total disbelief. Total disbelief. One guy says "Did it just collapse…"
We continue to watch the news, most of us silent. About half an hour later, we see the remaining of this New York landmark disappear forever. I just cannot believe what is happening a couple of miles south of my office.
A little before noon, I meet up with my girlfriend across town and we head downtown on foot. The streets are filled with people, most of them heading uptown, which makes us a little nervous. We continue down and as we head down, we see the thick, gray smoke coming out of what is now Ground Zero. What we do not see, however, is the Twin Towers. We then realize that the skyline of New York has changed. It has changed forever. I feel numb. It's surreal.
We stop by my brother's office, meet up with another friend, and we all head downtown to his apartment, which is near one of the bridges, Williamsburgh Bridge. On the way, I see several people covered with ash who have narrowly escaped the collapse of two of the world's biggest structures. It hits me. This is really happening. Really.
My brother makes a suggestion to donate blood for the injured. We are both Type O, which is in urgent need, we heard from the cops on the streets. We redirect ourselves to a nearby hospital to find out a line of people that goes around the block. A young personnel, probably a volunteer, approaches us and asks to fill a questionnaire. It begins with questions like "Are you healthy?" and "Are you under any medication?" Then there is another question: "Have you been outside the United States in the past 3 years?" Hell, yes.
"I've been to Mexico, Africa…" says my brother. The personnel says "Well, no way can we take your blood. Thanks, though."
In the meantime, our friend has been trying to get a hold of his girlfriend who works below Houston Street. He hasn't talked to her since the incident and he can't hide his anxiousness. I tell him I had called her co-worker, who is another friend of mine, but didn't hear from him. That of course doesn't help ease his feeling.
Read more ...

1
2
[Help wanted]
Inviting volunteer staff / pro bono for contribution and translation. Please
e-mail
to us.