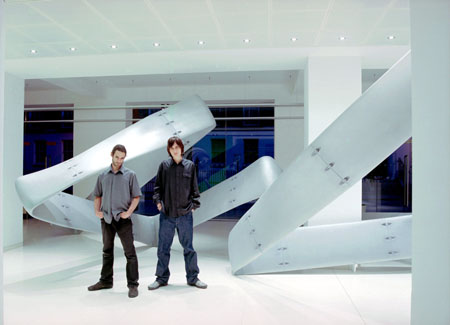 'Homework', the partnership between ex-St. Martin students, Alex Welch and Ansel Thompson, formed a year after they graduated from a Product Design Degree. Within three months of partnership, they are already working on a lot of projects, such as making trainer display-units for 'Acupuncture', and personal projects. Their recent client is a major advertising company called 'Ketchum London' whose clients include BT, Starbucks, and Nokia. Homework created a large installation of a 'UFO' fallen from space and crash-landed in the reception area of Ketchum's new office in Spital fields in London.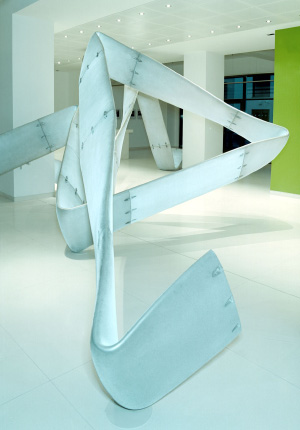 The UFO like installation gives us doubts to our daily perspective of reality, and ambiguous sense that we cannot describe with a simple word. Its size of an airplane wing has feather like impression. The texture seems to be metal or mirror, yet its substance has a transparent effect like water or clouds. A speedy notion comes from single line going through the space. On the contrary, the size communicates the gravity and calmness of still installation.
Ansel talks about its concept. "I wanted this space to give creative ideas to people who come here, and also the space can have alternative functions from inspirational space, to meeting points or furniture." A reception area can be looked upon as the face of a company. Homework noted the principal and responded to the client's request by creating the big, yet not compelling artistic and functional installation.
Homework constantly collects images of nature and organic forms and researches various raw-materials. Therefore, they fully understand what materials can apply to certain environments and circumstances. They don't choose the materials after they form an idea, but ideas are being created parallel to when materials are chosen.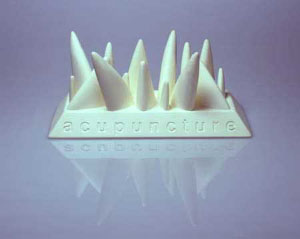 For the Ketchum installation, fibreglass was used to give transparent effect and let light go though and in order to gather more natural light, a reflective silver paint was applied.
Their everyday research and the concept brought a result to an installation that consists of natural beauty and man-made beauty.
This installation does not just give atmosphere to the space and the people, but also have possibility to alter them into multi-functional objects such as furniture or a notice board, etc.
Homework continues to produce architectural installations and furniture- based work, but also planning to do store displays and public space work which can be seen by large a number of people. We will be seeing a lot more of Homework creation in future.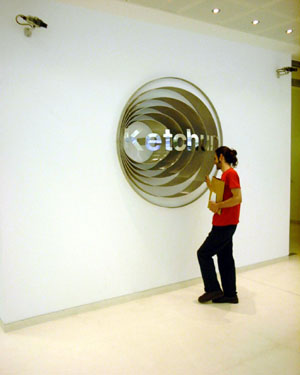 If you are around London, it is a good chance to see a major piece by 'Homework.' In addition, you get to see another piece of their work made with a sing piece of thick steal in the shape of Ketchum logo. The work displays until 6 to 12 months at 'Ketchum' office.
Ketchum London
Address: 35 – 41 Folgate Street London E1 6BX United Kingdom
Tel: 020 7611 3500
Text: Natsume Shiroyama
[Help wanted]
Inviting volunteer staff / pro bono for contribution and translation. Please
e-mail
to us.