Jim Avignon once said that he was the fastest painter in the world. Fast means that he has an enourmous output. He is doing many paintings on cheap material, like he's using cardboard instead of real canvas and ordinary wallpaint instead of oil-colors. The idea behind it is, that he can sell his art at low prices and reach a wide range of people that normally won't by art or is not interested in art at all.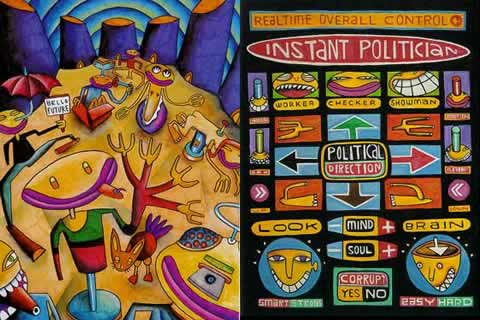 His exhibitions usually happen in a club-context. It started in the Berlin club-scene around 1990 when many techno-clubs started in the reunited Berlin. Except for the paintings he also did party-decoration, flyers, record-covers and commercial work like painting ads, cars, surfboards and watches. His paintings mostly tell surrealistic stories in a grafitti/comic style in bright colors with grinning figures.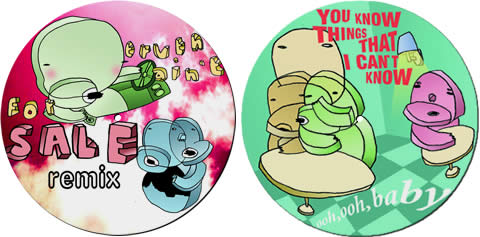 He did an exhibition together with Dom B., a young Hamburg-based painter, at the gallery "Hinterconti" (notice that "hinter" means behind and maybe you know that the Interconti is a nobel hotel). It was announced as an exhibition and a record release party.
As I arrived a dj was playing but it didn't feel like a release party and I needed a lot of time to realize, that the round discs on the wall with pictures on them and a small whole in the middle were the released records… Dom B. told me that he wanted them to look like real picture discs. Underneath them on the wall were paperstrips with the time written on, for example "w-time: 3:20". You could buy them for about $12.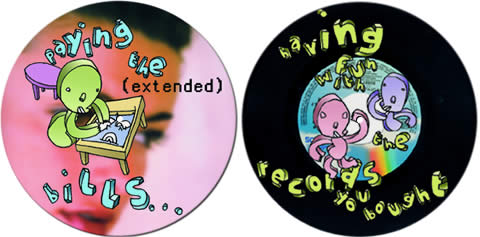 "I always start with a pencil-sketch on paper, that I afterwards colorize in Photoshop." Dom. B. also did large hand-painted posters with the same figures and with titles on movie-posters. "For the conformity of my work, I transported functions like the photoshop-gradients onto large posters by the help of brush and color. This for sure is no completly controllable process, but I wanted to be influenced by the digital methods. I see no differences between working analog or digital. Both methods influence and support each other." "I also painted on ad-posters like Marlboro, supermarkets and internet-ads. It's some kind of surface remix, as I don't react to the poster's content. I only add something to the ground, because I'm afraid to get too banal and moralistic by reacting to the poster's content. I aim to make my work being noticed."
Jim Avignon had some paintings in the first room. My favourite was a smiling kangaroo with green bootles in its pouch sitting on a pavement. It was named "drinks on wheels".

In the galleries corridor to a second room and a bar were hanging several packaging boxes from sportcar-models. "You cant't see this on TV" was written on the outside. Inside was a cityscape picture as a scenery and in front of it were his typical figures cut out on paper.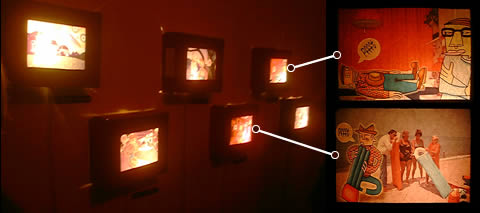 There was another series, where translucent pictures were mounted in an illuminated shoebox. The pictures were photographies from the 60's with his figures saying "Pffft" in different situations.
Jim Avignon with Dom B.
Place: Galerie Hinterconti
Address: Balduinstraße 24, 20359 Hamburg
Tel: +49 171 959 8703
http://www.hinterconti.de
Text: Andrew Sinn

[Help wanted]
Inviting volunteer staff / pro bono for contribution and translation. Please
e-mail
to us.