In four short years, Resfest has managed to become the epicenter of digital filmmaking. Not only the festival features some of the world's finest designers and filmmakers, the art direction of the festival itself deserves a recognition. The man behind the scenes is Colin Metcalf, the art director for Resfest since its beginning. He has been creating a wide range of out-of-the-ordinary imagery, typefaces, and designs. In this feature, we asked Colin how he got started, how he approaches his work, and what he thinks about the world at large.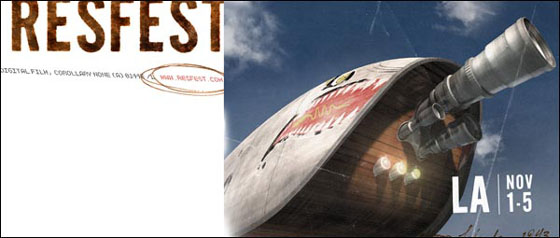 Could you tell us a little about your background and how you got involved in Resfest?
My education is actually in Journalism with a second degree in Painting. After I graduated, I moved to London, where I spent the next three years honing in on what I wanted to do. I was a little aimless at that point. I spent the first year working at a graphic arts supply shop in Covent Garden, and the next two in an illustration studio that was subordinate to a large ad agency. I saw one of my friends getting involved in graphic design, and though it had always been right in front of me, it was then that I decided specifically to become a designer. The mixing of type and image seemed a perfect niche for someone trained in both writing and painting.
Eventually, I moved back to Chicago, which is where I'm from, and found myself working with Carlos Segura, T-26, whose work I had admired from afar. Carlos had given a presentation on the West Coast in 1996, and Jonathan Wells happened to be in the audience. Jonathan, (who is now my business partner and the Festival Director for Resfest), had just co-founded a grassroots digital film festival called "Low Res" in San Francisco, and was in need of a graphic identity. The kind of art-driven design that we did at Segura Inc. seemed a natural fit. A mutual friend (and work colleague of mine) introduced us, and so it all began.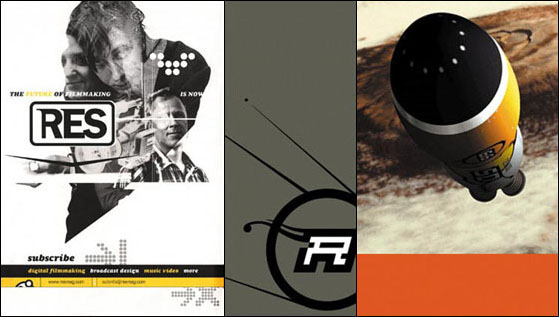 What do your responsibilities include as art director of Resfest?
I've been pretty much a one-man studio for the past four years for all things bearing the names RES and Resfest. We usually partner on the interactive and film end of things, though, as my expertise doesn't lie there yet. All of my partners and I have assumed multiple workloads. Eight hours is a short day for us, a coffee break seems like a vacation. 🙂
What are your influences and inspirations?
It comes from all around. Land patterns viewed from an airplane window, the handles on a 200 year-old Chinese cabinet, a fragment of conversation, my dreams, a misperceived image viewed upside-down or from a distance. Childhood fascinations play their part as well: rockets, airplanes and machines. Virtuosity in work is the ultimate goal. Some people are happy being directors of a process, and there's merit to that. It's an efficient way to conduct a project. But I want to do everything, which is both my driving strength and probably my Achilles heel.
As far as inspirational people go, those who have been most influential to me are usually those I know personally. Kevin Grady, who I followed into this field, is an amazing designer with incredible focus. My friend Jim Marcus, who is variously a musician, sound engineer, programmer, designer, typographer, poet, painter, etc., is the absolute embodiment of virtuosity to a point it's actually disturbing. And Carlos Segura actively encouraged me down my own path when a lot of design icons would have rather directed me along their own.
I've been quite fascinated by the overall art direction of Resfest in general (program booklet, festival trailers, type design, etc). What is your design process like? For instance, how did you come to the visual conclusion for Resfest 2000, particularly of the trailer and booklet design?
Traditionally, there's a window of time at the start of each year when deadlines abate momentarily, and I take that time to experiment and develop a thread. In 1999, I developed a sort of kitschy space-mission theme for Resfest, which I designed and illustrated along a sort of comic-book vibe. I could have probably gotten another year or two out of that, but I wanted to do a 180 for the 2000 identity.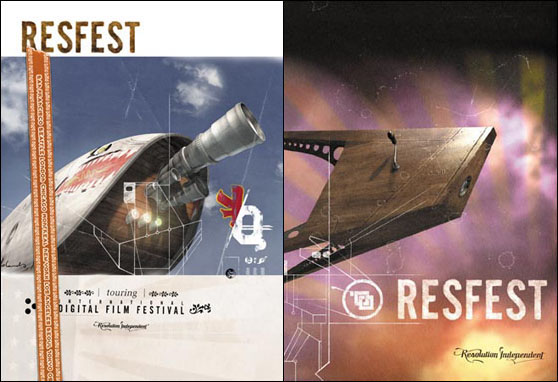 I started playing with a nebulous concept of a parallel universe where things look and feel very familiar, but are not quite right. Creating objects that appear part of a supposed archaeological inventory. Hence the imagery of a mid-19th century wooden satellite, the cross-bred 70mm camera and fighter plane fuselage, and the hybrid American/Japanese flag.
I wrote a fairly detailed narrative of the premise in the form of a book excerpt and a news story, which we never published. I also did a number of very linear pen and ink illustrations reminiscent of arcane circuit maps, stained glass frames or aerial grids. And I built a faceplate to a fictitious machine and photographed it with Jeanne Hilary. The typography had to look both familiar and exotic as well to support the concept. So I developed a bubbly, techno typeface I'd begun a couple years ago called M2K, and created a custom scripted logotype for the tagline "Resolution Independent" that crosses antique and modern.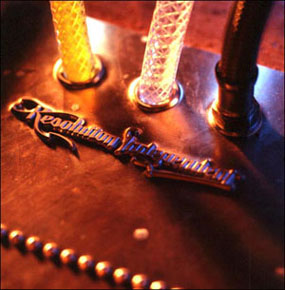 I also designed an erratic dot-matrix font in which to set cryptic error messages. I generated about 50 different illustrations and images in all, most of which I edited out. The whole process evolved over the period of a few months, in between different deadlines. Ben Radatz (who was instrumental in rendering the 3D versions of the objects used in the campaign), and his company MK12 used the wooden satellite as a centerpiece, and produced an incredibly atmospheric trailer and titles along that direction. They built a massive megalith (virtually, of course) in the shape of an R and managed to insinuate an entire narrative in a matter of seconds.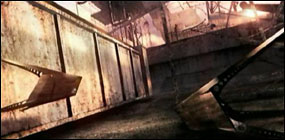 RESFEST 2000 Trailer Click above image for the QuickTime4 Streaming video.

What do you think about the current state of design?
I'm not sure I have a definite opinion. There's a lot of scary talent out there, and a lot of fresh work. The stylistic pendulum right now seems to have swung over to the ultra-simple, cyber, almost clinical. I was leaving a gallery with a friend recently, and she asked, "What ever happened to art thats hard to do?" It sort of resonated with me. Her point wasnt that complexity is inherently superior, just that genuine mastery of craft holds little cache anymore. Expedience is the currency of value more often than not.
From a commercial standpoint, its understandable. If your artform is client-driven, chances are you become facile at stylistic impressions. And the trend towards minimalism supports that. Some of that stripped-down design can be really beautiful, but a lot of it just looks vacuous. Flat colors and Helvetica Neue and all that. Reductionism is a finite path.
To take an architectural example, if you knocked 50 stories off of the World Trade Center, its a completely forgettable building. If you knocked half the height off of the Flatiron Building, the level of fascination in detail would still be staggering. The marriage of simplicity and complexity is what interests me. I hear a lot of proponents of "idea-driven" art and design, but that's only half the battle. A good idea is useless if the execution isn't at least as good.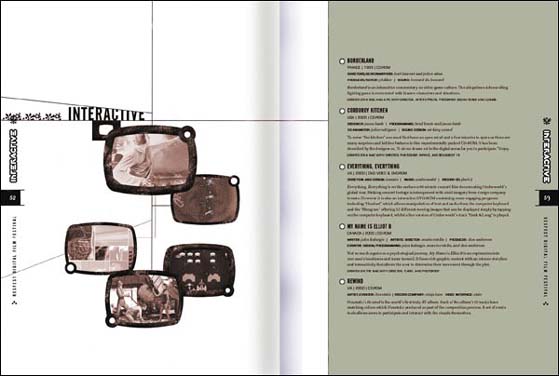 What are the most interesting things happening today, not necessarily in the design field, but in the world at large?
Well, in both good and bad ways, I think technology is the pivotal concept. There's such a lot going on there right now, which has translated into a renaissance of sorts. Music, design, type, architecture, the sciences, product design, photography, film — they're all exerting redefining influences on each other. People in one area are now able to experiment and proffer insights in other fields because of the tools at their disposal.
Cultural cross-pollination due to the ubiquity of the Internet is turning up some very funky fruit as well. The human genome project, the quantum computer, virtual sex, engineering milestones… it's easy to be willingly drawn into a kind of futurist ecstasy. But the other side is equally compelling, if not so ecstatic.
The culture of technology fetishism is not so encouraging: look at the stock market today vs. a year ago. Until last April, there was an almost total blind faith attached to technology and the tech-economy. And then there's the cubic acres of landfill created by obsolete products discarded in pursuit of the newest, fastest, etc. And an endemic dissociation with the natural world, other people and other living things that's a by-product of technological and material preoccupations. Nothing comes without a price.
If you weren't a designer, what would you like to be? Also, what would you like to be doing 10 years from now?
I'd be a writer or an architect. In the future, I will be creating, designing and producing my own content in different media.
… I'd like to be lazy for a little while, though.
What was the last book you read?
"A Nation of Adversaries" by Patrick M. Garry. The author's a constitutional and legal scholar. His book is a commentary on the civil and social degeneration wrought by America's obsession with litigation and law. A rollicking, light-hearted read. 🙂
Any final thoughts or comments?
Stay humble when you're young. Keep an open mind when you're old. Experiment and allow yourself room to fail, I do routinely. Artists like Frank Gehry and Frank Lloyd Wright made their greatest contributions in their 70s. I'm only in my 30's, and if I thought this was my zenith, I'd quit now. The culture at large is obsessed with youth and constant change. Wisdom and evolution are underrated.
Text and Interview: Rei Inamoto
[Help wanted]
Inviting volunteer staff / pro bono for contribution and translation. Please
e-mail
to us.