The first issue of the New Year and also the commemorative 50th issue of Shift features a cover design by a design agency 'One9ine' headed by Matt Owens and Warren Corbitt.
'One9ine' composed of Matt Owens, Warren Corbitt, Lee Misenheimer and Dan Ellis is one of the leading design studios in New York. While they've been doing lots of client work for clients such as Nike, Moma, National Geographic and ESPN, they're always trying to push the design scene with innovative ideas.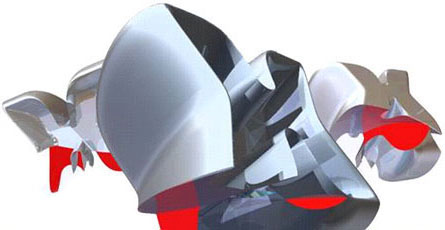 How did you get your start in design?

MATT OWENS : I started getting into design through being into music and involved in putting out records and doing flyers in high school and college. Dischord Records and the design work of Jason Farrell, Jeff Nelson and Chris Bald was very inspirational to me early on. When I got into college, I started taking design classes and just kept doing it. I went to grad school right after school and really learned a lot about working through ideas. I am still really involved in music and try to contribute to the music and scene I believe as much as I can.

WARREN CORBITT : I guess it all started in high school. I was the editor of the high school – and one of the responsibilities was to layout the issue. This was back in the day of repro, rubylith, and crosshairs on acetate. I was heavily into the "new wave" mid 80's thing – and the covers of New Order and pages on Interview were tacked to my bedroom wall. Through a few different turns down the academic way – I ended up back doing what I had always been drawn to.

LEE MISENHEIMER : Well early on, I was headed down the illustration path. My education was really more fine art driven but peppered with a bit of graphic design. However, design was really more of a means to create zines and show flyers showcasing my artwork. I began to develop an interest in interactive design at the end of my college run primarily in Director and continued with interactive design as a job after graduating. luckily the web kinda blew up and I transitioned my interactive design accordingly. All the while i had been doing a lot of my own creative work, design and illustration in a personal site called Destroy Rockcity. I think this outlet has really helped me experiment and develop how I have approached visual communication over the years.
One9ine is three full time designers and a few part time. As a member of a small studio, how do you feel about the current state of design – online and offline?
M : Design is in an interesting place. You have new design magazines like 'One' that are making a huge parody out of the design discipline, trivializing it in a way (Eames chair as fashion accessory). At the same time, you have online designers taking design to new places (Submethod, Kioken, Choppingblock) and you have broadcast designers taking things to a whole new level. I think that design as a foundation is still fundamentally important to doing good work in any medium.
W : Design is really omni-present at this stage. People growing up starting in our generation – and continuing on down the Gen x to Gen y to gen (…) timeline- are much more visually sophisticated and aware than previous generations. I mean you've got kids out there now who are able to handle visual input from video games, tv, the internet [and one would hope books] at a much earlier age. The sign-signifier debate is no longer confined to semiotic debates in the ivory tower. Its being played out in billboards and commercials.
That said – and I suppose this point will rear its head in many of the responses – is that I am not convinced that all the signs being put out there are attached to intended thoughts/goals. I am not sure how much thought is going into alot of the work I see out there – both on and offline. Hands down there are a ton of extremely talented formal visual makers out there. unfortunately I am not sure I know what it all means – as well as not sure if the maker is aware of what he/she is communicating.
L : Hmmm, I guess I don't usually think about the "state of design" too much. As far as online design goes, there seems to be a lot of cool visual stuff going on out there, but at the same time, maybe a lack of big ideas. The skill set out there is tremendous and there's an amazing amount of potential!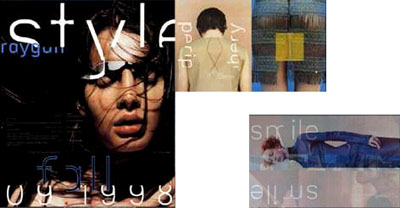 What is your education? Do you feel that having a college degree is still important in design? Do you think the internet has made design education obsolete?
M : I have an undergraduate and graduate degree in design. I think being knowledgeable of design history and the lineage of design is super important in getting a handle on what has come before. For learning technology, an educational setting may not be that great. I have learned more since I got out of school than when I was in school. I think now, you have to be a self-starter and really get out there and learn on your own but design fundamentals will always be important.
W : I got a B.A. in political theory from Vassar college. I focused largely on poststructuralistm and sexual identity politics. Did a lot of Foucault and Hegel. In 1997 began studies towards an MFA in Graphic Design from Cranbrook Academy of Art under Laurie and P.Scott Makela.
I wouldn't necessarily say that a college degree is essential o be a good graphic designer. But what I would say is that being able to think – to problem solve – and to realize that the expected way of doing things is not always the correct or most expedient means is critical to good design. I didn't study design in undergrad – but I did learn how to think – to formulate an argument – and in some ways [hopefully] to think out of the "box." I don't think the ivy covered walls are necessary – but being part of a community with a shared goal of academic discovery makes it much easier and in some ways more enjoyable. I've often called Cranbrook the "Club Med of Graphic Design" because it is a space that you have the luxury to attend for two years to focus on nothing but your own relationship with design and communication. It is far from easy – but to have the freedom away from clients and the "9-5" – allows the students fully immerse themselves in the exploration at hand.
L : BFA Illustration from the East Carolina University School of Art. I don't really think a college degree is completely necessary. Though the experience does expose you to a lot of big ideas, new and old. Whether it's from an intense curriculum or that shared creative existence that can begin to set things in motion. I think that it can certainly help fuel the creation of "big ideas" for oneself.
What do you like the most and the least about being involved with a small design studio? A lot of designers work in big to medium sized studios; do you have any words of wisdom for them?
M : I love being in a small company and having the ability to do a wide range of projects. On the negative side, I have to do the work of three people – doing project management, design and art direction all at the same time. Before starting One9ine, I worked at pretty big agencies and learned a lot about project management and client interface. Without that experience, I certainly would not have been prepared to start a firm.
W : I think the best – and one of the main reasons we formed One9ine – is to be able to take on the types of projects that are good for the studio and our own development as designers. By keeping "lean and mean" [hat tip to Matt for that one] we are able to take on some very large projects – but also smaller ones if we desire. We don't have 50 mouths to feed – and thus can sustain the whole operation on far less money than larger organizations.
That same thinking also means that we have to wear many hats in our studio – and constantly ensuring that both the clients and our personal development are getting the attention and time they need. It is a more difficult way to work – but it allows us to be the type of studio that we want. Its a tough balance.
L : I love being able to get my hands on all aspects of the process: design and implementation. At larger studios, it's easier to become cast in one role. Job functions can become pretty specific. A designer may only create psds all day long. While that may be ideal for some, I prefer a role that is extremely varied. In a larger firm you gotta be proactive as hell to breakout of the one track scenario.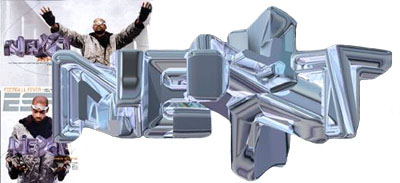 All of the members of One9ine have a strong commitment to personal work and have their own distinct style and ability. How does that effect the collaborate process of the studio? Does it make it harder or easier to work together?
M : Lee does Destroyrockcity.com, I do Volumeone.com, Warren has done work for the Remedi Project and Dan does Developindustrial.com. Each of these projects serve as personal and creative outlets that not only help you become better at what you do, but are also contribution to a visual and interactive culture out there that is dedicated to loving design and the making of things. We all work together and on our own. Inevitably, one of us guides a project. I think that Lee is capable of working really well with all of us. Warren and I are a little more single minded sometimes. Doing your own work is encouraged in the studio if you want to do it. Some of us have been doing personal work for several years so it makes sense to allow a space for it. It also informs client work and demonstrates possibilities. I think without your own thing going, work is just work, no matter how interesting the work is.
W : We definitely all of a distinct, opinionated approach towards design. It is often very hard – because we are all stubborn – but I wouldn't trade it. I think if you are willing to defend something to the length we do in our studio than it must mean something to you – and there must be a reason you did it. I think key to our success in dealing with it has been the ability to separate out the subjective "I like this" or "I don't like that" from the needs of the client and project. Also, every project has a lead creative – and ultimately it is that persons responsibility to make the final call. I've worked in a number of collaborative settings – and the only time they are successful is when there is a little pain. Wasn't it Thomas Jefferson said "If the happiness of the mass of the people can be secured at the expense of a little tempest now and then, or even of a little blood, it will be a precious purchase."
L : We all do a lot of personal work outside the studio, and that's definitely a plus. It keeps the influx of creativity at a pretty high level. The experimentation we explore outside of One9ine usually leads to a new way approaching client work whether visually or interactively. It makes it working together easier as well as more interesting. It can be like "wow, that navigation you're using rocks. Lets see how that can be applied to such n such project." It gives us a broader set of "tools" to work with. It's also continues to be very inspiring.
Do you consider yourself a graphic designer? A web designer? Something else? Is the very idea of what a designer is changing?
M : I consider myself a designer with both traditional and digital training. I think there are limitations to being just a graphic designer or just a web designer or just a broadcast designer. I would like to be able to do all of those things and I think as a studio and as individuals we are interested in doing good work in all areas of visual communication.
W : I would consider myself a graphic designer, in as much as I use visual communication as a means to express an idea/thought/process + yes, I think the term is changing in public perception to recognize that the designer does not only use design to make things "pretty" – we also make things mean.
L : I guess if you really needed to, you could call me a designer, well as far as in my relation to One9ine. I'm not really doing a whole lot of drawing for our clients. But I tend to exist in that middle ground of interactive and graphic design. I love designing a project from the big idea down to the minute noodley goodness and then making it all function. I just like making stuff.
Where do you see One9ine headed professionally? Do you have any personal goals for the studio?
M : I think One9ine will always be a design studio first and foremost. I would like to do more product-based work, posters, work on doing videos, broaden the scope of output. Right now web work is the most lucrative and I would like to be able to balance out the work more between different mediums.
W : I think we will continue on the same professional explorations we are now. I could see us growing by 1 or 2 people in the next bit – but we have no plans to amass the One9ine army. I hope to see us branch out more into other media – namely broadcast – in the next year. I'd also like to see us as a publisher of not only our own personal and collective explorations – but also other individuals and groups.
L : Love to do more broadcast. I used to do a bit of After Effects work in the past and I'd really love to return to it. As a studio, I hope we can keep the creative force moving forward, continuing to do good solid interesting work. Some studio fueled
Graphic design seems to have shifted from the formal experimentation of the early-mid 90's to a new emphasis on simplicity and a kind of neo-modernism. How would you describe this shift, and how do you see your work fitting within it?
M : I think graphic design is changing in the sense that the instituitions that created it seems to be lagging far behind what is actually happening in culture. Things like Gasbook in Japan, the work of Geoff McFetridge, Evan Hecox, Shepard Fairey and other new school designers seem to be slipping through the old guard radar and doing really interesting stuff. The Idea of design as a service-oriented discipline is shifting to be more creatively driven and collaborative.
W : I see it all from the same mold – just different periods on the graphic design calendar. I mean I've heard arguments ranging from the "neo-modern" as response to the new economy excess to it as a return to the corporate sponsorship model of design. I'd say that it is another sentence in the ongoing discussion that we are all involved – both as its impetus as much as the future response it calls for.
L : I think there's a lot of great design all over the spectrum. good design is good design! there's lots of stuff out there constantly changing the way we think about approaching design. It's all moving very fast and to me that's exciting. I can only hope that my own work can continue to be in a constant state of evolution.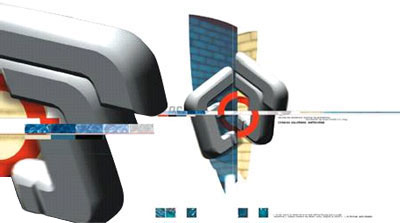 Who are some of your personal design heroes and why? Who do you feel are the designers today doing interesting things?
M : I am a huge fan of Futura 2000, he has been doing great art/graph/design for so long and I just respect his evolution and ability to continue to do amazing stuff. The fact that his work bridges the gap between art/design/illustration/graffiti/object/product is just revolutionary to me.
I think Eliott Earls is doing something really amazing by merging design, music, narrative and typography through performance. And there are also my friends that I totally respect and admire – Mike from Submethod, Nico from ABC, Bradley at Gmunk, Ed at the Assiociates in Science, the Chopping Block as well as Lee and Warren.
W : I've recently been introduced to wim crouwel's work and am simply blown away by the breadth of work he produced. His systems and typographic studies are quite simply breathtaking – and reveal a lot of what we consider "new design" now is really not so new. P. Scott Makela also was a huge inspiration – both as a teacher and friend. Allen Hori [of Bates+Hori] does amazing, beautiful work. My old playground friend Barry Deck is simply phenomenal – and has a way with type that is unmatched. + of course my current partner in crime – mr. M – keeps the bar high.
L : My friends are definitely my heroes. I find so much inspiration in what they're doing creatively. Definitely Matt n Warren rock me all the time. I learn so much from them. as far as interesting stuff going on today, I really have a special place in my heart for the kids trying to integrate drawing and painting into their design work such as James from Presstube.com and Karen from Krening.com they make me want to keep pushing the mix of drawing and design in my own personal work. Our friends at the Chopping Block also manage to integrate a lot of illustration into their client work as well… amazing! Then there's the community kids showing us what's out there and holding it all together, k10k.net, Designiskinky.net, and Kiiroi.nu and of course SHIFT!
Any final thoughts or comments?
M : I think the next few years are going to be totally amazing and will define what design is going to be for the next 20 years or so. We are on the verge of this convergent space in culture and I think that designers will be at the center of this convergence.
W : We're in it for the love. If we weren't, I'd predict that matt would be washing dishes at a truckstop along the interstate, Lee would be concocting gravy recipes for his mail order business, and I'd be deep in the wiring harness of a Porsche Boxster figuring out how to load two 12 inch subwoofers into the boot.
L : Just that I need to get busy and do a lot more shit. You should too.
ONE9INE
Address: 54 West 21 Street No.607, New York, NY 10010
Tel: 212.929.7828
info@one9ine.com
www.one9ine.com
Text: Mayumi Kaneko
[Help wanted]
Inviting volunteer staff / pro bono for contribution and translation. Please
e-mail
to us.