I spent way too much time reading about digital cameras on the Internet this month. I am tired of buying film, scanning is painful. Sony, Fuji, Toshiba, Nikon, still can't figure out what to buy. If anyone wants to help, contact me. In between all the reading I've made about digicams, one event caught my attention enough to make me get away from the computer screen.

You see, there's all kinds of festivals and happenings going on in Montreal every summer. So many things to do at the same time that it almost gets annoying. Mutek is one thing that I was waiting for. First, a bit of history.
Daniel Langlois was the first "software" multi-millionaire emerging from Quebec. His 3D software Softimage set a standard in Hollywood as far as computer animation and was used to create blockbuster hits such as Jurassic Park and Titanic. But Langlois wanted to do something more interesting with his money. In June 1999, he opened up his own complex. Ex-centris is described as "a mecca for the avant-garde showcasing the best independent film productions from home and around the world as well as works of art using new digital technologies." The 35 million dollar (CND) center, which he designed himself, contains some of the most hi-tech equipment available today: three small theater are capable of displaying digital high definition productions, and via satellite if necessary. Since it's grand opening, Langlois and his crew have been sponsoring and organizing all kinds of events. The Festival international Nouveau Cinema Nouveaux Medias (FCMM) is one of those. 10 days and nights of "new cinema" and "new media" presentations. Amongst this year participants were Farmers Manual, as well as Scanner + Tonne who used digital images from Montreal to produce a neat audio-visual presentation.
Ex-centris and FCMM decided to team up to organize Mutek, a more audio oriented festival. Music, sound, and you guest it, new technologies are on the menu. The five day festival fills a major gap in Montreal's music scene, bringing some of the most cutting edge artists. Big names stopped by: Thomas Brinkmann, Pole, Vladislav Delay, Jake Mandell, Taylor Deupree, Carsten Nicolai, Panacea, Sutekh and [The User] (who created a symphony using dot matrix printers).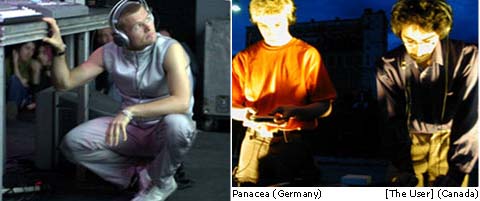 Since it's the first edition, critics around here have been very gentle on Mutek. Of course some adjustments need to be made. Like others, I was fooled by the line-up of what was labeled as the "minimalism" night where Thomas Brinkmann played a set suitable for the dance floor (which pleased clubbers who had no idea who/what they had come to see), but nothing really impressive. All and all, Mutek was a success and should be back next year.
Text: Jean-Philippe Beauchamp
Images by Mutek, All rights reserved.
[Help wanted]
Inviting volunteer staff / pro bono for contribution and translation. Please
e-mail
to us.