Meet Hong Kong's Conceptual artist MC Yan – Rapper, Graffiti Artist, and Philosopher.
MC Yan is everywhere these days. Apart from his latest album from LMF (Lazy Mutha Fuckas), his latest offering in the media is an international campaign from Nike featuring him bombing the streets of Japan. He will also be working with the notorious beatjuggler DJ Krush and DJ Tommy (1996 DMC World Champion from HK) on a special project. I managed to grab him from his busy schedule and ask more about what he is up to.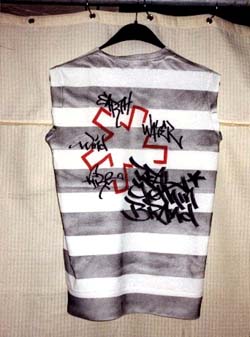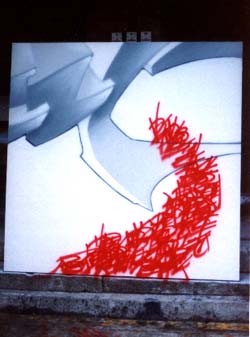 Hi MC Yan, please let us in on your history.
I was born in Hong Kong. During my high school years I moved over to France and studied there for seven years before coming back and have been residing in Hong Kong ever since.
Tell us your different sides?
Coming back from France, I immediately formed a band NT and we played mainly hardcore- rapcore. My musical influences then was the Red Hot Chilli Peppers (white man rap), I never liked the singing type of rock like Bon Jovi. My listening tastes have varied and I put that into our new conglomeration LMF that stands for Lazy Mutha Fuckas. This is a collaboration of bands NT, Anodize and Screw plus guests like DJ Tommy and Sam Lee. We have just released a second album.
What is your overall message to the people as an artist?
I find the local art scene here not about culture at all, it's only about exhibitions. I want to start my own culture, my own language here. For Chinese rap, no one has established a complete system of Cantonese rap. There is no history and right now my task is to transcribe past Chinese literate structure into today's literature through rap. Classic Chinese literature, technically, was all worked out. Looking and using it today, one needs to look at it differently. I look into traditional Chinese opera, how that works phonetically and try to make it flow into today's more western influential approach to social ideology. Chinese literature and poetry never had any of this, so it is very new to us. I want to encourage new cultural make up. It's hard but it doesn't mean we cannot try.
Art, philosophy and music for me run together and never conflicting. Everything comes from within, and my main message is to reflect Chinese Culture. Our graffiti team CEA (Chinese Evolutional Aerosol) is another medium for communicating this too. We are moving into Chinese characters and 3D application.
As an artist, what are your responsibilities to the people of Hong Kong?
I interact with the people out there, the people on the street that are doing things. I regularly have meetings with other artists, and swap tags. Right now, there are about 15 teams, 3 to 4 in each and slowly growing. At this stage, I am not too rushed in being some pioneer, or leader. My concern is to get the LMF community together. I want the local people to know I am not a "Gwen Tsei" (overseas' born). I want them to know I am as much Chinese as they are. The point is that the education system here really sucks. It is all about receiving only, and they never think of digesting it, breaking it down and asking "why?"
What would you like to achieve in your lifetime?
My work hopefully will reflect on the Chinese people and influence them to influence the world like they have in the past. Like Chopsticks and Soya Sauce.
Text: Calvin Ho

[Help wanted]
Inviting volunteer staff / pro bono for contribution and translation. Please
e-mail
to us.