When speaking of art festivals, many people believe they have to see the artwork properly and study with lectures and symposiums. That can be boring. However, there's actually an art festival waiting for you full of excitement.
Every year many people visit from Japan spend their vacation there. This festival, resembling a seven day long theme park, is Ars Electronica.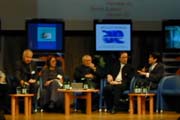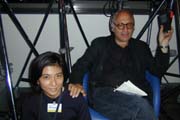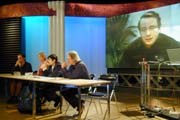 The longest and largest festival of media art is in its 20th year and is held in Linz, situated on the Danube. This festival facilitates and implements the harmonious collaboration of art, technology and society, and features electronic/media art every year. It sets up each theme from the noteworthy events of the year and reflects the changes in the media and technology. Art events are held all day long over a period of one week.
Last year's festival was pretty radical raising a 'hacker tent' that collected hackers from all over the world and laying mines in the middle of the square under the theme of "InfoWar". This year appealed to one's intellectual curiosity with the theme "LifeScience", an examination on how art can face life-related technology. Lots of unique events were held here and there.
A good aspect of Ars Electronica is that people can casually enjoy the festival. You can choose your favorite events from among the program list. It's absolutely impossible to experience all of the programs.
Walking along the Danube, I found a crane was hanging a huge speaker. Walking toward it, I heard the notes of a piano and found that Mychael Nyman was playing piano on the bank. He was playing toward the water on the grass during the early afternoon over a period of five days with the young musicians was remixing his play in real time. The environment gave us peace of mind. Audiences surrounded him while reading books or stretching themselves or sitting down on the grass. Nyman said he enjoyed playing peacefully. It was really a peaceful afternoon.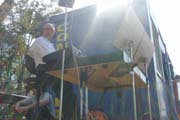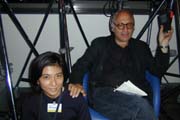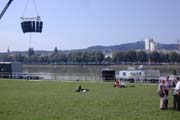 Contrary to such a peaceful daytime, radical events were happening every night.
An attraction that enthralls many people each year is "Ridin' A Train". Riding through the steel plant grounds on a train during midnight, is an absolutely wonderful attraction. People ride on a glazed special train and the noise music of steelmaking sticks in their ears and skin from the huge speakers. The train keeps on running close by the boiling blast furnace. I experienced this hellish tour for over one hour and it was terrible. But it was surprising that it had a mysterious charm, letting me feel a nice stimulus after I got off the train. When the train approached the mouth of Linz Port, the glass window opened automatically and a bevy of seagulls were flying around. I was strongly moved by the sense of freedom.
You have to reserve a ticket for "Ridin' A Train", more than a month in advance. I don't know why, but sometimes you can get to know a person who has a bunch of tickets by hearsay and get one, or once you board a pickup bus, you can ride the train. This is also a good point of Ars Electronica in that you can enjoy yourself if you try to.
Another noteworthy event is "Recombinant 9.9.99". It was started on September 9, 21:09 as a closing event on the final day. An outdoor show of percussion with a flamethrower made us welcome. Inside the place I heard an ensemble of uncomputerized old-style office, the roaring sound of typewriters and telephones. The desks were taken away and office girls left their 'office'. Then the veranda on the second floor was lit up and all sorts of things were making sounds through a mixer. Then symphonies by Dot Printers Orchestra, etc. followed one after another.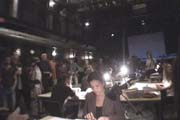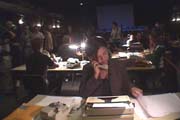 The stage moved to the next hall and non-stop section by prize winners of the Prix Ars Electronica's Digital Musics category. A musician was making sizzle noises using a huge piece of dry ice on percussion and another was playing Powerbook Orchestra. Such noises were mixed with the turntable plays by the guests among them Yoshihide Otomo. This went on until morning without a break.
'It's hard to look for and get artwork and projects to fit for each theme from all over the world. Sometimes we have to put some ideas of the theme into a basket because there's no artist who can meet the theme,' the managing director (art category) of Ars Electronica, Gerfried Stocker, said when he came to Japan last month. I think it was really difficult to do with this year's theme, 'LifeScience'. Therefore there were humorous and interesting pieces here and there, apart from the seriousness of the theme.
A work using a hamster was exhibited for the second straight year as Honorary Mention Interactive Art of Prix Ars Electronica. This project was by German artists who exhibited their work using a hamster named 'Byte', breeding a population of hamsters that specializes in gnawing on computer network cables, in last year's 'InfoWar'. This year they 'developed' a propulsion system driven by the hamsters' running wheel. Since the feeding station can be supplied with energy only by the robots, the hamsters have to make their own physical power available as 'propulsion'. The hamsters' actions were really cute, while the artists were working on in wearing black suits and dark glasses. It was interesting and funny.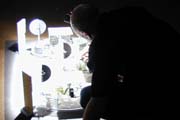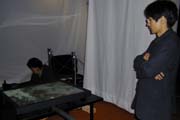 Also, the Matoba brothers participated in LifeScience Installations. Hiroshi, the elder of the brothers who exhibited "Digital Fukuwarai" last year, worked out the concept and Yasushi, the younger of the brothers, who had been working as an engineer at an automobile manufacturer, produced the work titled "Micro Friendship". This enables us to communicate and interact with tiny insects such as ticks and fleas using a monitor integrated into a table and a pointer, the size of which is proportionate to that of the insects. It's really simple, but it was crowded with people. Playing with tiny insects enables us to experience for ourselves what we've gone through.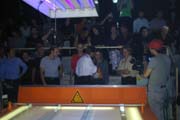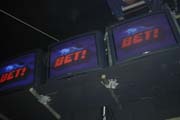 The ultimate one was "bugrace99". I was wondering to myself if it was art or not. They're live cockroaches, not PC bugs. Cockroaches competed against each other in a ring prepared for this race on a race course with mechanical electrical stimulations. The ring announcer livened up the race with eccentric comments. The odds appeared in real time (you could bet real money) and gamblers amongst the capacity crowd were shouting the name of cockroaches clasping betting tickets in their hands. The sight wasvery 'cyberpunk'. I placed a bet without thinking (since I didn't know what cockroach would win) and won three times as much as my bet. That meant a cheaper dinner. Then the bugs that won each race competed and the fastest cockroach was honored on the final day.
[NEXT]
[Help wanted]
Inviting volunteer staff / pro bono for contribution and translation. Please
e-mail
to us.