Sonar, billed as an International Festival of Advanced Music and Multimedia Art, has fast become one of the most vibrant festivals for progressive and experimental electronica in Europe. It's sixth edition had a lot to live up to, after my overwhelmingly positive experience of the previous year's event which included seminal acts from Kraftwerk to Jeff Mills, and rare screenings such as Iara Lee's Modulations, all in the chilled yet vibrant atmosphere at Sonar's heart in the centre of the city, the CCCB (Centre for Contemporary Culture, Barcelona).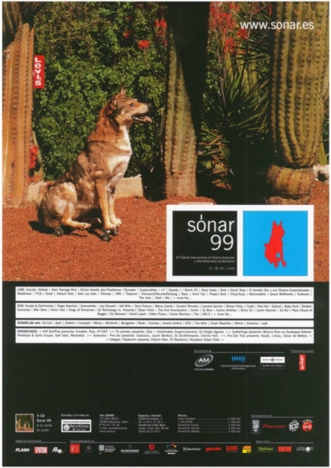 Over three days, from the 17th to 19th June, well over 30,000 people attended a festival with a growing reputation for showcasing international musicians and DJs, along with supporting the vibrant electronic music scene within Spain. SonarLab, the all-day music stage at the CCCB, and SonarClub, the all-night beachclub venue feature a eclectic fusion, and sometimes clash of styles, which can't help but cause strong reactions.
Orbital headlined the opening night in 1999, and was one of Sonar's only concessions this year to artists with commercial crossover. Dancefloor legends Laurent Garnier and Grooverider also offered more immediate, Grade A thrills. Acts such as Plastikman and Ryoji Ikeda display Sonar's greater affinity with the purest electronic forms and soundscapes. These are sometimes too challenging but for the most devout, but displays the uncompromising nature of the programming. More accessible were progressive labels like Bungalow, Leaf, Fat Cat, Elefant and Mute previewing their latest releases, just the thing needed before or after the necessary early afternoon siesta to recover from the night before. And a complementary flipside to the Japanese Technoise in the subterranean concert hall.
Sidebar events looking at music-led moving image, multimedia and installations are also a strong draw which rounded out the festival's vision of distinctive and experimental work. Many of these activities, under the heading, SonarMatica, featured work from local talent from Barcelona. This included work from Web-art stars, JODI (residents of the city); designer's Vasava Artworks, who publish the excellent Evolutive; web agitators NSQ – the Electric Factory; and Sergio Ibanez, art director for some of Spain's most stylish magazines, AB and Florida. Respites to the hectic live music schedule don't come any more cooling than SonarCinema's eclectic selection of music-based moving image. The latest digital trends and talents were represented and here I declare an interest: we showed our latest wow+flutter programme, and brought along Sneakers: Size isn't Everything, a graphic documentary based on the cult of the trainer from the onedotzero3 festival. Other highlights included the virtuoso new Cylob video, the Lucky People Centre International feature film from the Swedish DJ/VJ crew, and recorded live performance visuals from Shiro Takatani for Dumb Type and Skot's work with Hecker and Farmers Manual.
Five personal festival stand-outs:
1: The User: Architect Thomas Shaw Mcintosh and composer Emmanuel Madan, tune up fourteen dot matrix printer into a unique concert piece. Repurposed obsolete technology at it's best.
2: Ryoji Ikeda: The height of Japanese minimalism. Austere and precise sounds unencrypted in a masterly sonic performance.
3: Kruder + Dorfmeister: Explosive set from the contemporary masters of the 12″ remix. From their own G-Stone label, to Wall of Sound, Talkin' Loud, Ninja Tune, and SSL.
4: Chop Suey: Scratches, samples and breakbeats from Spain's own showed what the homegrown talent can do.
5: Richie Hawtin aka Plastikman: Uneven oscillations from Hawtin signalled my major disappointment of the festival. Too purest for his own good on the night, or maybe it was the lack of adventure in the nearly non-existent visuals.
With other countries and cities wishing to emulate the Sonar way, they must be doing something right. But the Advanced Music festival must be careful not to rest on it's laurels, as reputations are easy to lose. Some programming areas need to strive for even more innovation and less repetition from year to year. All in all though, these are minor niggles. Sonar is one of the freshest festivals around. Intimate, innovative and ideas-driven. My only regret: that somehow I missed that impromptu Pan Sonic party on the beach. But there's always next year…
Sonar 1999
Date: June 17th – 19th, 1999
Place: Centre for Contemporary Culture, Barcelona (CCCB)
Address: Carrer de Montalegre, 5, 08001 Barcelona
http://www.sonar.es
Text: Matt Hanson

[Help wanted]
Inviting volunteer staff / pro bono for contribution and translation. Please
e-mail
to us.