In 1992, he succeeded in the event 'Tokyo Gamer's Night Groove' that made games had an impression as Otaku and club culture unite. Then he established the indies techno label 'Frogman Records' with several partners, and established 'Frog Nation' in 1997. Recently he also contributes the animation 'Cowboy Bebop' and the game 'Ace Combat3 Electro Sphere'. His name is Dai Satoh.
We follow the tracks of Dai Satoh who is active crossing various genres as TV, music, game, techno, digital culture and animation one by one.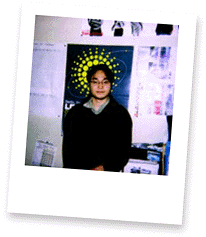 I knew the fact that Dai Satoh of Frog Nation contributes the production of an animation in addition to the work as a writer and organizer of the label about two years ago. It was just before that Evangerion was a great hit in Japan. I remember that I was excited reading the article regarding that.
He is a man who succeeded in the event 'Tokyo Gamer's Night Groove (TGNG)' that made game and club culture unite for the first time in Japan. It cannot be true that we're not concerned for knowing the fact that he was declared in a magazine to produce a really cool animation for himself. The animation 'Cowboy Bebop' was a more-than-expended and it certainly tell me the rythm that the present animations lost. I reconfirmed the greatness of him watching the animation and had an interest in him. It's hard to form something one by one as one likes whatever the environment is prepared. But the thing neccessary for the coming ages is to keep balance of work and life not being influenced by the environment especially for users of internet. So I thought we may be able to get something from the tracks of him who is doing as he likes by himself beyond the genre.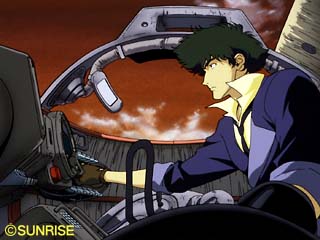 Cowboy Bebop. Copyright © 1999 SUNRISE, All Rights Reserved.
The TV series produced by the staff dealed with 'Macros plus' and 'Escaphrone in the sky'. The director is Shinichiro Watanabe who directs a TV animation first. It remember us various pleasant works as Rupin the third, Crasher Joe, Cobra, Halrock, etc. It's concluded in each story and you can spend 30minutes being intoxicated with the nice tempo of sound and story. It's too great, so I had no question about it to Dai Satoh. It's on the air on satellite broadcast. The videos of vol.1 and vol.2 are on sale now.
"I was no good at drawing pictures, but I wanted to be a cartoonist. It was when Otomo was appeared, and I was excited in Akira. I had a friend who is good at drawing but felt troublesome of thinking about plot, so I cooperated with him. Then my parents bought me a word processor when I was in the sixth grade in the elementary school. I was very impressed that the things I was thinking were transformed to a paper like a novel. I thought of writing a novel but I was unskillful."
In the same way that designer meets Apple Computer, he met a word processor at the early stage and had dreamed his future. Then he went on Toho special school working as an assistant director of part-time-job in a TV station. There's a turning point at that time. His talent was recognized by a songwriter Yasushi Akimoto who came to the school as a special lecturer by chance, and came to join the Yasushi Akimoto's office Sold Out and made his debut as a songwriter soon.
"I'd grown up my career and wrote the lyrics for various artists. So I've got huge royalties and I realized the job as a songwriter is profitable. I was insensitive to the actual value of money because I got more than one thousand yen a year when I was 19 or 20 years old."
He succeeded as a songwriter but he retired the office Sold Out because there's the difference in terms. He had lived it up every night with some musicians who are connected as a songwriter and flied around overseas in those days. It was just the time when there's Manchester boom in UK, so he went to see for himself with his friend. In his return distance, he touched club culture first.
"I went to the club 'Brain' that was organized by Mark Wigan in London first. I'd imaged club as disco and I hated it by the time. But it was really pleasant to dance with all who were dancing innocently. When I said I came from Japan, everyone said the country of Nintendo or asked whether I had played Mario. They let me teach that Japan was cool. I'd had felt ashamed to being Japanese. But everyone said, 'Your country produces great things'. Then I wished I could organize a club like that having an identity as Japanese. I had some relationship with musicians and DJs, so I thought I might do as I want if only I arranged for a club."
Mark Wigan is a painter who was active based on clubs in the late 90's. He'd come to Japan several times. His work is behind the bar counter at the club 'Budda' in Nagoya. Paint are revived in various approach today. Because our lives will not become to interesting with only photos and fashion illustration.
In those days, animation and game are regarded as for children, and people who are absorbed in them called Otaku. They could not express how they loved animation and wear the T-shirts of animation characters. But we were instructed that they're cool by overseas. One must be thankful that the event 'TGNG' made game and club culture unite was succeeded here in Japan. If the event like 'TGNG' was held in UK in advance and it reimported in Japan, it would be delayed the time when we have a proud of the things produced in Japan. Graphics and musics having an originality in Japan have increased since then. And 90's were started in magazine, music, club, game, animation, etc.
(NEND GRAPHIXXX who is popular in GASBOOK, etc. also participated in TGNG. They'd expressed T-shirts having motives as game and Buddhism, and does some epoch-marking events. I can remember a strange photo that a lot of video games are lined up and the man wearing the clothes of Sonic were walking around in club was carried on a magazine.)
"It was the time when there's a boom of games in UK. An artist Simon Harris remixed Mario and Hypnotone were sampling Game Boy there. When I was wearing T-shirt of Sonic, Mr.Tajiri (Pocket Monster) came up to me and said, 'It's cool. Where can I get it?'. Then I came to work at his office Game Freak."
The formula as Game(otaku)+Club(cool) would set creators at ease not only users. He settled at Game Freak that was just going to send Pocket Monster off to the world. He didn't have to do with the development of Pocket Monster directly, but he must have let fresh air into the closed game business. He said that he absorbed a lot of things from Tajiri in some interviews. He had to do with the advertisement of a game 'Pulse Man', released cds with Marine (Denki Groove) and as a name of Sterero type that is a unit of Tajiri and him from Colombia, and he let Anarchic Adjustment produce T-shirts. Then his techno life was started.
"I had gone to club almost every week in those days. I'd met the same people every week. But we'd never talked each other though we're dancing together. One day I had a chance to talk to them. There're Takkyu Ishino, Mr.Noda, an eventer Mr.Nomura, CMJK, a manager Mr.Morikawa, Hiroishi and Kengo Watanabe. We talked why we cannot listen Japanese musics in club here in Japan. Almost all of techno musics played in club were German techno. Then we had a talk at the office 'Disc Garage' in the daytime, and it became the base of Frogman Records, then we came to release cds."
He started his work as an organizer of Frogman Records and a writer. His friends and he let me know a lot of musics, graphics and informations in domestic and foreign. He collected his writings and succeeded in publishing a book 'Generation-N' having a hard time.
He also continues releasing albums with KEN-GO and creative users who support Frogman Records. As Frog Nation, he deals with some scenarios and stage setting of Cowboy Bebop (Jaming with Edward, etc. He's now writing to a novel of the story and seems to be ready for a remix cd with the director.) As for games, he has to do with producing and writing scenarios of 'R4-Ridge Racer' and 'Ace Combat3 Electro Sphere'. And he started writing a serial novel 'Beat Perminutes' in the literary magazine 'WESTLAND vol.1' edited by Jinsei Tsuji and Shigeo Gotoh.
The impression that only people who felt the club culture in realtime can know is writed with great care in the novel. And it proves that beat surely existed in 90's through a viewpoint of a Japanese DJ leaving for overseas.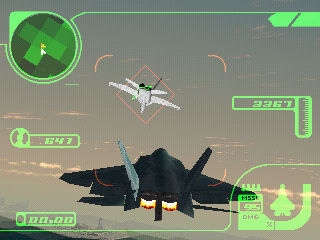 Ace Combat3 Electro Sphere. Copyright © 1999 NAMCO LIMITED, All Rights Reserved.
It's the latest product of 'ACE COMBAT' series. It took over the good point from the last one and aims to be multi-mission and multi-story that the decision of players changes the story. I really look forward it because the graphics of the morning glow in 'R4-RIDGE RACER TYPE 4' is so beautiful .
"There're three factor as 'GUNDAM', 'XEVIOUS' and 'YMO'. That's all for me and they're my origins. The common grounds of them are pop, underground and having a lot of setting on the behind. All of then are in common with my present interests."
He realizes various great artworks that he has been got until now firsthand, and he's going to respect for them with his works. Today we've got a network. It means the environment that we can respect each other wherever we live is completed. We're collaborating with a greeting traveling all over the world beyond the times. There're huge information in Tokyo, so we sometimes lost what is good or bad. In such situation, he takes the target of his interests firmly and surely digests them. I felt there're plenty of things we should to follow in his attitude.
Text: Akira Natsume
Translation: Mayumi Kaneko
[Help wanted]
Inviting volunteer staff / pro bono for contribution and translation. Please
e-mail
to us.