There's nothing wrong with a bit of intellectualising; especially if it helps you understand what the hell it is you're doing, sitting there in the studio with you're little mouse wriggling around in your hand all day.
When you hear about the French intellectual posse of the mid century, you realise that ideas are as much about the location, the amount you've had to drink and who else is present as the countless books and essays where their ideas are eventually published. This is why when at 5 AM, Max Bruinsma and I were propping up the bar at our Athens marble clad hotel. I decided to quiz him about his views on design and his position within that world.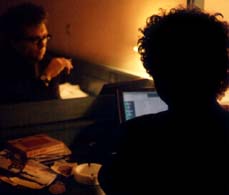 Max is dressed to think; the black clothes, the glasses and the wild hair. He is editor of Eye Magazine. An international design journal promoting critical discussion on graphic design.
Nothing is simple with Max. One question produces a multitude of responses, steering the ultimate answer though a maze of justifications and contexts to ensure his point is correctly understood. Rather than spanning a range of issues the conversation sticks on one point, the belief that design has for some time held the dominant position in the formation of visual culture.
Max has been writing about art and design for 15 years since graduating as an art historian. Coming from this background gives Max access to contrasting perspectives of design and visual culture in general. Having such a broad perspective makes you take his view seriously when he states that:
"My point of view is that design took over from fine arts as the prime source of visual metaphors in contemporary culture."
This is quite a claim I thought to myself, and my booze induced honesty made it pretty clear what I was thinking. Unperturbed Max labours to get the point through.
"The very self conscious, personal stance – once the prerogative of the artist – is undermined and marginalised. Somewhere in the 1920's the art paradigm shifted into the design paradigm , meaning that we went from personal expression to mass communication."
The history of this shift Max briefly outlined with references to Bauhaus, The Russian Revolution, Constructivism, De Stijl and of course Cubism.
"At this point there is a split between two reactions towards the past; one strand is moving back towards functionalism, shedding the trappings of art and politics and instead responding to social and functional needs."
It all starts to fall into place for me at last. New technological advances in print media as well as the onset of broadcast media has formed a different situation for the designer. Mass media requires a language understood by the masses, not an exclusive language of art.
So, graphic design takes the leading role. But how does this effect graphic design? Also (I'm trying not to lose the point), how does this relate to Max and Eye magazine?
Max believes that if you accept his argument, you must accept the responsibility this bestows on designers. This is where Eye comes in. Eye is a forum in which to express ideas around the topic of graphic design, to stimulate debate that can only elevate the understanding and perception of design.
"Graphic design culture is too much artistic; they shun critique when they should encourage it – design is critique."
Eye is a vehicle for the discussion Max feels is lacking in this arena. Without this debate, designers are tied to stylistics in the absence of any other means to think about what they do.

It's a pretty good argument and I'm happy to have had it explained to me by someone who ought to know. Even though, it's 5:30 AM and there's some sleep to be had before an early morning flight. I take some photos whilst Max checks that night's e-mail of which there must be 10 or so. Then it's off to bed with my badly scribbled notes and that weird feeling you always get in plush but slightly bad taste Hotel rooms.
Text: Nicolas Roope
Photos: Nicolas Roope

[Help wanted]
Inviting volunteer staff / pro bono for contribution and translation. Please
e-mail
to us.