The singing voice such as a transparent lake. It was my first impression when I listened to saju. She went back and forth between Japan and Peking, and produced the 3rd album. The foremost ambient musicians including Mastermind took part in it. Her thorough music style was recognized and selected as the theme song of the film 'SPRIGGAN'.
She is a Chinese. Of course she sings in Chinese. We don't have much opportunity to know it. I hope you to feel the beautiful sounds of it through this album.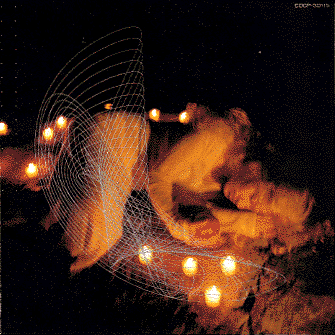 This is 3rd album. What is the theme of this album?
The theme is "live". I wrote songs according to the theme. I want to express my feelings through music not language. I'm satisfied with this album very much.
Is to sing in Chinese meaningful for you?
Yes. I want to tell the beauty of Chinese language to everyone. At first, Mr.Otomo said me, "I don't mind about language. You may choose whatever you like". Japanese is familiar in Japan, but I'm not good at Japanese. So I chose Chinese that I can express my feelings well. If I were good at Japanese, I might sing in it. But I think it's not necessary for my song at the moment. By the way I believe music has no border.
When did you meet with songs?
When I was five years old, I sang a song on the stage for the first time. And then when I was seven years old, I appeared on the stage of the ceremony of National Foundation Day. I think my life as a singer had started since those days.
What kind of songs did you sing in those days?
In my childfood, I liked Tibetan music, and even now. Whenever I appeared on the stage, I sang Tibetan songs. Many people are believing I am a Tibetan. Tibet is a sacred place of music for me.
Please tell us the reason for coming to Japan.
I was worried about what thing I want to do most. I wanted to create new sound. I am an Asian. In Asia, Japan is the most forefront. The sound creation is also first-class. I think I can get more and more information about music in Japan. So I came to.
When did you come to Japan first?
In 1991. But I went back to my own country soon. I got many things in Japan. For example, I knew Enigma. When I listened to Enigma for the first time, I was very moved. And then I made my debut at Colombia at last. I feel a sense of fulfillment now. And I'm glad I could take part in Mr.Otomo's film.
Were you asked to sing the theme song by Mr.Otomo directly?
Yes. It was by chance. He listened to my 2nd album and he was pleased with my voice. At first, I imaged a childish animation, so I felt out of place. But I met him and understood. So I wrote the song consulting with him.
In this album, you're singing a Japanese folk song 'Furusato'. Why did you put it in?
To my regret, I didn't know the song that all Japanese know. Masternind who collaborated with gave me a demo. It's very quiet song and I'm pleased with it. The lyrics and the theme are suitable to my album. When we grew up, our home town is the most dearest place. I sang the song in such feelings.
Many things are changing in China recently. Do you feel any change in Chinese music scene?
Yes, but I think China lags for behind other countries. If I didn't come to Japan, I won't do such a thing now.
I had heard that music business develops energetically in Shanghai.
I think Japanese are misunderstanding. In Shanghai, Japanese artists often hold concerts. But as for music, Shanghai is a developing city. Shanghai is no match for Peking in music.
IAfter a great historical event, can you sing songs freely in China?I
To be frank, politics of China is still strict now. I'm free now because I'm in Japan. In China, The lyrics are inspected, so I won't be able to sing obediently. Hard rock artists cannot go on TV. When I appeard on the national stage, I had to dye my hair black with spray. China is still socialism. In Japan, I can produce musics that I want to do. To tell the truth, I want to do in my home country. But I'm happy in Japan now.
IPlease tell us about your future plan.I
I will take part in Asia Music Festival on Dec.19. I want to keep producing good musics. Give your supports, please.


Saju / Realizing-living
COCP-30115
3059yen (including tax)
NIPPON COLUMBIA CO.,LTD / TRIAD
Saju Profile
Born in the People's Republic of China and grew up in Peking. When she was seven years old, she showed her song in more than ten thousand guests on National Foundation Day. It triggered and she was faschinated with the world of music. And then she played an active part as a member of a choras group and won at many contests personally. Since her childhood, she devoted herself to Tibetan music. She searched her original sound and established her world of ambient music. Up to the present she had released two original albums. Her throughgoing music style was recognized and sing the theme song of the film "SPRIGGAN".
Text: Kyota Hamaya
[Help wanted]
Inviting volunteer staff / pro bono for contribution and translation. Please
e-mail
to us.