Can you describe sevenmag and what it does?
Sevenmag started out as a fan magzine on The Artist Formerly Known as Prince, it was professionally designed and printed, and had a large readership across the world – particularly in the USA. 7 Magazine (as it was then called) also had an accompanying website – which was a lot different to the Sevenmag of today. It was slick, with some nice graphics and animation, but it was really nothing more than a teaser for the printed publication. In the second half of 1997, we got into a disagreement with Prince's organisation after I was invited to participate in the designing of Prince's new website. His organisation changed from being helpful and accommodating to downright unfriendly. So we decided to close down the print magazine, shut down the website and change direction. Sevenmag was launched in New Year's Day 1998. While some of its initial focus remained with Prince and associated artists, we have evolved into a magazine that deals primarily with music and popular culture. Our latest issue includes an exclusive interview Camilla Paglia, as well as funk greats Larry Graham and Bootsy Collins.
Do you have any reasons behind the way you design the magazine?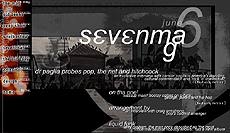 For Sevenmag, design is as important as content, so I always aim to visually respond to articles in new and interesting ways. To some extent, I have tried to replicate a print feel with the magazine, and sometimes this has been more successful than other times. Many of our articles scroll sideways rather than up and down, while others are one-screen designs with invisible framesets that allow an embedded article to be scrolled within the design. As a result, the site is very graphic intensive, but I think most people will think that it's worth the wait.
What do you see are the differences and advantages of being an internet magazine compared to print mags?
Well, there are downsides first, advertising is one thing – it's not the same on the internet, and I'm still trying to figure out a way of putting advertising on the site that doesn't interfere with my design. Design is another problem too – there are lots of variables to deal with on the web, which means you always need to be thinking in a million different ways about a design, especially when mixing complex graphical cut-ups with html text. One advantage of the web is that there is always the potential for a greater audience than print – and you can include animation or flash to enliven a design that you just can't do on paper. It's free for the viewer, it's low cost to produce. And personally, I feel that working in RGB is far easier and more vibrant than CMYK. News can be updated instantly and the publication turnaround is much quicker… and of course, the beauty of html, is that you can correct it after you've published it!
What do you think you will be doing in the future with the mag?
In terms of design, I'm about to redesign the entire interface, as well as restricting the size (file and dimension-wise) and download of the design. We are gradually getting bigger and bigger names agreeing to interviews on them too which is great! While we want to keep our focus a little left on the middle, we are also aiming to become a little more mainstream too. I'd also like to have more designers guesting on design from time to time – because for me as a designer it's great to have a constant injection of new ideas and new styles, and even new design and code practises for the internet. While sevenmag is a professional outfit, it's also a constant learning experience too – I'm always trying to push the medium a little, so it's very experimental.
What have been the most popular articles in previous issues
Our May issue was *very* popular, as was our March issue. Our current issue has an exclusive with camille Paglia which we're sure will be a popular one. Our past articles on Prince collectables are *always* very popular with collectors worldwide. As have been our interviews with several of Australia's most prominent DJs.
What are your favourite mags?
I always buy Raygun without fail, but I feel that it's just not as adventurous design-wise as it once was. Also in print, I usually get Spirit, Bikini and sometime Juice. Apart from that I usually buy a magazine for whoever's on the cover or for particular articles.
Text: Karen Lee

[Help wanted]
Inviting volunteer staff / pro bono for contribution and translation. Please
e-mail
to us.