When Thomas Schutte's "Model for a Museum" was presented as a work on the theme of museum as a place, 1961-born German artist, Andreas Siekmann, who produces works around the theme of public art, which is indeed the theme of the Muenster Sculpture Projects, also took part in documenta 12 this year and had her work installed in the front square of the Museum Fridericianum, also participated this year as well with a work called "Trickle down. In the Public Space in the Era of its Privatization."
As the installation title suggests, Andreas Siekmann works on art pieces that ironically criticizes the marketization and privatization of public spaces in society and in cities. In the corner of two streets, 2 large works were installed in the front square of the building with a historical atmosphere.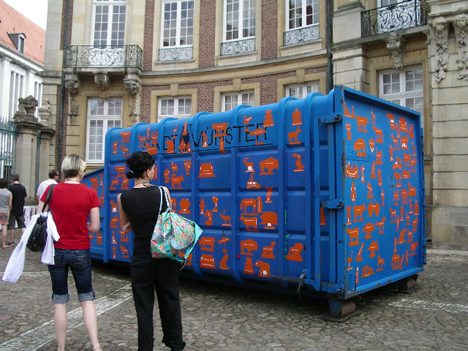 Andreas Siekmann, Trickle down. Public Space in the Era of its Privatization
First on the left, there were orange pieces stuck on the object that looked like the container of a lorry.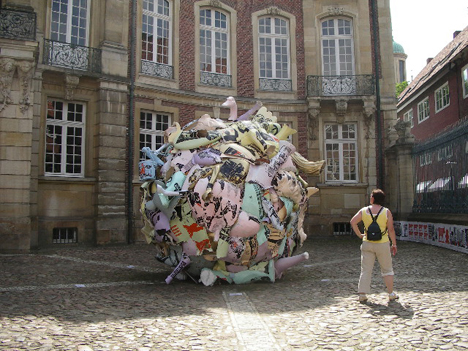 Andreas Siekmann, Trickle down. Public Space in the Era of its Privatization
On the right, there was a huge round object made from scrap-like pieces in pastel colors. If you got closer, each piece seemed to be shaped like a part of an animal. Horses, cows, heads and feet of elephants are piled up like scraps.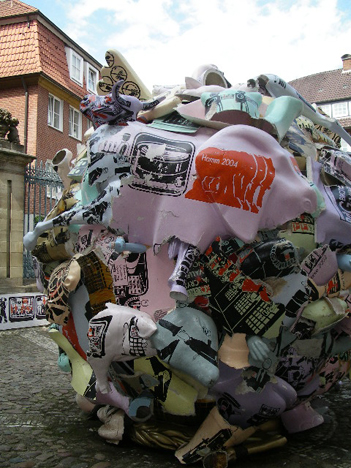 Andreas Siekmann, Trickle down. Public Space in the Era of its Privatization
Just as I wondered what they were, I saw that the frieze under the fence that surrounded the square in front of the building used to display some art pieces, which I thought was a very good use of the space. It was about the "public art" pieces that can be seen often whenever you are in relatively big towns. The pieces of sculpture that was part of the recent fad, typically of animals, made out of fiber glass such as cows or bears installed in cities all around the world.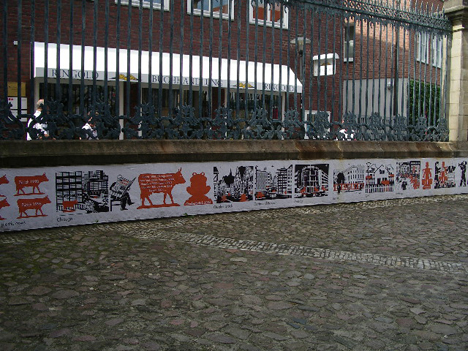 This illustration work was ironically revealing as it poked fun at the process of how councils and corporations allied with each other think they were contributing so much to art and culture by having various artists paint the pieces while they cooperates to fund the projects and councils to provide the public spaces.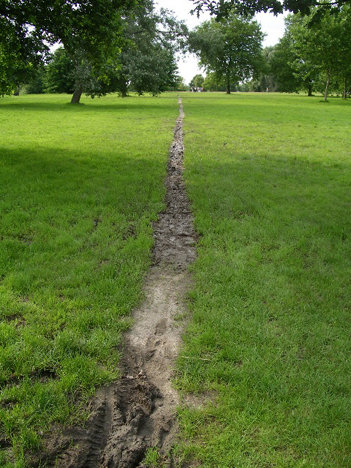 Pawel Althamer, Path
Finally, the most poetic piece of all the projects this year: "The Path" by Pawel Althamer; a path that carries on forever.
In this article, not all 36 works that participated the Muenster Sculpture Projects are mentioned. It is hard to critique the whole exhibition since the Muenster Sculpture Projects do not provide a clear theme like other international biennales such as documenta. The only notable thing this year is that, in the previous projects, many American artists were featured presenting their huge sculptural pieces, but this time it was more focused on local German-based contemporary artists and many of their works were comparatively smaller and focused on the internal or psychological side of humanity.
As the project only happens once every 10 years, it is true that it's difficult not to attend it. However, many of the works are permanently installed, have become a part of the local Muenster community and can still be seen in the town at any time. On another note, as Muenster is a little country town in Germany it is a nice place that is very "green" I would recommend anyone to visit this town when they ever go around traveling in Germany.
Skulptur Projekte Münster 07
Date: June 17th – September 30th, 2007
Place: Muenster, Germany
http://www.skulptur-projekte.de
Text: Kana Sunayama
Translation: Kyoko Tachibana
Photos: Kana Sunayama

[Help wanted]
Inviting volunteer staff / pro bono for contribution and translation. Please
e-mail
to us.