You can mix light and sound, air and water, past and future at one extraordinary dance-music event each month in Eastern Europe. During the Cinetrip evenings in Budapest, revellers bathe in hot water steaming up from the depths of the earth while the medieval baths complex around them pulsates to house and techno sounds while glimmering with cinematic and slide-show projections on walls and ceilings.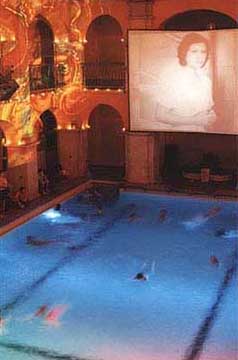 Budapest's Rudas thermal bath complex is one of seven thermal bath-houses in Hungary's capital. Over 120 thermal-water sources bubble up through Budapest – but this one is different. The Rudas is a Turkish bath whose structure dates back to at least to the 16th century, during the Ottoman occupation. That's right – Turkish baths actually built by Turks. Reserved for men only for its entire existence, it now is suddenly open to young people of both sexes – but only for these once-a-month Cinetrip events (known locally as Vizimozi). The next is on February 2nd.
The first entry of women into the mysterious inner bathing sanctum for over 400 years? "Don't you think there have been events like this here in previous centuries?" countered our friend Rob with a knowingly cynical raised eyebrow as we stood up to our chests in hot mineral water, bathed in a single demonic red spotlight. The shifting shadows of chatting groups in bathing suits sploshing in the steamy background, with soft trance-track sounds burbling all round, gave pause for thought. Well, maybe he was right, yes….
Meanwhile glowing light shows stream across the roof of the domed and collonnaded Turkish bath. The steam rises, every surface glistens, and people swim through coloured lights underwater, wriggling like mermaids to the music. Then at midnight comes a belly dancing show, a lithe woman expressing in dance just what we were all thinking anyway.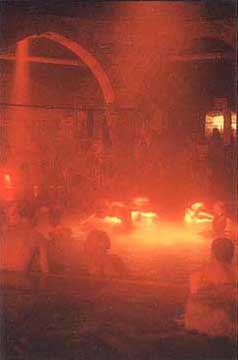 Sexy. Cinetrips are sexy. And add underwater music from underground DJs to accompany all the overhead lighting, and videos…. You won't find this anywhere else; a slowed-down rave in the decadent and relaxing tradition of the ancient world. Perhaps the Eastern Roman Empire lives on after all.
Under the Turkish dome that covers a 36 degrees Celcius hot pool of sulfurous water, a red light is cast upon belly dancers as they rehearse for a uniquely Hungarian creation. Now Cinetrip is in its third year. Here, where rave meets contemporary arts, several hundred people mostly under the age of thirty attend the hottest party in Budapest. And the event is also fast becoming one of Hungary's hottest creative exports.
Read more ...

1
2
[Help wanted]
Inviting volunteer staff / pro bono for contribution and translation. Please
e-mail
to us.