Certainly an iconic subject in many Chagall works, the circus and its buoyant characters are compiled in "Le Cirque" (The Circus), 1967, also commissioned by Vollard in 1927. Chagall had always been intrigued by the circus scene since childhood when traveling acrobats often flocked his town in Russia. He remarked "A circus is disturbing. It is profound… For me, a circus is a magic show that appears and disappears like a world." He completed 23 color and 15 black-and-white lithographs by 1967 (color 23 exhibited), perfectly enacting the wild pandemonium of the circus stage.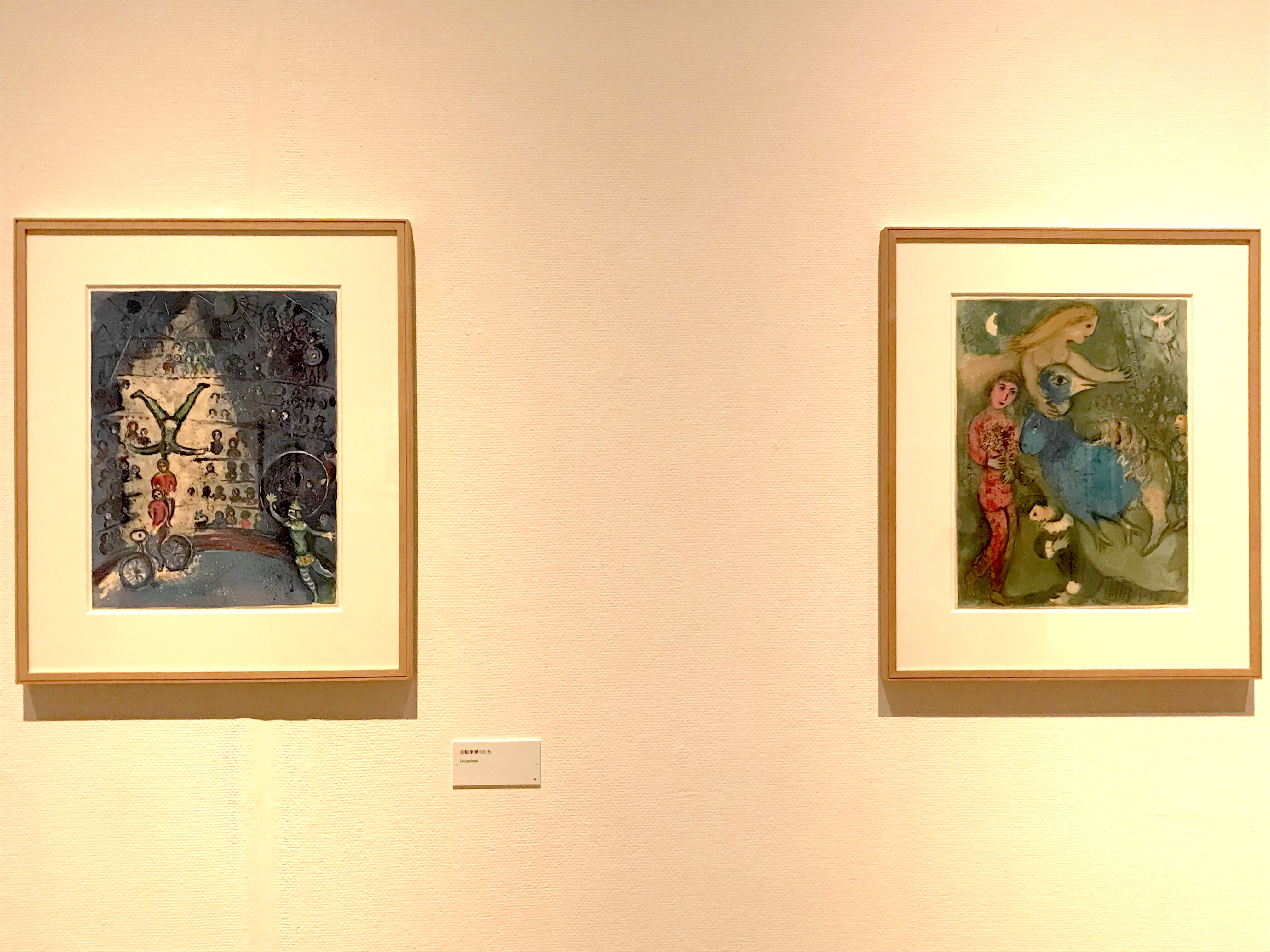 Marc Chagall, Le Cirque 1967, Les cyclistes, 1967 (left); La jeune fille au bouquet, 1967 (right)
"La jeune fille au bouquet" (The young girl with a bouquet), 1967, depicts a lady in her snowy body and holding a large bouquet, complementing the white bird above the flowers, and the yellow beast below. The picture is a typical Chagall hybrid composition of animals and human figures, all immersed in a rich cerulean blue background. In "Les cyclistes" (The Cyclists), 1967, Chagall animates four acrobats in a jovial spectacle of talents. The cyclist in pink and the man behind him in red contradict the other two performers in green.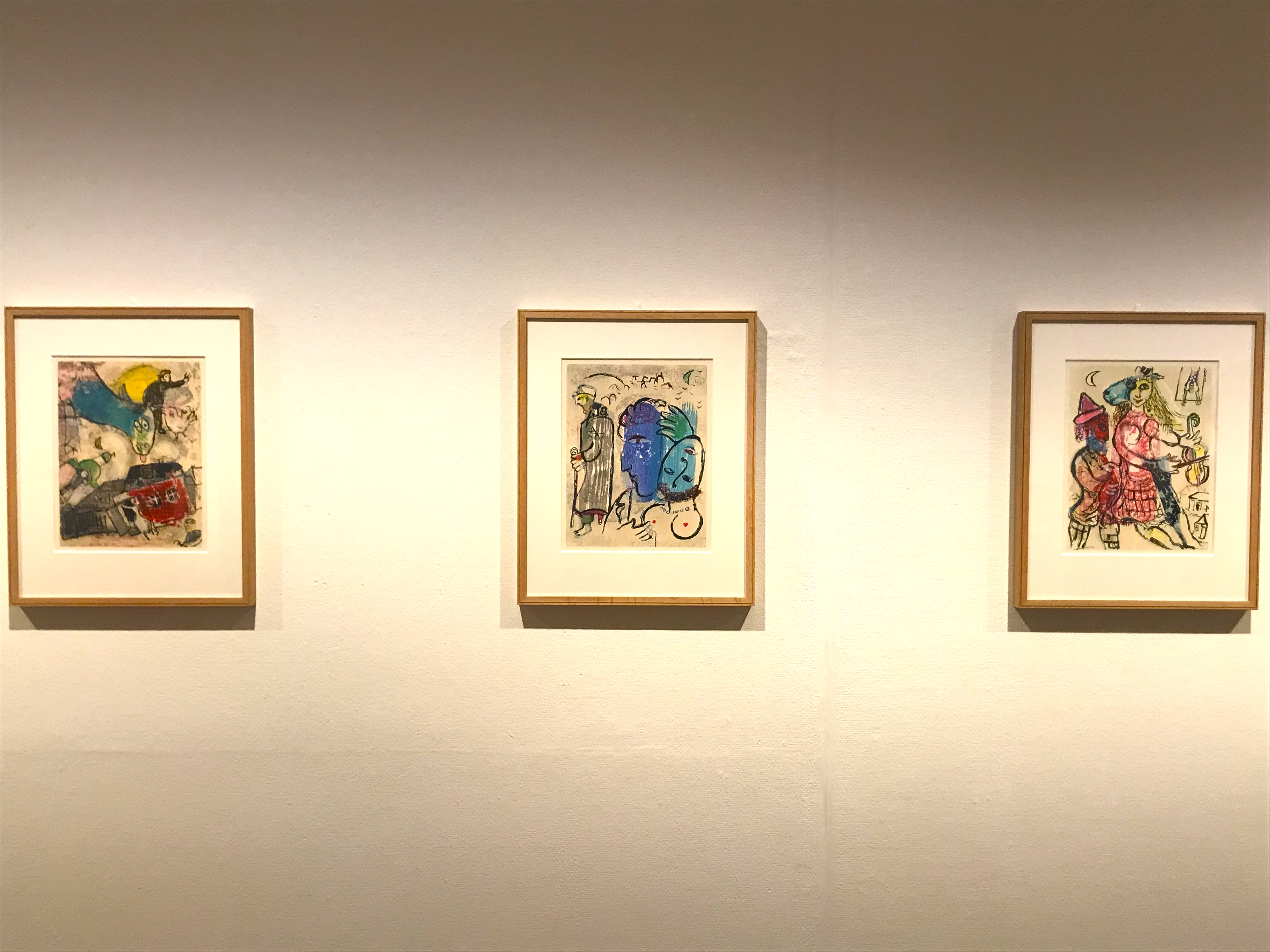 Marc Chagall, Poèmes, 1968, Gravure #10 Tu M'as Rempli les Mains, 1968 (left); Gravure#11 A Terre, 1968 (center); Gravure #16 Violinist (right)
Chagall was often labeled as the "poet with the wings of a painter." He was a writer of both prose and poetry. "Poèmes" (Poems) collection, 1968, consisted of 31 poems written by the artist between 1909 and 1965, accompanied by 24 woodblock prints (15 on display). They speak of his hometown memories, his sympathy for the Jewish people and loved ones, faith, war, and the path he had taken as a painter. Images of Vitebsk, Paris, lovers, bouquets, and stories from the Old Testament are portrayed using a woodblock printing technique of emphasizing the wood grain and bark rings, and creating a collage of patterned cloth and pieces of paper pasted on the screen.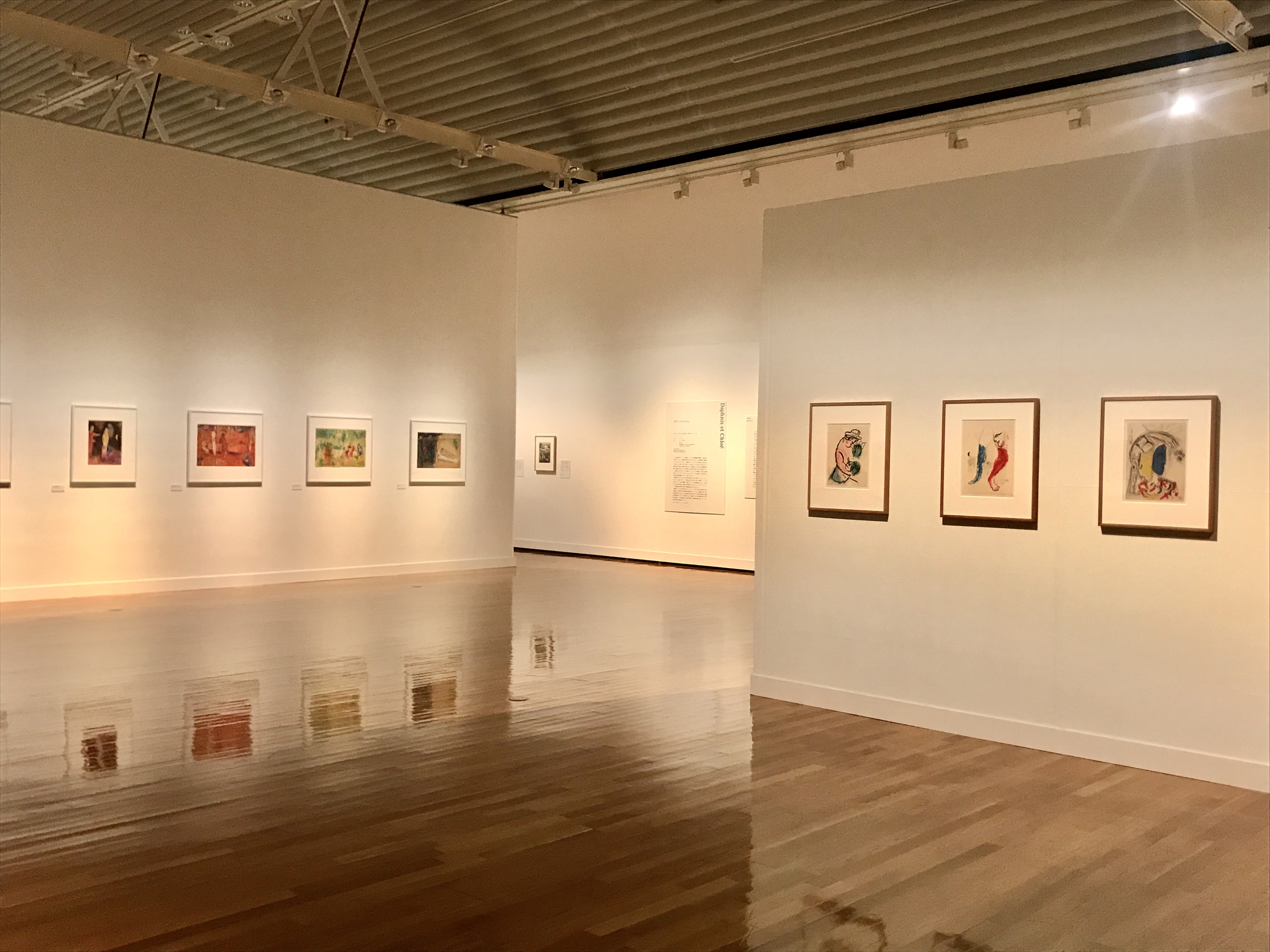 Gallery view, Marc Chagall, De Mauvais Sujets, 1958, and Daphnis et Chloé, 1961
"Gravure #10, Tu M'as Rempli les Mains" (You filled my hands with colours, with brushes), 1968, mirrors, perhaps, a portrait of himself in the company of animals and a landscape setting. An excerpt from the poem reads "I am Your earthly son, I can barely walk, You filled my hands with brushes and colours – but I don't know how to paint You. Should I paint the sky, the Earth, my heart?" Another woodcut work, "Gravure #6 Si Mon Soleil" (If my sun), 1968, personates a likely image of Chagall as a child in front of a canvas, against the subtle pink background epitomizing youth and innocence.
Walking through the galleries of resplendent colors, dancing figures, and zestful sceneries of love, hardships and reflective moments, we absolutely plunge into Chagall's multidimensional universe of graphic imagination, hauling us somewhere between reality and make-believe.
"Poetic Light in the Prints of Marc Chagall:
Works from the Museum of Modern Art, Kamakura & Hayama"
Date: July 1st – August 27th, 2023
Opening Hours: 10:00 – 18:00
Closed on Mondays (except July 17th), and July 18th
*last entry: 30 minutes before closing time
Place: Setagaya Art Museum
Address: 1-2 Kinuta-koen, Setagaya-ku, Tokyo
Tel: +81 (0)3-3415-6011
https://www.setagayaartmuseum.or.jp
Text: Alma Reyes
Photos: Alma Reyes

[Help wanted]
Inviting volunteer staff / pro bono for contribution and translation. Please
e-mail
to us.