The exhibition develops following three main research axes, which intersect and refer to each other. The first is the one that investigates the critic's exhibition activity: from the very first exhibition at the Guida bookshop / gallery in Naples, in 1966, with the works of Pino Pascali and Renato Mambor, to the more recent "Le Tribù dell'Arte" (2001) and "Gino De Dominicis. The immortal" (2010). Some works of art that have been part of the exhibitions he curated are here exhibited, such as Primo piano labbra (1965) by Pino Pascali, La Luna (1968) by Fabio Mauri , Metrocubo d'Infinito (1966) by Michelangelo Pistoletto, or TV-Buddha Duchamp-Beuys (1989) by Nam June Paik. Bonito Oliva has definitely placed into dynamic relation some of the most important artists of the second half of the twentieth century.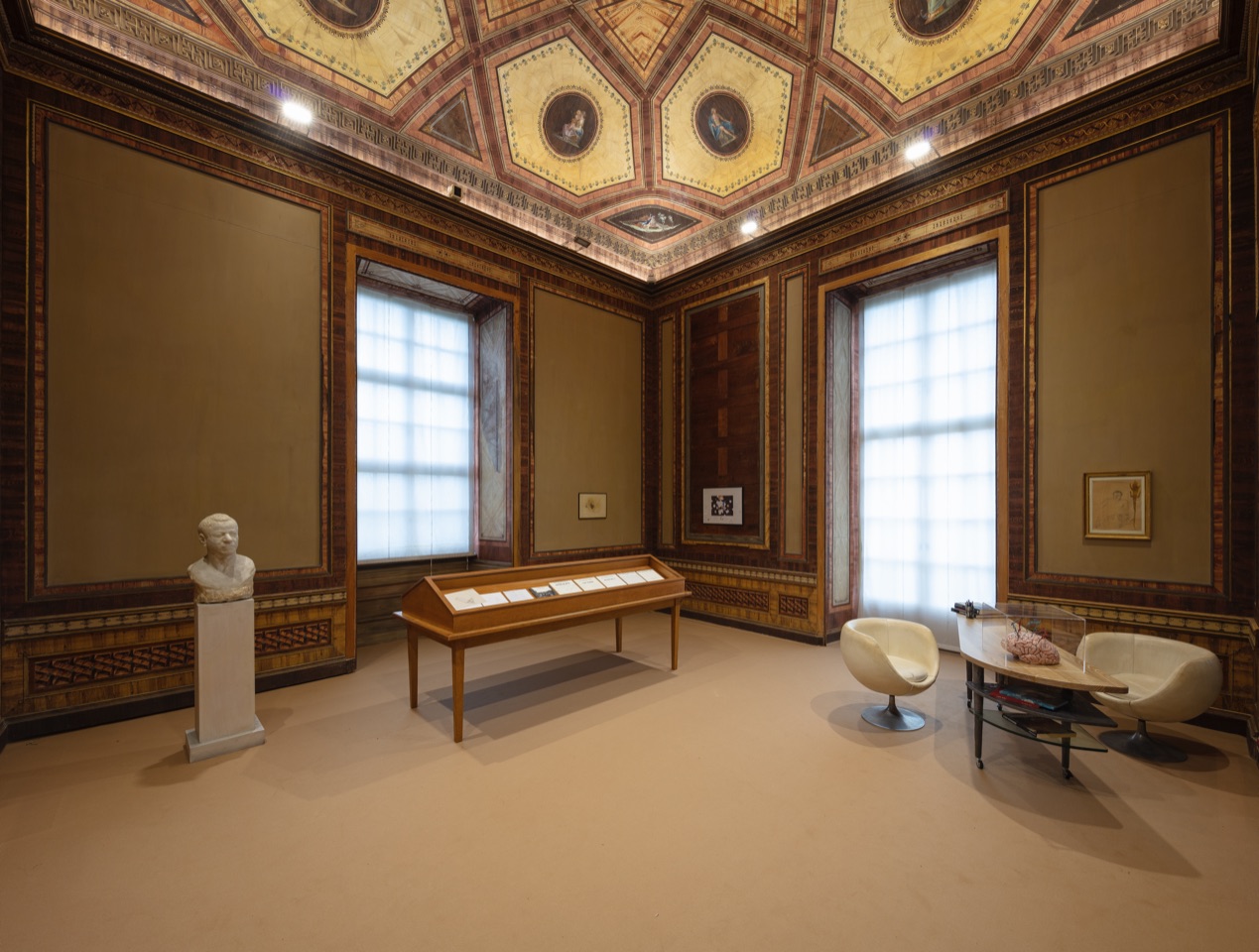 Installation view of the exhibition A.B.O. THEATRON. Art or Life with artworks by Renato Mambor, Nunzio, Mimmo Rotella, Mario Schifano, Sandro Chia and the video directed by Gus Van Sant and Alessandro Michele, Courtesy of Gucci
, Photo © Antonio Maniscalco, 
Courtesy Castello di Rivoli Museo d'Arte Contemporanea, Rivoli-Torino
The second research axis, on the other hand, explores the genesis and evolution of his critical writing, crossing his private sphere. He started in the 1960s dealing with visual poetry in the contest of Gruppo 63, but soon approaching visual art, where he felt more stimulus. In an interview with the critic and art curator Hans Ulrich Obrist he states: "I have always thought that the critic should practice not only essayistic writing but also an 'exhibition writing', that is a way of unfolding critical thinking through an exhibition, in a scale ratio with architecture and the social body ". That means that the critic writes his books and essays with words, but with the works of art he writes in the social space and assists the public in the critical setting.

Installation view of the exhibition A.B.O. THEATRON. Art or Life with artworks by Gilberto Zorio, Alighiero Boetti, Marcel Duchamp, Nam June Paik and posters, 
Photo © Antonio Maniscalco, 
Courtesy Castello di Rivoli Museo d'Arte Contemporanea, Rivoli-Torino
Finally, the third line of research investigates the "performative" dimension of the Italian critic, together with all those attitudes and those poses, which have contributed to delineate the public profile of Bonito Oliva. His presence on radio, cinema and television, but also on countless projects for newspapers and magazines, define a real cult of his own personality, which determine his autonomous dimension as a public figure that bounces, within the exhibition, in dozens of screens and photos that portray him naked, or in ironic and self-critical poses.

Guardian Angels, Photo 
© Valentina Sommariva, 
Courtesy of GUCCI
Bonito Oliva is a protagonist personality, with a creative talent entrusted to a performative interpretation of criticism that has defined the complex cultural identities of languages and the contemporary art system.
In this exhibition, which go through his life even in the most bizarre aspects, we get closer and closer to the idea that art creates surprises in those who make it as well as in those who meet it, underlying this essential link between creators and observers. The whole exhibition is a large theater, where the museum staff also plays a role: for the occasion, in fact, the main sponsor maison GUCCI has created sage green uniforms for the museum assistants who welcome visitors to the exhibition.
A.B.O. THEATRON. Art or Life
Date: 25th June, 2021 – 26th June, 2022
Open: 11:00 – 19:00 (Closed on Monday to Wednesday)
Place: Castello di Rivoli Museum of Contemporary Art
Address: Piazza Mafalda di Savoia, 10098 Rivoli, Torino
Tel: 39 (0)11 9565 222
https://www.castellodirivoli.org
Text: Ilaria Peretti
Photos: Courtesy of Castello di Rivoli Museum of Contemporary Art


1
2
[Help wanted]
Inviting volunteer staff / pro bono for contribution and translation. Please
e-mail
to us.