Past and future technologies juxtapose past and future directions in contemporary art. In one of the school's hallways, VCR players are hooked up to tube TVs to showcase hyslom's "going there and coming back from there-transcribe 1, 2019."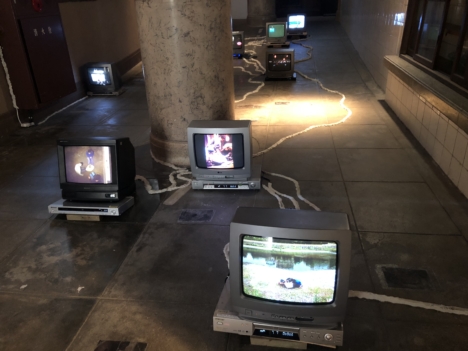 hyslom, going there and coming back from there-transcribe 1, Kyoto Art Center. Photo by Takeru Koroda © Kyoto Art Center
The three members carry a stone various places, playing on the idea of absurdity, which recalls the physical acts of the happenings and performance that were widespread in Poland and elsewhere from the 1960s through the 1970s.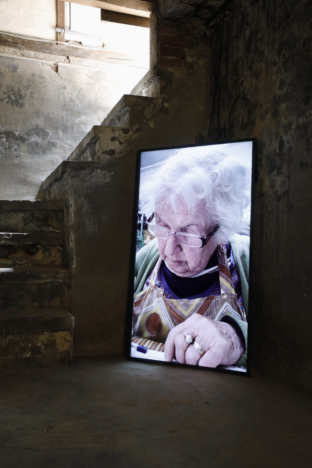 Piotr Bujak, L.O.V.E.L.E.T.T.E.R.S, The Terminal KYOTO. Photo by Takeru Koroda © Kyoto Art Center
In another media installation,"L.O.V.E.L.E.T.T.E.R.S," Piotr Bujak is remotely solving crossword puzzles with his 93-year-old grandmother to explore the sublime dimension of technology as manifested through long-distance emotional bonds.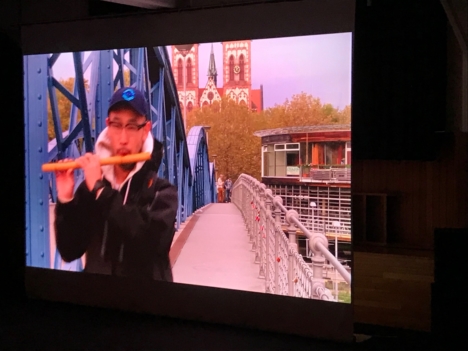 Contact Gonzo, Minima Moralia, Kyoto Art Center © contact Gonzo
Taking video in another emotional direction, contact Gonzo's "Minima Moralia" is mixture of contemporary dance, physical contact, and violence that was filmed at the ruins of a fortress in Poznan and at a fallout shelter. Aimless youths engage in physical contact until they fall asleep with their electronics in hand.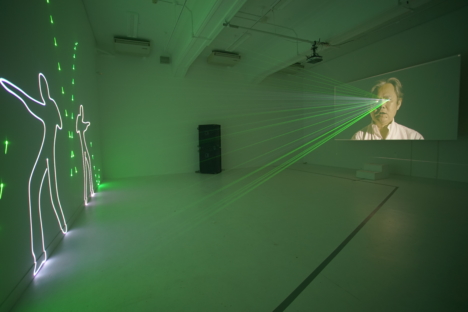 Yoshimasa Ishibashi + Hideyuki Ando, Pathos of Human, Kyoto Art Center. Photo by Takeru Koroda © Kyoto Art Center
Technology is at the forefront in Yoshimasa Ishibashi + Hideyuki Ando's "Pathos of Human." Using laser lights set to dance beats, this new installation balances our senses by applying low-current electrical stimulation to the vestibule of the ear.
The upbeat atmosphere of collaboration, awareness, and technology weave together the concepts of the Japanese and Polish artists into a modern day celebration, perhaps reflecting more toward the future than on the past.
Participating artists: 9 artists from Poland – Karolina Breguła, Agnieszka Brzeżańska, Piotr Bujak, Daniel Koniusz, Robert Kuśmirowski, Maria Loboda, Alicja Rogalska, Łukasz Surowiec, Stachu Szumski. 12 artists from Japan – contact Gonzo, Tomohiro Higashikage, hyslom, Ryosuke Imamura, Yoshimasa Ishibashi + Hideyuki Ando, Satoshi Kawata, Meiro Koizumi, Masanori Matsuda, Okamoto Mitsuhiro, Yuriko Sasaoka, Yuske Taninaka, Makiko Yamamoto
Polish Cultural Programme in Japan 2019
CELEBRATION -Japanese-Polish Contemporary Art Exhibition-
Date: May 18th – June 23rd, 2019
Place: Kyoto Art Center(*), The Terminal KYOTO, ROHM Theatre Kyoto(*), Nijo Castle (special exhibition) *Closed on June 12th
Curators: Akiko Kasuya (professor, Kyoto City University of Arts), Paweł Pachciarek (Osaka University Graduate School of Letters)
Advisor: Akira Tatehara (Director of Kyoto Art Center, President of Tama Art University)
Admission: free
Text: Amelia Ijiri


1
2
[Help wanted]
Inviting volunteer staff / pro bono for contribution and translation. Please
e-mail
to us.