You've probably had this question asked a thousand times, but how much improvisation is there in your drawings? Do you just tend to doodle, or do you rather draw with a specific topic in mind?
This is a question I've been asked in China, in Sweden, in London… it is a very reasonable question, albeit one I've gotten a bit bored of (exaggerating a Londoner accent); "Hey mate, do you make the drawings first, or do you make the text, which comes first?" And I say, well, London is a cool dick… Sometimes the drawing comes first, if it means something, and sometimes, the text comes first, and I make a drawing to illustrate the text. Sometimes there is no text (Shrigley gets a bit more serious and says). Basically what I'm doing [is that] I'm trying to make images which don't illustrate the text which does not describe the image.
Sounds simple, maybe that's something no one else does.
I'm just trying to fill the page, fill it with words, that's it.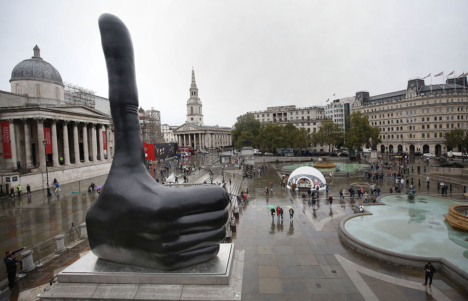 Really Good, 4th Plinth Commission. 2016
Because of your naïve or simplistic style, someone perhaps can think anyone could do what you do. What is your take on that?
Another question I get asked a lot, can you draw? Meaning, presume when you are drawing a naked life model, does your drawing look like that person? I've done life drawing until like four years ago since I was in Art School in late 1980s. I went to life drawing clubs, one of them was run by a friend of mine. It turns out, "No, I can't" I'm not really that interested in that.
How did the idea of making tattoos come about?
Before social media, a girl contacted me; she made a tattoo with some of my texts, she was asking for permission to put it on her website, I think. Years after, there was some kind of marketing thing for an exhibition or book that I made, that I were there making tattoos to people. It was something both kind of enjoyable because it was so weird, but at the same time something I didn't like because I had to touch people. People do crazy things, tattoos in parts of their bodies… that must hurt.
Could you be so kind to drop a funny example?
This guy shows up and he's got an "AMH" tattoo on the back of his neck. I asked why you got that? – "Oh, it's my ex-wife's initials." I turned the H into an A and added DR at the beginning, so now you could read DRAMA.
David Shrigley "Exhibition of Giant Inflatable Swan-things"
Curator: Mia Sundberg
Date: September 27th, 2018 – March 31st, 2019
Hours: 10:00–19:00 (Monday & Tuesday till 17:00, Sunday 12:00–17:00)
Place: Spritmuseum
Address: Djurgårdsvägen 38-40, 115 21 Stockholm
Tel: +46 (0)8 1213 1300
https://spritmuseum.se
Text: Victor Moreno

[Help wanted]
Inviting volunteer staff / pro bono for contribution and translation. Please
e-mail
to us.