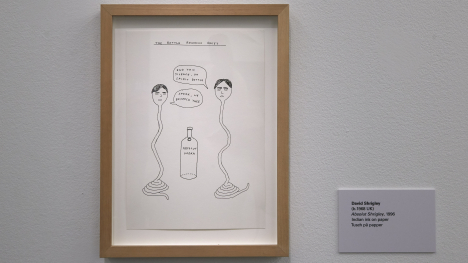 David Shrigley © Spritmuseum – Absolut Art Collection
Since these works were intended to get published in different media, with very few exceptions, all the artworks were reproduced in ads to promote the vodka between 1986 to 2004. It was in the age of analogue media so these ads ended up mainly printed in magazines and newspapers around the world. The graphic overlay was added to the image of the artwork. Many art critics and scholars have written about the relationship between Art and Advertising. "We try to lift this question in all our exhibitions, encouraging the visitors to decide for themselves: is this art or is it simple advertisement? The position that I and the museum hold is that these artworks reside in a space in between art and ad or, if you will, they stand with one leg on each territory. That sounds like something that David Shrigley would make a funny picture of, ha!"
In many occasions, brands have succeeded in bringing marketing into the space of art. The first Apple TV commercial with Ridley Scott could be seen as an example to illustrate this. Sundberg clarified, "Apple and Absolut are two brands engaging with artists creating something that once again stands between art and commerce. Actually, there is a history of collaboration between art and commerce going far back, at least to the days of Toulouse Lautrec with the Varieté posters. Cool!"
AAC is not about paintings only, the collection is representative of the 1980s and 90s and contains video, multimedia works, even a performance piece. "To reflect this diversity is key in every presentation we make," explained Sundberg.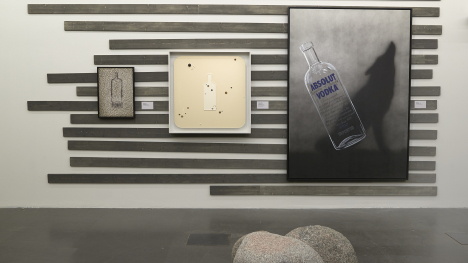 © Spritmuseum – Absolut Art Collection
As matter of fact, some other Swedish brands have pushed these boundaries to blur the line between mythmaking and storytelling. For instance, Acne Studios is recognized in the field of fashion, advertisement production, and photography. Although both are very successful in combining artistry with profitable business, there is really not a sense or just art as AAC has achieved. "You know, I don´t think it is so very different, it is about engaging art and artists in entrepreneurial projects, celebrating the creativity of both parties. But AAC and Acne are from two different eras and their strategies are also very different. The concept of commissioning portraits of the bottle itself and then giving complete artistic freedom is, I would say, unique to Absolut. We have made some great exhibitions in the past years, I really can´t say they are improving in that sense as our standard is always high. We are more concerned about contrast, finding a new and interesting theme. Every summer show should give a new perspective on the collection. We also put a lot of effort into the design of the exhibition. When you walk into The Wilder Side you will have a sense of being out in the wilderness of, say, Louisiana," Sundberg concluded.
Absolut Art Collection – The Wilder Side

Date: April 21st – September 9th, 2018

Hours: 10:00–19:00 (Monday till 17:00, Sunday 12:00–17:00)

Place: Spritmuseum

Address: Djurgårdsvägen 38-40, 115 21 Stockholm

Tel: +46 (0)8 1213 1300

Curator: Mia Sundberg

Co-curator: Kirsten Hinder

https://spritmuseum.se
Text: Victor Moreno


1
2
[Help wanted]
Inviting volunteer staff / pro bono for contribution and translation. Please
e-mail
to us.