After passing through this room, there is a room for drawings about "Pedestal Sculpture" and there are two other big exhibition spaces further a head. Firstly let's see quickly drawings. Drawing of spaces which exhibit (The Age of Bronze) of Rodin, (Unique Forms of Continuity in Space) of Boccioni, and just a pedestal of Marcel Duchamp's sculpture are there. These make people think of absence of sculpture. But if you face to "Pedestal Sculpture" after the drawings, you may find that it's not absence but those rather dominate space as fulfilling moldings.
This concept continues further to glass case, showcase, magazine rack, and other everyday motives. I always felt absence from works of glass case and showcase.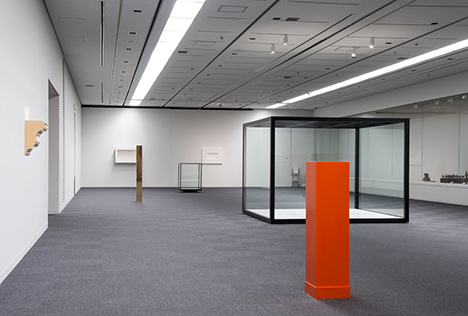 View of exhibition. Courtesy of The Museum of Modern Art, Saitama
Especially "Clean Room Japan" (reproduction 2016 / 1997) is a large-scale glass case that inside and outside of the case is shut completely. People will see artificial marble on the floor in the case. Japanese will find that it is divided in to four and a half mat. It might be a measure to see the scale of space but other than that there isn't any tip. There usually is some object in the glass case. We feel something wrong or absence if we don't see any in the case.
One of the walls of this huge exhibition space has fixed glass showcase on the entire surface. There are collections as usual inside the case (not works of Takoka but permanent collection of the exhibition venue: Toyama Memorial Museum). The comparison of these two glass cases seems to try sharing questions about the role and function with people. Takeoka is also challenging to exhibit "Clean Room Japan" at outdoor public space. The drawing for the project was introduced as well.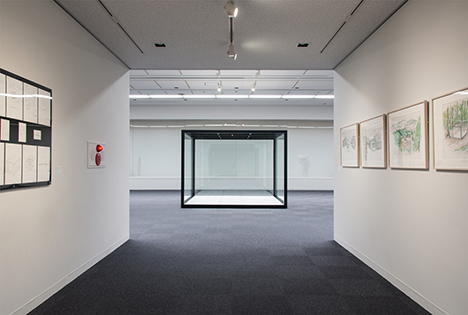 View of exhibition. Courtesy of The Museum of Modern Art, Saitama
Not only the space where institutional power of art is effective but also Japanese traditional house like Toyama Memorial Museum enhanced a lot Takeoka's works that have both simple form and high quality texture. At the same time, however, I felt something strange for looking at this work at public space. "Clean Room Japan" is connected not only with art issue but the issue of seeing in principal. On the other hand, public space is where varied intention crosses each other and its meaning is crashing with other's meanings. That's why unclear will is buried there.
How much do sensitive expression and operation like tearing off the meaning and making it dislocate inspire people at such public space that there may not be anyone who wants to see art?
Focusing on the effect and purpose of giving and emphasizing those would rather be needed?
Of course, I wouldn't criticize before knowing the actual experience. But as long as the plan itself is suggested as a work, people should have room for imagining its completion.
Interesting point is that every work leads people from the work itself to its surrounding environment and to institutional issue that shapes the environment.
This exhibition provided me the opportunity to experience to see "premise" in our usual life.
Yuji Takeoka exhibition "From A Pedestal Into Space"
Date:July 9th – September 4th , 2016
Place: The Museum of Modern Art, Saitama
Address:9-30-1 Tokiwa, Urawa, Saitama
Time:10:00 – 17:30(Close on Monday)
TEL:048-824-0111
http://www.pref.spec.ed.jp/momas/
Text: Shuhei Ohata
Translation: Fuyumi Saito


1
2
[Help wanted]
Inviting volunteer staff / pro bono for contribution and translation. Please
e-mail
to us.