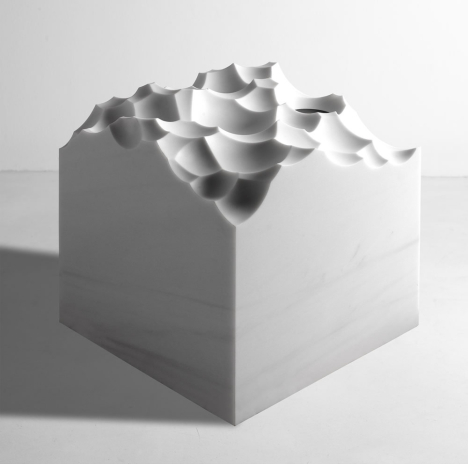 "Odds and Ends" White Waves, 2005, White carrara marble, 20 x 20 x 20
Please express a series "Odds and Ends", including "Ad Naturam". I think some looks like a terrain and ripples. What was a trigger for the production?
I'm actually not exactly sure what images you are referring to as "Odds and Ends"  — It sounds like you are looking at some experimental work that I made in Italy around 2001-4. I made a series of sculptures mostly of water (some of clouds) that were generated through early desktop 3d modeling. The idea was to make the sculptures of both the sea and sky with the same mark.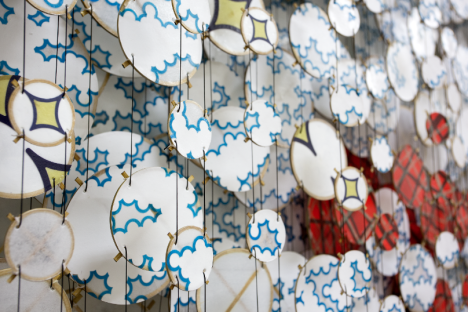 "The Long Anticipation of Winter", 2016, acrylic, paper, dacron, wood, and bamboo, 66 x 60 x 8. Photo © Anna Wierzbicka
What is your next plan?
I'm working towards a few European shows next year, including a full museum solo show at the Wäinö Aaltonen Museum of Art. Also, I have an exhibition of new work planned for Leila Heller Gallery in Dubai for September 2017.
Do you have your own goal in the future as an artist?
I think that the big plan is to finish building my new studio in Ossining, NY and to spend as much of my time making mistakes and experiments in the studio after that. I'd just like to find more time to work on more types of projects.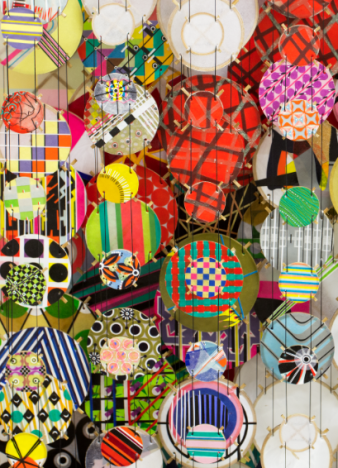 "The Long Anticipation of Winter", 2016, acrylic, paper, dacron, wood, and bamboo, 66 x 60 x 8. Photo © Anna Wierzbicka
Why did you decide to be based in New York?
I moved to New York after many years of splitting my time between my studio in Verona, Italy and Los Angeles, California. At the time, my studio practice was expanding and it was getting really hard to sustain my practice over 2 continents and 11 hours of flying time, so I decided to move to New York, where I would have reasonably good access to Europe, but still be able to work in the United States (which I preferred). Also, most of my friends and colleagues from art school were in NYC and it seemed like a supportive and creatively rich environment at the time. It was a good move.
Finally, could you please give some message for students and the young who study art.
My best advice to young artists is to put in the time, play to your strengths, don't think too little or too much (both are devastating), and trust yourself.
Jacob Hashimoto "The First Known Map of The Moon"
Date: September 8th – October 29th, 2016
Opening hours: 10:00 – 18:00 (Till 17:00 on Saturday)
Closed on Sunday and Monday
Place: Mary Boone Gallery
Address: 745 5th Avenue New York, NY 10151
Tel: +1 (212) 752 2929
http://www.maryboonegallery.com
Text: Aya Shomura

[Help wanted]
Inviting volunteer staff / pro bono for contribution and translation. Please
e-mail
to us.