An artist, Jacob Hashimoto's solo exhibition "The First Known Map of The Moon" started at Mary Boone Gallery located in 5th Avenue New York. His works – occupying a place between painting and sculpture – bear resemblance to models of a complex planetary system. I could have a chance to interview to him about the concept of his works and more.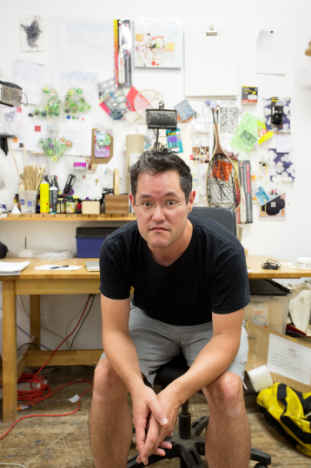 Jacob Hashimoto. Photo © Anna Wierzbicka
Please introduce yourself, first.
I'm an American artist with Japanese and Irish ancestry. I was born in Greeley, Colorado in 1973. I grew up for the most part in Walla Walla, Washington and attended Carleton College and the School of the Art Institute of Chicago. I currently live and work in New York City.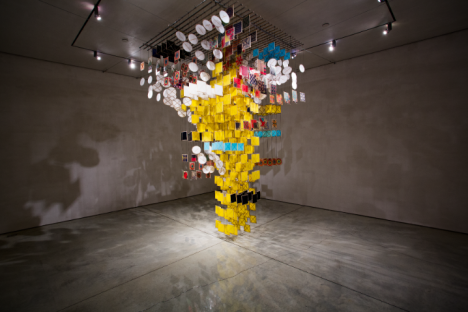 "The Augmented Cube and the Unexpected Jaggedness of Ideal Order", 2016, UV ink print, paper, resin, kevlar, bamboo, 120 x 84 x 84. Photo © Erin O'Hara
What was the opportunity of decision for you to become an artist?
I've always made art and I grew up in a household that really supported the arts. My mother was a local artist who showed her work around town and who was always taking art classes and experimenting. Given my mother's artistic interest, I think that the possibility of being an artist was always on the table, but the ultimate decision pursue a career as an artist happened sometime during my time at Carleton College.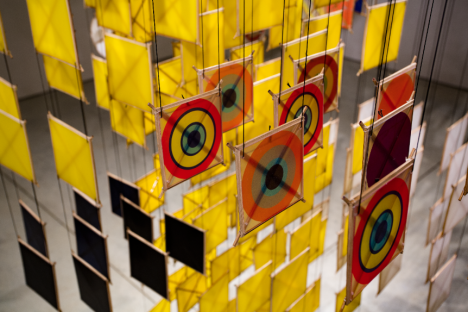 "The Augmented Cube and the Unexpected Jaggedness of Ideal Order", 2016, UV ink print, paper, resin, kevlar, bamboo, 120 x 84 x 84. Photo © Erin O'Hara
Could you please tell us the concept of your art works, and as an artist?
Generally speaking, I think my work falls outside of what would be considered conceptual art and, I know that that's not what you're asking about with this question. I think, however, that it is important to distinguish especially as the word "concept" and especially "conceptual" is so loaded as we consider artwork. That said, my work is grounded in landscape-based abstraction. From that starting point, it radiates outwards to speak to other kinds of visual geographies and other ways of decoding, visualizing, and reimagining the world around us. Clearly, most good artwork allows the viewer to step into the mind of the artist for a brief moment and in that mind, hopefully they will see both sameness and difference to their own perception, their own experiences of self.
What is the inspiration for your work?
The inspiration for the work is a combination of personal narrative, current curiosity, art history, old fashion science, mapping systems, semiotics, recursions, etc. It changes and shifts over time, so it is difficult to pin down any one inspiration outside of an artwork-specific discussion.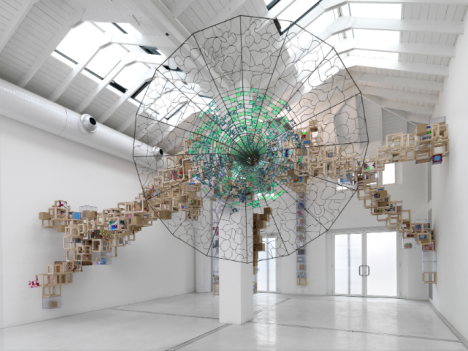 "Never Comes Tomorrow", 2015, Wrought iron, wood, plastic, cardboard, and vinyl stickers. Photo: Michele Alberto Sereni
As evaluated your well-known wall works, please express the installation "Never Comes Tomorrow" at Studio La Citta, Verona in Italy, 2015.
"Never Comes Tomorrow" is a sculptural installation that I worked on for a number of years and it consists of three essential components: a series of maple cubes that, anchored to each other and the gallery walls create an cloud-like arch spanning the gallery space, a giant, funnel-like, steel and polycarbonate structure, and thousands of stickers, both fabricated and collected. I think that in essence it's a self-portrait of sorts built on the foundation of heroes and interests over the years. It's easy to see how the system is built on the foundation of Sol Lewitt's "progressive" sculptures and, onto that system, are layers an layers of motocross, cycling, and skateboarding stickers.
Read more ...
[Help wanted]
Inviting volunteer staff / pro bono for contribution and translation. Please
e-mail
to us.