Despite that he was born in Chiba Prefecture, Daisuke Takatomi is now a glass artist who represents Hokkaido. He has a glass studio and a cafe in Tsukiura, Toyako, Hokkaido. His works, mainly art pieces, including living commodities such as tableware and lighting equipment that come from his original view of the world and expressions, are naturally and gradually becoming a part of people's lives in Hokkaido. In addition to various exhibitions, his work was used in a 2012 Japanese film, "The Bread of Happiness," and this year, Takatomi has been challenging the blending of sound and glass. We cannot take our eyes off such a wide range of efforts.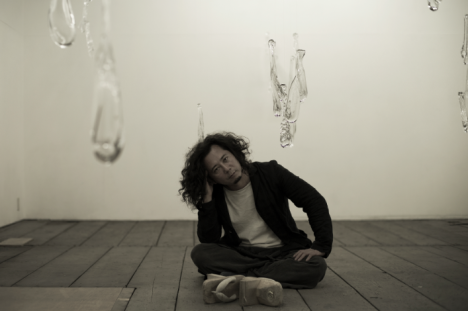 Daisuke Takatomi, Photo: Kei Furuse
First of all, please introduce yourself.
I am Daisuke Takatomi, 42 years old, and currently living in Tsukiura, Toyako.
Why did you choose glass among a number of art expressions? And please tell me if you have any episode that determined what you do now.
I did not really like arts from the days when I was learning Arts and Crafts in the elementary school, but a glass work that I happened to see was so beautiful that I started glass. I don't remember so much about it, but I think it was a glass object at some kind of exhibition I went to by chance when I was about 20 years old.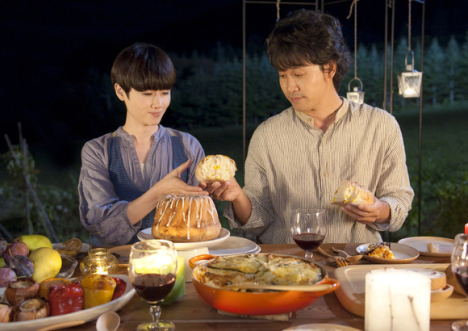 One scene from film "The Bread of Happiness" © 2011 Shiawase Pan Production Committee
I heard that you had studied glass in Tokyo, but please tell me why you chose Hokkaido to live in.
Yes, I learned glass in a school called Tokyo Glass Art Institute. I moved to Hokkaido in order to open my own workshop. After graduating from the glass school, for one or two years I repeated producing works and holding an exhibition, but I had a little dissatisfaction about not being able to spend a lot of time on glass-making. I believe that my decision of moving to Hokkaido was really good in terms of having a workshop.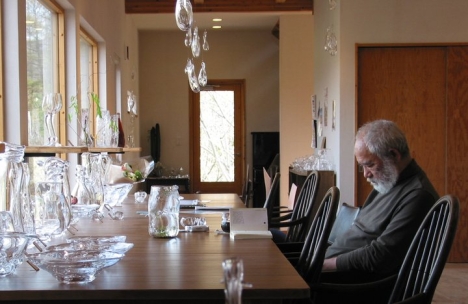 glass cafe gla_gla, Lake Toya, Photo: Daisuke Takatomi
In 2002, I understand you opened up "glass cafe gla_gla" in Toyako, Hokkaido. What was your aim for uniting glass and cafe? Also please tell me the reason you named the cafe "gla_gla."
Originally I wanted to have my own bar, so I was thinking about opening up a night bar as well as a glass workshop. However, where I live was too rural to run a bar, so I changed my plan to do a cafe. There is no particular meaning in the name "gla_gla," and I liked its line of letters and sound, so I decided it.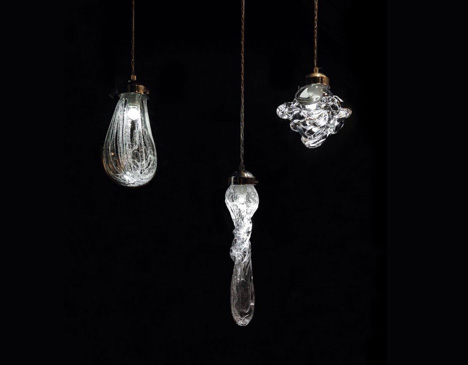 Glass Pendant Light, MUSEUM STORE, Sapporo, 2014
I think your glass is very unique for its soft curves and free shape. Please tell me the reason why you pursue that style.
Nothing in particular. I am just making what I like in the way I like. Maybe I think my kindness or that kind of thing show up in my works (laughing). I use a technique called "free-blowing" in which we form glass without mold, and it has been considered technologically difficult. Although I can freely form glass unlike one which is exactly made by mold, there is some restriction. But that is the part that I like.
I associate the soft style in your works with the nature of Hokkaido. Does it inspire you to some extent?
Basically, I try not to think about that kind of thing. When you are living in the nature, you cannot rival the greatness of it. And if you are being conscious about it, you will go wrong. When you try to get inspiration from the nature, you might be able to cut out a moment, but nature changes every day, so in my opinion, it's impossible for human to express it. Therefore I do the production without thinking too much about that kind of thing. I think I've been receiving a certain influence though. I dare not to be conscious about it. It will be the best if it naturally comes out. Perhaps, only those who see the work can tell it.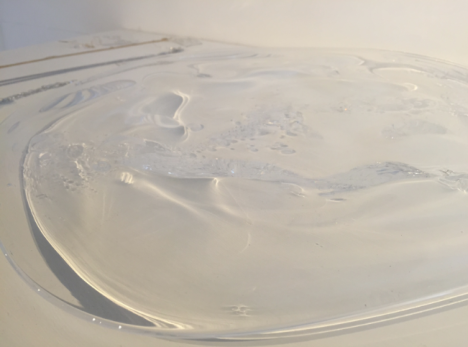 Glass Plate "Winter Light", MUSEUM STORE, Sapporo, 2014
Your products vary from lighting equipment and tableware to an object of a human shape made by piling pieces of glass and even an art piece that is sounds of glass. Is there any faith or reason for producing wide genres of works instead of focusing on one category?
Since I stick to free-blowing, I want to make any kind of thing if that technique is enough to do so. In myself, the difference between tableware and objects doesn't mean anything. For me, producing an installation art and making a vessel are the same. Also, I am very fickle (laughing), so I can't continue doing the same thing.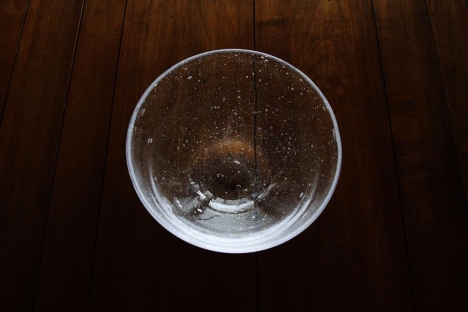 Glass Bowl "Vessel of Full Moon", glass cafe gla_gla, Lake Toya, Photo: Daisuke Takatomi
Is there any message in each piece of your works?
Before making a product with my hands, I title it first. That title has various imaginations, stories, and poems. Because originally I like poems, I write it by myself that is mostly about daily lives. But I am not trying to appeal something by that. Rather, I am hoping that each person looks at the title or the work and gets each interpretation from it. It is more interesting when someone tells me his thoughts. Then I say, "I would not have expected that reaction." Sometimes when the interpretation goes a bit too far, I put the poem on my blog (laughing).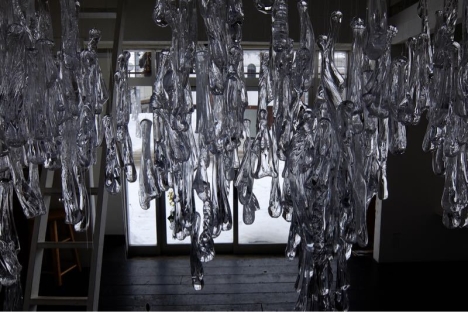 Daisuke Takatomi Glass Show "Endlessly.", Temporary Space, Sapporo, 2015, Photo: Daisuke Takatomi
At your solo exhibition "Endlessly." in Sapporo in January this year, the mystic tone that only glass could generate was glorious. Can you tell me the process of making it?
I had the idea itself from 10 years ago. Wind chime is well known as a glass that makes sounds, and in about 10 years, I ended up in this piece of work by repeating trials and errors. Until getting here, because I couldn't only keep doing it, I was working on other productions as well while having various thoughts, and going through unsuccessful works, eventually that idea was formed into the current shape.

Daisuke Takatomi Glass Show "Resonanting.", Takino National Goverment Park, 2014, Photo: Daisuke Takatomi
You are holding the solo exhibition "Summer Drops." at Clark Gallery+SHIFT, starting in July, and do you have any anticipations or new thoughts for that? In addition, your works were carried into MUSEUM the other day. Please give us a comment about how the exhibition turned out.
As for the works of glass and sound, I don't know what to say because I am not a specialist of sound (laughing), but I think it is important to keep experimenting and experiencing. Last year, I had it displayed outside of Takino National Goverment Park, and I found out that outdoor display is not that bad. During that period, two of them got broken because of a typhoon, but it was pretty interesting. I would like to get new discoveries by changing places to exhibit. I think we achieved to create a space where we can relax and appreciate glass and its sounds in the closed, large space.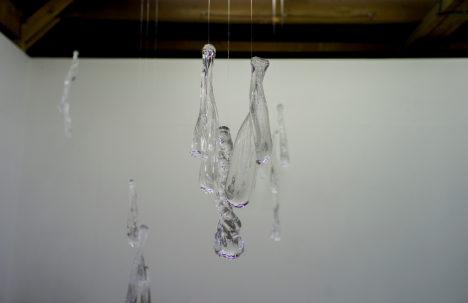 Daisuke Takatomi Glass Exhibition "Summer Drops.", Clark Gallery+SHIFT, Sapporo, 2015, Photo: Kei Furuse
Please tell me the reason of and your thoughts on the title "Summer Drops."
Summer memories are something glittering even if it is a happening of only one moment that's like a drop, so I would like everyone to recall that summer day in a relaxed mood while listening to the sound of glass at the place.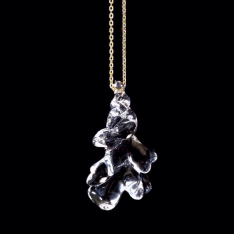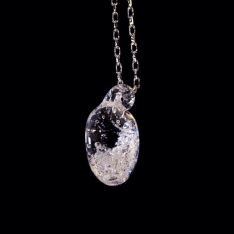 Usapi, From left "No.205" and "No.206", MUSEUM STORE, Sapporo, 2015
Clark Gallery+SHIFT is also a gallery that is especially open for artists or art pieces which are based on Hokkaido. What does it mean to you as an artist who have been devoted yourself to production in Hokkaido?
Considering about stepping into the world gradually, I feel like where I am now in Japan does not matter. I might get many more chances in Tokyo, but now the internet has become so common, so I think it depends on the way I do.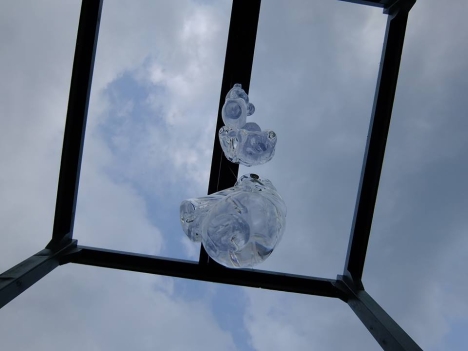 Daisuke Takatomi Glass Show "Resonanting.", Takino National Goverment Park, 2014, Photo: Daisuke Takatomi
And, I heard that following last year, you are going to hold an exhibition at Takino National Government Park again.
Yes, we are going to put up "Summer Drops." in Country Garden of the national park. Please listen to the sounds that the glass naturally makes by wind.。

Grass Bowl "Restless.", glass cafe gla_gla, Lake Toya, Photo: Daisuke Takatomi
What are you going to do in the near future? And what is your goal? If there is any, please tell me.
I would like to carry out a world tour. I have been thinking about it since I was in the school. But at that time, I was not as realistic about it as I am today. I want to start with big cities in the world such as London, Paris, New York City and so forth. I have gotten some connections with various people, so now I feel that I can do something in Paris thanks to my friend's help. If I am able to do glass-making on the local spot, I won't ask more. Bringing my tools, I want to try production in a variety of workshops. I believe that if I go abroad, the important thing will be how I express my identity as a Japanese. So I began to learn tea ceremony that I had been interested in for a long time as the preparation for that. What I want to do is to communicate with nonverbal expressions. And I also love flowers, so I would like to pursue blending of flowers and glass too. Surely I'll see many kinds of flowers around the world, so I need to try blending glass with it.
Clear, airy glass with no color. And yet, we can feel masculine dignity from its daring twist and bulge. His works that contain such a beautiful contradiction will continue to evolve with a variety of ideas. In order not to miss any evolution, come to enjoy his new work this summer by all means. You will certainly feel possibilities of a new glass art.
Daisuke Takatomi Glass Exhibition: "Summer Drops."
Date: July 3rd – 31st, 2015
Opening hours: 11:00 – 19:00
Closed on July 6th, 13th, 21st, 22nd and 27th
Place: Clark Gallery+SHIFT
Address: 2F MUSEUM, South 3 East 2, Chuo-ku, Sapporo
Tel: +81(0)11 596 7752
http://www.clarkgallery.co.jp
Text: Hanae Kawai
Translation: Ayana Ishiyama

[Help wanted]
Inviting volunteer staff / pro bono for contribution and translation. Please
e-mail
to us.