Since May 2013, Japanese artist Asako Shiroki has been an artist in residence at Künstlerhaus Bethanien in Berlin. Bethanien is based in Kreuzberg, a suburb of Berlin located south of the city centre and a place where many Turkish immigrants and artists have settled in recent years. The Bethanien facilities used to be based in an old hospital building, though it has recently relocated to the site of a former lighting equipment factory – this building now accommodates all the ateliers and galleries for the artist-in-residence participants. Every year, early career artists fly in from all over the world, an influx of fresh talent that creates a breeding ground for a unique mix of different artistic approaches. Because of that, Bethanien is regarded as a leading institution around the world for their residence programs.
Though in a way similar to Shaker furniture, Shiroki's artworks linger over the audience, leaving an impression of beauty that comes from a rather unique point of view, that makes you start talking about it. Her work is made up random occurrences and happy accidents that she must have known were inevitably happening. For example, if you focus our eyes on a small hole in a damaged garment, you may realize that the hole is located at a point of contact between a part of your body and the fibre that makes up the garment's fabric. The hole is a remnant of the friction between your skin and the fabric that has been worn out, little by little. Ignoring the name and purpose of the object itself, Shiroki's practice revolves around the process of turning the form of that small hole in a garment into a work of art. Using the technological tools to reflect the events that led to the creation of that "hole in the fabric", an artwork by Asako Shiroki takes the physical embodiment of a once in a lifetime occurrence and the space that surrounds it.
We carried out our interview with Asako Shiroki in Berlin, a city that has always attracted many artists, within the Bethanien facilities, where we discussed the role of the artwork as communication, working quietly and doggedly as an artist who challenges common sense, day-to-day living and the conception of her artworks.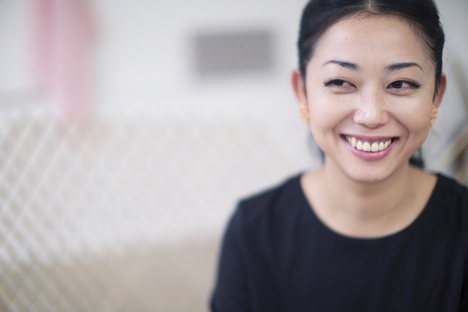 Photo: Sylvia Steinhäuser, Hair, Make up: Miyuki Oya
Could you describe how you spend a day?
I spend most of my time in my studio at Kunstlerhaus Bethanien. When I need to work with a big piece of wood, I go to the artists' workshops by BBK Berlin, to use their machineries. Then I take the U-Bahn, the underground train, always with a rucksack packed with tools and materials. Once I've carried two 3 metre long wooden planks on the train. In Japan, it's not really acceptable to stand out to the public eyes on the train carrying such things but in Germany, people don't interfere with each other's business so it's acceptable to be outrageous like that – so, here I feel like more like following my own wishes. Also, I've learned that people are willing to lend a hand to others in this type of situation, which gives me a feeling that I can truly communicate with strangers, making me not feel so distant to them.
There's a pizza shop and a kiosk next to Bethanien, and the people who work there always smile and greet me from behind the window every time I pass by. These little things make me look forward to waking up every day.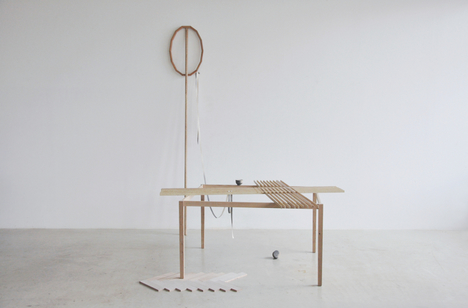 between 0 and 2, Asako Shiroki, 2013, oak, cherry, cotton ribbon, W 2,300 × H 2,100 × D 2,450 mm, Photo: Asako Shiroki © Asako Shiroki
What triggers your creativity? What kind of message would you like to convey with your artwork?
My practice is mainly studio based. It often happens to me that my projects will deviate from what I had originally conceived and planned. But this shift becomes an incentive for subsequent works. All tools and materials spread throughout my studio create their own space in my eyes and the impact they have on me by merely just being there, existing without any function or reason, also give me an inspiration for creating new artworks. I think I carry this feeling not only in my working space but also in exhibition floors and my own apartment.
Images of artworks that collide with the space where they're being exhibited often spring to my mind. When looking at the frames, walls, light, shadows that create a space, an invisible grid will pop up around the central axis of an object in that space. In a sense I can feel that these invisible axis and grid touch somewhere. In other words, for example if two planes cross paths in the sky, then you can see the depth and length of the space around them. This phenomenon shows the relation between the vertical and horizontal axis in every single detail of the landscape.
Some of my artworks have chairs with broken legs. A chair with a broken leg loses its balance between vertical and horizontal, trading the stability needed to function as a chair in order to assume the role as an artwork with an oblique axis that diagonally braces the space around it. My artwork leaves a feeling that there is an empty space and its process is about discovering why that empty space exists. My goal is not to look at objects by themselves but to create artworks that the environment becomes a part of.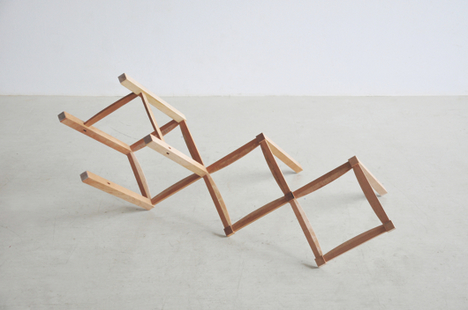 in the grid 01, Asako Shiroki, 2012, cherry, W 1,050 × H 520 × D 800 mm, Photo: Asako Shiroki © Asako Shiroki
Do you always live your life from an artist's point of view?
For me, my living space is a treasure for my own awareness. For instance, things that happen at the dinner table, when drying your laundry, the forms and shapes around you, things that happen by accident, things that you observe. They seem to bear no relation to one another. All these things can unexpectedly lead me to create a new piece of art. The appeal for me lies in the gap between an artwork by itself and the meaning it communicates.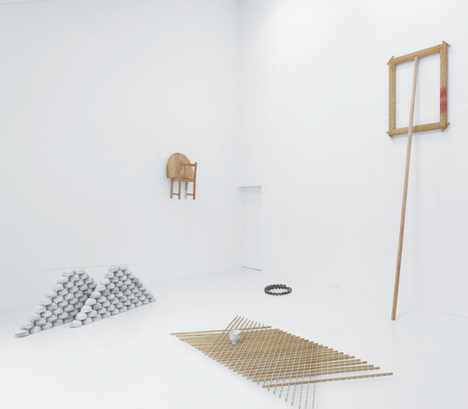 「再生される世界―生活の悟性」Asako Shiroki, 2011, gallery21yo-j, Tokyo, Photo: Tadasu Yamamoto © Asako Shiroki
How do you produce your artworks?
My artworks begin when my hands get on a piece of wood and I start sawing it. I come from a place where all function is lost and I build a form around the idea beyond functionality.
When I first came to Berlin, I didn't know where to buy wood or tools, how to transport them and so on. So I started picking up and collecting things I found on the street and began to use them in my work. However this was a completely different process to the way I used to approach my practice. I appreciate form itself from how it is originally shaped. So I let the material to choose its own form and shape. Though the context they develop become completely different from the original outline.
I make every single choice to create artworks up to its completion. But sometimes the artworks themselves leapfrog me and I have to catch up with it. My artworks and I have a very interactive relationship.
Even when I complete an artwork, I feel some of them are intrinsically linked to each another. So a number of artworks evolve with the environment where they're placed so I could say that these artworks will always remain unfinished.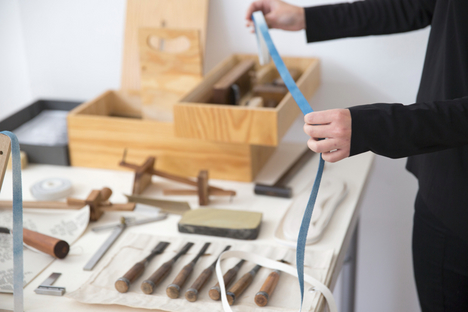 Photo: Sylvia Steinhäuser
Why did you pick wood as your choice of material?
You need electrical tools or hand tools in order to handle wood. In my case, even though I follow some traditional Japanese methods of carpentry or use a number of traditional tools, I am not doing that to show my great technique with those tools but to reveal the process, the motions and the act of producing a work of art. My interests lie on the reflections of positives and negatives, of manual habits, things that at a glimpse can be seen as special methods but they take you to a place where it's possible to speculate a different philosophical approach that communicates with different layers of meaning.
The materials and techniques I employ don't make a part of my individual identity as I keep a certain distance from them while I produce an artwork.
People make things and treat them for their everyday life, and vice versa, I employ the things they made in my artworks as a technique. I call it, "anonymous technique", as a theme I explore in my practice for which I take pictures to use as a source.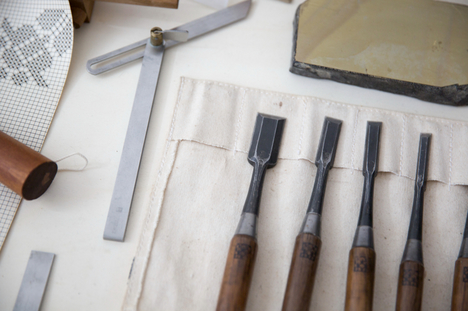 Photo: Sylvia Steinhäuser
Living in Berlin as an artist seems to be a completely different experience from Japan. What are the concrete differences you experience in your daily life and do these experiences influence you and your artworks?
The context of my practice naturally changes when I create artworks. I use my native language to think but present them in a foreign language. The way we think, our values, culture and the shapes of the things around us are similar to some extent, in a linguistic sense. But nothing is the same. It's not the way we know them, even when they look similar at a first glance.
This unease I feel and the incongruity it causes are feelings that I try to convey through my artworks. For me, it is more interesting when there's a gap, a chasm between the artworks' form as it was conceived and things that happened in the background of the artworks.
Dealing with how my ideas are translated from my native language to a foreign language has given me a new perspective and influenced my attitude as to how I create artworks in response to my situation. I'm interested to see how my artworks will transform from now on.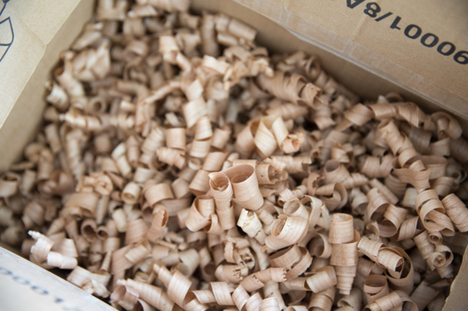 Photo: Sylvia Steinhäuser
What is so special about Bethanien and how do you relate to your fellow artists?
Bethanien is not only a studio where you create artwork but also the living quarters where almost all artists live together. Seeing each other in such a tight-knit community, we understand the reason why artists created such works from seeing the artists' personalities behind their creations. That is one of the biggest appeals of participating in an artist-in-residence program at Bethanien. On top of that, as most of them are established artists and supported by their national arts councils, I feel a little pressure to work along with them. But we get to know each other's skills and strengths by living together. Artists who have a more conceptual approach come up to me, we discuss about forms and shapes of their artworks in a more concrete way. Also we learn other artists' way of thinking when we take each other's advice. For instance, I get to know how artists from other countries process their knowledge to create artworks, or about the cultural differences between us in our daily life. Although they are busy traveling from Bethanien to their exhibitions all over the world, we have fun when we are all together. It is encouraging to see that each artist I met here has succeeded in the world out there. So eventually, we were all cheering up each other.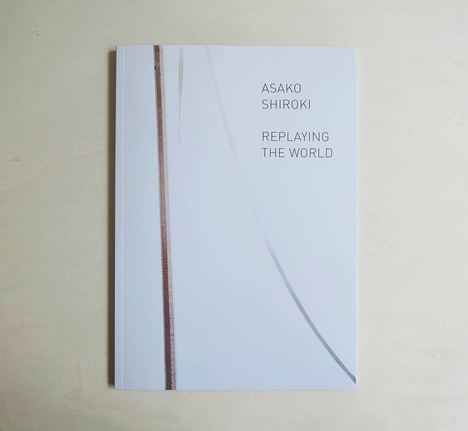 ASAKO SHIROKI REPLAYING THE WORLD
Tell us about developments of your artworks from now on.
Since I arrived here, there are lots of new things to learn and to do. I just want to do those things once at a time.
From 23 January 2014, I have an exhibition opening at the gallery space in Kunstlerhaus Bethanien. In June, I also have an exhibition in Japan. So it would be very nice if you could come and visit me there.
Also, Kunstlerhaus Bethanien has a plan to release a catalogue of my new artworks in March 2014. I have released a catalogue in Berlin called 'REPLAYING THE WORLD' before, but the next one includes essays by curators based in Berlin, New York and Japan. The new catalogue is set to release in Japan as well so if you have a chance, please check it out. We are sorting out release dates so please visit my website for any updates.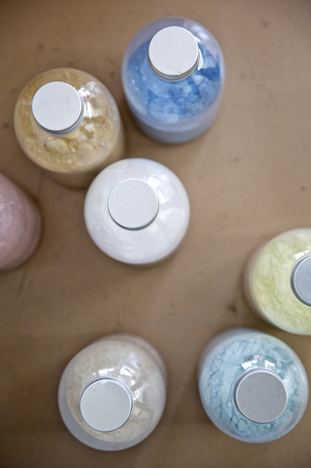 Photo: Sylvia Steinhäuser
Until the end of our talk, an impression lingered on my mind – an uncanny impression of beautiful pieces of Japanese craft and Shaker furniture that, oddly enough, are neither furniture nor craftwork. A unique feeling that there's something lurking beneath the surface in her work, a quality that caught my eye and made me interested. I want the public, who generally don't have the time to visit museums, to experience Shiroki's work. I thought they would be interested and would indeed appreciate her works and artistic point of view. I'm very much looking forward to seeing how her career develops from now on. Asako, thank you so much for the interview today.
Asako Shiroki "On the Floor, Behind the Window"
Date: January 23rd – February 16th, 2014
Opening hours: 14:00 – 19:00
Place: Künstlerhaus Bethanien Exhibition Space
Admission: free
Organized by Künstlerhaus Bethanien
http://www.bethanien.de
Upcoming The 3rd New Artists Exhibition, winner Asako Shiroki, Yuka Yamato
Date: June 6th – 22nd, 2014
Opening hours: 10:00 – 18:00
Closed on Mondays
Admission: free
Organized by Kawaguchi City Art Gallery ATLIA
http://www.atlia.jp
Artist Talk: June 15th, 2014
Asako Shiroki
In 2008, she completed Ph.D. in woodworking at the Tokyo University of the Arts. As of 2013, she lives and works in Berlin, Germany as a fellow of the Pola Art Foundation Overseas Study Programme. She is currently participating in the International Studio Programme in Künstlerhaus Bethanien, Berlin, Germany.
http://www.asakoshiroki.com
Text: Setsuko Hori
Translation: Rafael de Lima

[Help wanted]
Inviting volunteer staff / pro bono for contribution and translation. Please
e-mail
to us.