Science Fiction and Art Collide!
Den Frie Center of Contemporary Art in Copenhagen is a venue built by artists, for artists, it was originally founded in 1891 and moved to its current location in 1913. The building was designated as a historical monument in 1986 and is currently being renovated with a new exhibition room planned along with new visitor facilities, such as a café and a garden. It is focused on contemporary artistic communities, collective exhibitions, artists associations and experimental groups and networks. This year's summer exhibition focused on the relationship between science fiction and visual art fairs with work from 14 Danish and international artists. All of the artists who participated work with, or are interested in, science fiction, many of them relate to its literary and filmic legacy, referencing existing science fiction works and productions in their pieces; either as nostalgic statements, or as politically critical comments on the genre.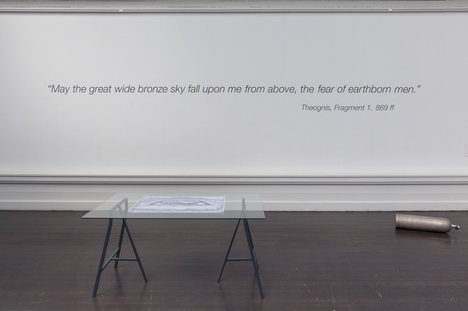 "The Fear of Earthborn Men", Jakob Rød
Altogether this exhibition had six rooms, in room 1 the work of Jacob Rod and Soren Brogger could be seen. Rod's work, entitled The Fear of Earthborn Men illustrates the fear of people and the power of gods, despite the magnificence of the sky in Greek myth there was the belief that the sky was a dome and that this dome could fall upon the earth. In contrast Brogger's work takes inspiration from the future, using clips from science fiction movies advertisements for the future have been created such as sun block for a world where the ozone layer is fading away.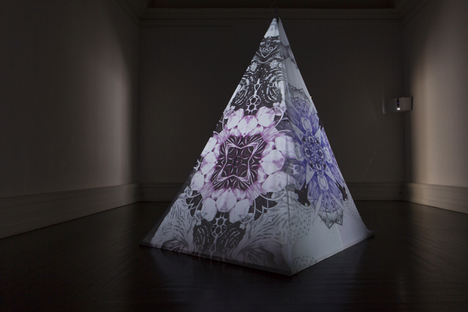 Becky Bolton & Louise Chappell
In room 2 Kristoffer Orum and Anders Bojen's installation, Unknown Continents II a projection has been used to show planet after planet, this fascinating art piece is all about imagining what other worlds could look like and help create a visualisation of the massive unseen parts of the galaxy. An interesting side effect of this installation is that too often scientists tell us about finding planets, tell us about the massive galaxy, which without actual images is hard for the brain to conceptualise, however, by creating this 3D installation the galaxy is given shape and colour, the planets suddenly become real for us. In the same room you can also see an installation by Becky Bolton and Louise Chappell; they have used a projection to create a detailed universe of cyclical ramifications which again tries to visual a universe, but at the same time presents its inherent complexity. It is a fascinating installation as the projections are on a pyramid like structure.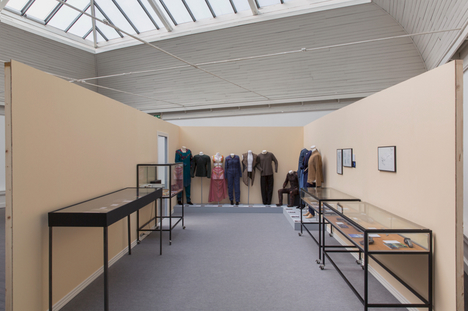 "To the collection", Søren Hüttel
The next room presents a fascinating collection of clothing and items taken from the popular and famous science fiction show Star Trek, Soren Huttel's Till samlingen (For the collection) presents this collection as if they were artefacts from a bygone civilisation. Clothes are worn by mannequins as if they were representative of a culture's traditional costume, while other items are presented in glass cases along with information about the item. It is fascinating as these objects have value, i.e. for a Star Trek fan or science fiction memorabilia collector, yet at the same time have no value as they were just TV props. Another work found in this room is Alan Currall's Jetsam which depicts himself washed ashore in England as an 'alien.'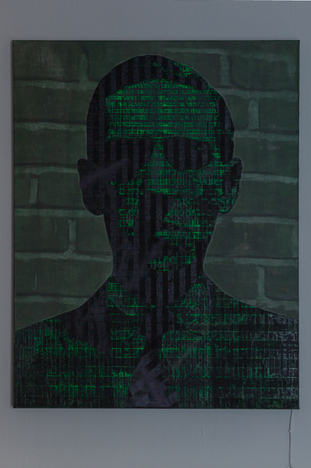 "Wired (Tesla)", Ivan Andersen
Room 4 has art from Jesper Dalgaard and Trine Boesen. Jesper Dalgaard's work provides an overview of a future universe, as if it was an enemy which needed to be observed which gives the viewer an unusual sensation. Boesen's installation is a 360 degree immersive universe; it is both familiar and different and provokes contrasting feelings.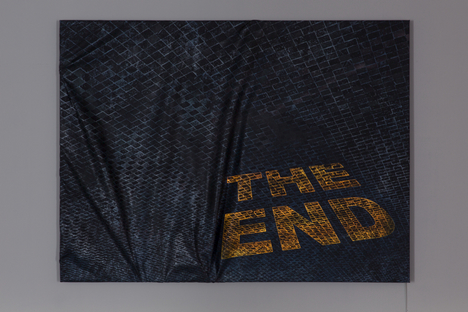 "Mass Attraction", Ivan Andersen
Ivan Andersen and Jesper Carlsen can be found in room 5, Andersen was inspired by Nikola Tesla and Howard Phillips Lovecraft; men who have almost become myths as they have been empowered by beliefs along the vein of mad scientists and dark philosophies. One work called Tesla, is almost reminiscent of the Matrix, which is quite fitting as the man himself has almost become a mysterious virtual character in contrast to the Matrix which was a mysterious virtual world. Another work, Mass Attraction refers to Star Wars and curved space on a paradoxically two dimensional surface, it is very interesting to look at, and fascinating to think of the connection between Star Wars, curved space and art. Carlsen's installation is of an empty landscape of Mars with the Russian movie Aelita – Queen of Mars projected onto the surface. This film was made in 1924 and told the story of a man who travels to Mars and leads a rebellion, thus Carlsen shows how humans can fill an empty place with their own ideas and visions. It is very thought provoking and completely fitting for this exhibition where many of the installations visualise other planets, etc.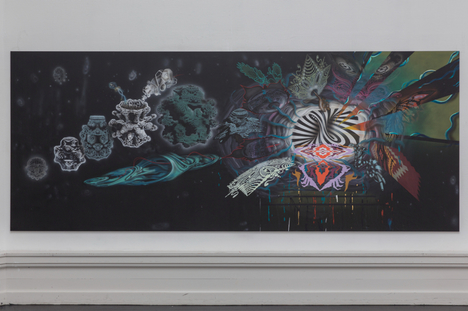 "Strange Attractor At The End Of Time", Jonas Pihl
The final room features Louise Sparre's hanging sculptures and wall-mounted objects; they create a reflection of the universe and are covered with a layer of stardust, although beautiful, there are some elements which imply a darker, almost threatening feeling. The final artist, Jonas Pihl, has made an installation, Strange Attractor (At The End of Time) from huge paintings which are bewildering to look at, there are images both almost recognizable and unrecognizable. It is chaos, dreams and science mixed together to form impressive and expressive shapes and colours.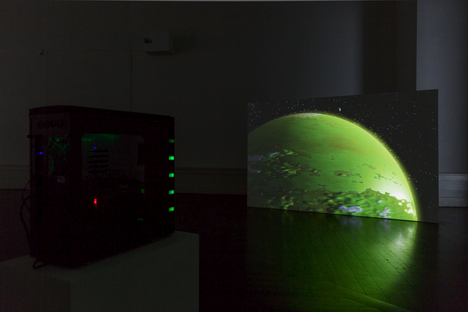 "Unknown Continents II", Kristoffer Ørum & Anders Bojen
The exhibition was very well presented, and the installations more than suitable for the theme, it was amazing to see Star Trek props treated as cultural artefacts and to see whole planets visualised alongside whole universes. Nearly every theme that can be thought of within the science fiction genre came together with art for Den Frie's summer exhibition.
Space is the Place
Date: June 29th – August 4th, 2013
Opening hours: 12:00 – 17:00 (Thursday till 21:00, Saturday, Sunday from 10:00)
Closed on Monday
Place: Den Frie
Address: Oslo Plads 1, DK-2100 Copenhagen
Tel: +45 33 12 28 03
info@denfrie.dk
http://en.denfrie.dk
Text: Mike Sullivan
Photos: © Den Frie

[Help wanted]
Inviting volunteer staff / pro bono for contribution and translation. Please
e-mail
to us.