Pale coloured sculptures: they always seem to be thinking of something. Does the artist of these sculptures become lost in thought as well, with a similar facial expression?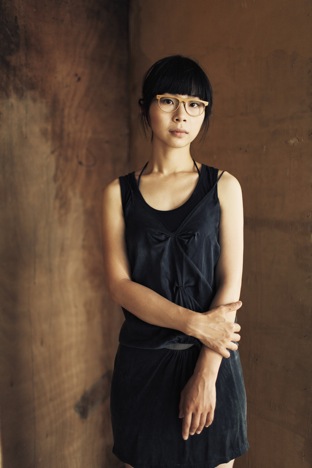 In the vibrant world of the Chinese art scene, an artist can be young and famous. Jin Nu is an example of this. Jin Nu, who was born in 1984, is an artist that graduated from the China Central Academy of Fine Arts in 2007.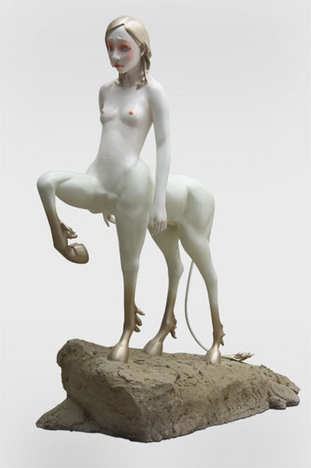 "Grow Up", Jin Nu, 2006. 210 x 75 x 220 cm, Resin stains
Please tell us about your 'part human and part horse' works.
'Grow up', the part human and part girl piece was my graduation work. Initially the plan was to make a unicorn not a centaur.
Unicorns are fascinating creatures. They are the symbol of aestheticism, unique but very skeptical. What differentiates a unicorn from a horse, apart from the horn, is that a unicorn has a lion-like tail that symbolizes power and authority. They are herbivores but internally carnivorous. This is what interests me.
During that time, I was investigating the transitional period of a girl turning into a mature woman. In the process of growing up, there is a sense of vague feelings in the mind. A girl stands still in loneliness, thinking whether she should proceed forward or backward. The unicorn is the analogy of the images of a woman and a girl. It is a 'unicorn girl' to be exact.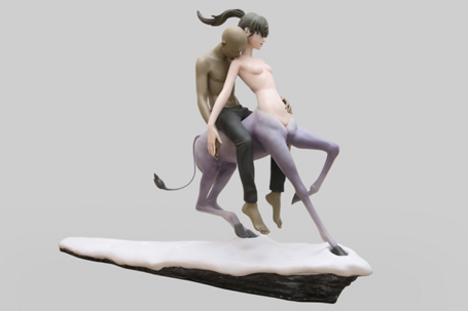 "Night", Jin Nu, 2008, 71 x 16 x 46 cm, Resin stains
'Night' (2008) became an unforgettable work for me, ever since I saw the work from the exhibition, 'ENLIVEN – In between realities and fiction' – Animamix Biennial' in the Today Art Museum, Beijing.
I have been creating a lot of artworks in the form of a centaur. All of them relate to my own personal emotions. In this particular work, a man is leaning on the back of a woman. This man is biting the shoulder of the woman and holding her stomach. This is illustrating 'dependancy'. The woman is holding the man on her back and running in the snow. This work depicts my emotions at that time. At that time, I had a strong thought on the relationship between man and woman: a man is physically strong but relies on a woman in many situations. However, a woman has to contribute to a man.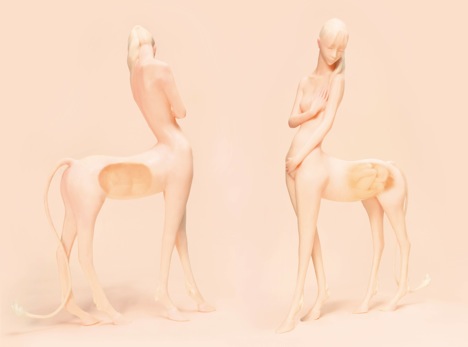 "Lovers", Jin Nu, 2011. 50 x 18 x 85 cm, Resin stains
'Lovers' series consists of an adult figure rather than a girl. Let me ask you about these works.
As I gradually grew up, I have noticed the relationship between man and woman is not as simple as being dependent on each other. A woman has maternal instincts.
This is something that a woman cannot control: the feeling of a mother. This feeling works towards her lover as well. I believe it comes from a woman's maternal instinct. Therefore I decided to create a new image.
Does the horse carry a child in its stomach?
It does not represent my child but it is a person that I love. It depicts the relationship between us and the people that we truly love in our lives. When we were inside of the maternal body, we were connected to our mothers through umbilical cords. After we were born, a child attracts the attention of the parents and is given a love that asks nothing in return. One day, the child matures and places distance to the parents. The feeling towards the opposite sex replaces the feeling towards the parent. We, humans are always in need of relationships not only with parents but also with other people.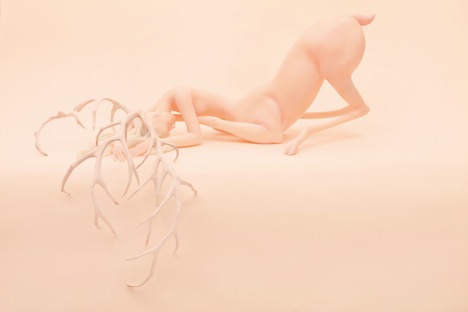 "Ruo Shui", Jin Nu, 2011. 80 x 45 x 60 cm, Resin stains
This sensitive use of colours gives us the impression that is completely different with other artists. How was this piece created?
I do not want to create works that are too serious or that are similar to works by other artists. I wanted to make a breakthrough via the texture of my works. So, pink was chosen. In fact I believe it was the instinct of a woman. With this comforting and gentle design, I believed it is possible to pursuit the art effect that I was looking for. From there, it was experiment after experiment. The first dozens of works were failures and were completely disposed of. Eventually the texture became stable and close to what I was looking for.
During your creation, what is your most important thing?
What I value the most are my feelings. Women are after all sensitive and intuitive. Therefore, we do not work with major themes like male artists. It all comes from my living environment and my experiences to further express myself. It is intimate with my life. My life and my ego are in my works.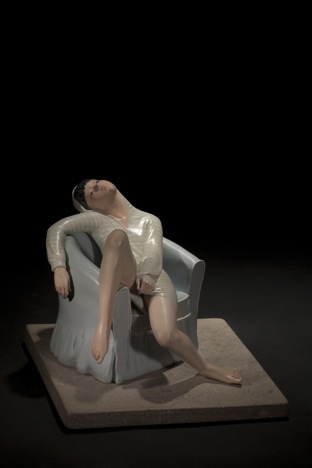 "Luminescence 3", Jin Nu, 2009. 27 x 22 x 22 cm, Resin stains
I heard you were studying calligraphy when you were young but were your works influenced by Chinese culture in any way?
I believe they were in the end. Certainly they were deeply affected. However, I feel that my recent works are not particularly affected by Chinese culture. They are more influenced by Western style sculpting techniques. Nonetheless, I do have a Chinese spirit. For example, the pink sculpture has softness and an appearance that is round. This is an influence from Chinese traditional culture. Despite your background, Asian artists that include Japanese and Korean artists, tend to choose delicate texture for their works. I believe it is the culture of Eastern Asia.
You are a young and successful artist. In China there are many young artists and their works are very popular. This does not happen much elsewhere. What do you think about this?
I think I am fortunate. Right now China is in the era of social transformation. We have just arrived at this point when other countries have already completed their transformation more than 10 years ago. This is why Chinese artists attract a lot more attention than young artists from elsewhere. In fact, I think all young artists have similar styles. In terms of art, they have no difference from each other. We are just influenced by the economic transition. This is where all the attention comes from.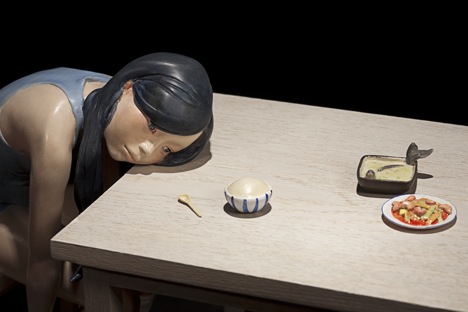 "Luminescence 1", Jin Nu, 2009. 28 x 20 x 57 cm, Resin stains
Your works of art seem to be growing with you. How will they grow from now on?
I cannot say how my creations will change from now but I will keep experimenting. For instance, 'loneliness' is a common experience that can be felt by anyone. This is not a unique experience. Like a lonely girl, all of us are lonely from the day we are born until we die. This is a common feeling. What I intend to make is a work that not only has a connection with me but with everybody.
Text: Hiromi Nomoto
Translation: Akio Usui
Photos: Star Gallery

[Help wanted]
Inviting volunteer staff / pro bono for contribution and translation. Please
e-mail
to us.