Along with the One show and Clio Awards, .there are said to be three major advertising festivals, however, standing out. Most prestigious one of them all is the "Cannes Lions International Creativity festival" held in Cannes at the south of France in June every year.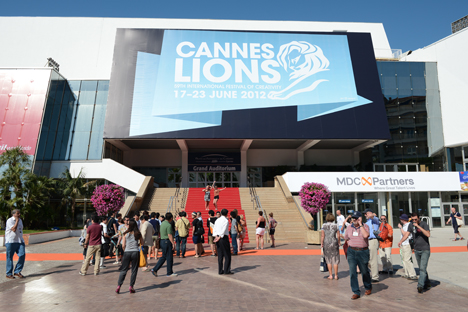 From 90 nations, about 11,000 participants, and in all about 100 events, such as seminars and workshops, were held 59th time. 15 categories had an 34,301 entries from 87 nations, an increase from 28,828 entries last year. Moreover, newly established as a feature in 2012 was the branded contents & entertainment and the mobile section.
First of all, I will introduce Grand Prix of the Film lions.
This is the CM of "Chipotle" which is a Mexican fast food chain by the Creative Artists Agency from Los Angeles explaining the importance of sustainable food. A simple and easy-to-understand message was strongly transmitted through the warm animation. Music is by Willie Nelson, the legend of country music, covering British band Ccoldplay's "The Scientist". The work is also nominated at the Grand prix of the branded contents & entertainment section and film craft section.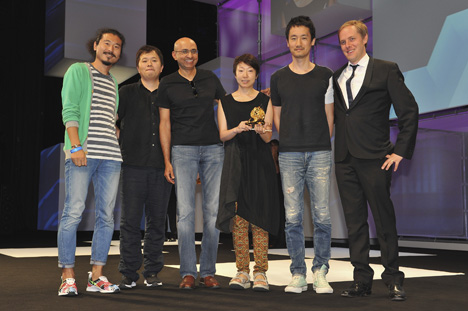 Another example, "The Museum of Me" for Intel by Projector, "All is not lost" (also won a gold award at the design section) for Google chrome by Hakuhodo, "Connecting Lifeline" for HONDA by Dentsu.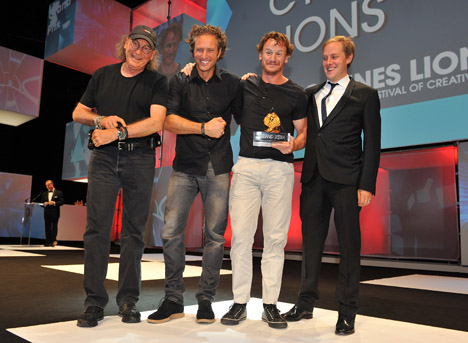 The Grand Prix of the Cyber lions are two contrastive works which are "NIKE+ FUELBAND" for Nike and "CURATORS OF SWEDEN" for the Swedish government. The Nike's work expertly connects movement and its motivation in digital form, while the other gives the opportunity for citizens to develop the image of Sweden through their tweets for one week.  "NIKE+FUELBAND" was awarded of the Grand Prix of the Titanium and Integrated Lions that are awarded to ground-breaking and provocative works. Many Ad-men admired this superb idea.
In the Design Lions, five works were awarded gold from Japan. Such as "Let's Go, Tohoku" (Dentsu) of East Japan Railway, "The Ultra Asian" (Dentsu) of Adfest 2011 Exhibition, "Design Nori" (I&S BBDO) of a Umino seaweed store, "OK Go-All Is Not Lost" (Hakuhodo) of Google Chrome, and "Magic Menicon 1day Flat Pack" (PARTY) of Menicon.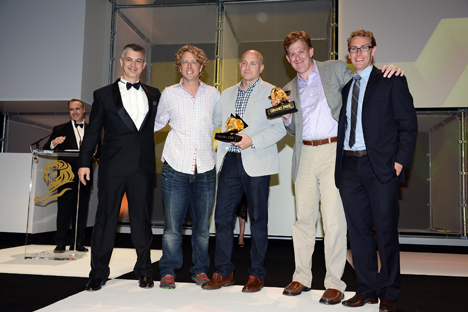 The most remarkable work of this year was the "Small Business Gets An Official Day" of American Express that took the Grand Prix Direct Lions, and the Promo & Activation Lions. In order to help small businesses, this campaign offered various marketing tools, and even became a social phenomenon. As a result, Small Business Saturday became a formal day in the United States. This great success was praised, and deserved the two Grand Prix awards.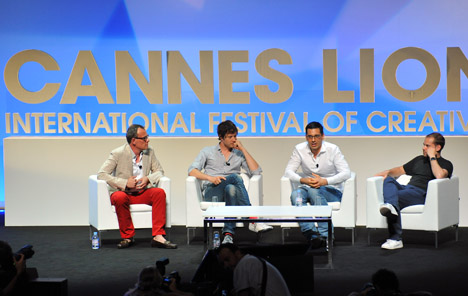 In an of social media, the advertising industry and social media networks will become increasingly multilateral and strongly connected in the future. I was convinced it of it through attending 100 seminars of all kinds. The presentation of social networking systems like Facebook, Youtube, and twitter showed that they are now the center of attention. For instance, Facebook said that, for marketing, it can be effective to easily target a group of a similar type of people, and Youtube explained its great friendship with the music industry, while twitter claimed it has opened new opportunity by connecting people together through conversation that had previously been unconnected. Those three major SNS strongly emphasized at the seminars the most important key to effective marketing is through the overlap of emotion and daily life — and the social networking is the best for that. Additionally, many seminars mentioned the involvement of social media and marketing.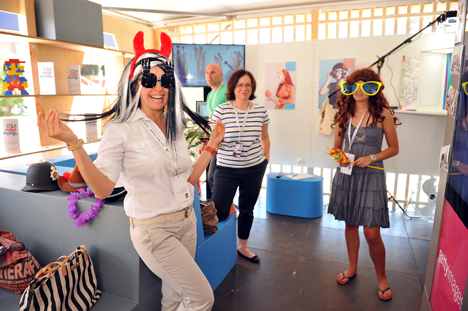 At the Cannes Lions, many celebrities arewere also invited, including singers and artists such as the Korean girls musicl band 2NE1, Bill Clinton, the Pprevious President of the United States, Zaha Hadid, British architect, Damian Kulush, a vocalist of OK GO, to talking about marketing and advertising for each project.
The digital marketing will be increasingly important, and the speed of evolution and change is very rapid in the industry. Next year, an entirely new method of advertising might have occupied the Cannes.
Cannes Lions International Creativity Festival 2012
Date: July 17th – 23rd 2012
Place: Palais des Festivals et des Congrès
http://www.canneslions.com
Text: Wakana Kawahito

[Help wanted]
Inviting volunteer staff / pro bono for contribution and translation. Please
e-mail
to us.