In its 2nd year, Dojima River Biennale 2011 is now being held at Dojima River Forum. The event is located by Dojima River in the center of Osaka.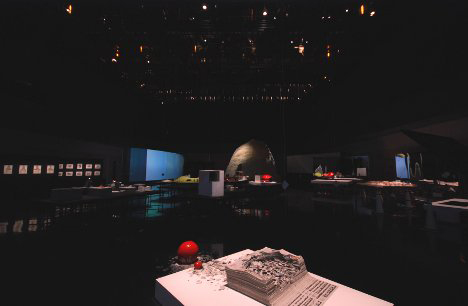 This year's theme, 'ECOSOPHIA' represents a planet considered from the practice of ecological philosophy. The concept is to look at the future of the earth from a natural environment, social environment, and human psychology point of view under the theme of architecture and art. Takayo Ida, the chief curator of Aomori museum of art, is the art director of the event.
The venue is divided into the ground zone: the symbol of utopia, the water zone: the symbol of living matter, and the atmosphere zone: the symbol of creation and spirit. Each zone is depicted using drawings, maquettes, visuals, and three-dimensional works. In the dark space, an image of outer space is conjured up. The artwork there expresses the gap between the ideal and the actuality of human beings, and sends out signals of warning to us.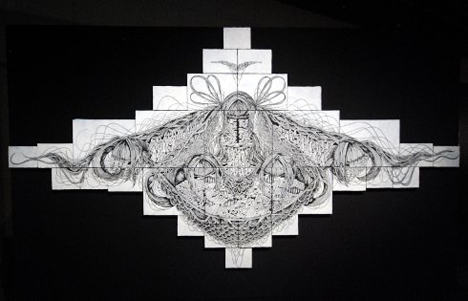 "Ideal Nation (Five Goddesses)", Naho Ishii
In the ground zone, cities and forests are represented as symbols of paradise. By drawing girls with a miniature technique, Naho Ishii portrays an anthropomorphic city and a girl becoming a city in 'Ideal Palace,' 'Ideal Island,' and'Ideal Nation.'The girl is compared to Japan and sadly she seems to express the uncertainty of Japan itself. By painting an extensive forest in a pointillist manner using interference pearl, Daisuke Oniwas FOREST#1 utilizes the different angles of light to depict fear, the opposite side of nature's utopia. The film by Shintsubo Kenshu, Shibuya Keiichiro, and Yoshihide Asako, showing the appearance of the Earthquake evacuated area in Tohoku on April 20, perfectly merges its vision with the people watching the film.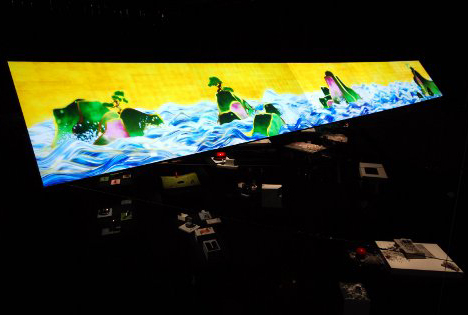 "Hyakunen-umi-zukan" (100 Years Sea), Team Lab + Teruhiro Yanagihara
The main themes of the works in the water zone are sea, river, and earth, the symbols of living organisms. At first, there is Exform by Kosuke Ikeda, Kei Haraguchi, and Keigo Miki, located outside the exhibition hall. Water droplets drop on veneer boards from 7 meters high. Shining on the boards and reflecting light, they seem to express living organisms: humans, returning to Mother Earth. Hyakunen-umi-zukan (100 Years Sea) by teamLab is also worth watching. WWW (World Weather Watch) predicted that the ocean surface is going to rise up to 120 meters across the earth by the end of the 21 century. The work expresses the forecast with an animation. The golden waves gradually swallow the islands. Is this the scenery of the earth in our future?
Read more ...

1
2
[Help wanted]
Inviting volunteer staff / pro bono for contribution and translation. Please
e-mail
to us.