Chi He graduated from Central Saint Martins fashion print pathway.  She is a fashion designer and an artist as well who loves dogs and Disneyland. These images are from her graduate collection 'OH! MY DOG' and some drawings. These are very eye-catching works and look funny. We interviewed her about fashion, her graduate works and some of her philosophy.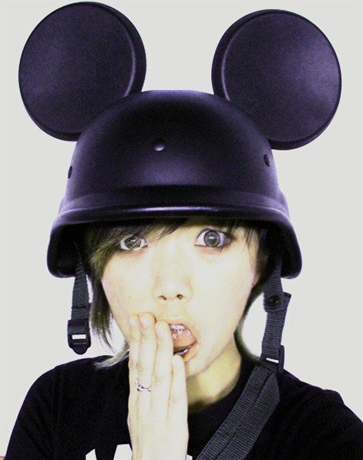 Please describe yourself.
I'm original from Shanghai and moved to London 5 years ago. Now I graduated from Central Saint Martins with my menswear collection 'Oh! My Dog'. I like drawing and I like being childish therefore I tend to make FUN clothing.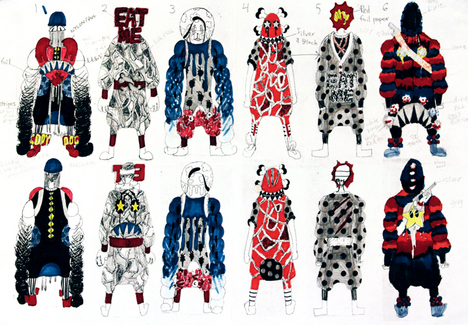 How was the Central Saint Martins College to you? What made you choose specifically Fashion Print Department?
There are so many 'first' happened when I studied in Central Saint Martins: First collection, first catwalk show etc. Also first time for me to know that fashion design can be so free and could be anything as long as it is fun. I choose Fashion Print Department mainly because I'm really into drawing. I'm very much a 'Image' person and I love colours. But to me 'print' is not only about the illustration but I also enjoy the charm of screenprinting. I interned with Eley Kishimoto in their lovely print room and learnt many aspects about screenprinting on fabric, paper, furniture etc. The experimental and creative process really intriguers me to carry on printing as my favorite thing ever!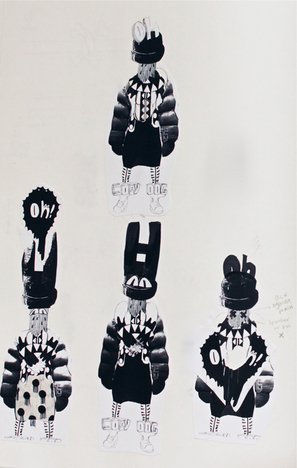 What is your purpose of making clothes?
My design is full of childishness and fun element and I go with my flow when it comes to design. For me, the childhood memories or experience is the happiest part and people tend to wish to go back to the purist period of their lives. So my idea is to take the inspiration from those happy times to design the prints and clothes which make people smile and feel the same way when they go to Disneyland and just danced with Mickey family. (hopefully) LOL.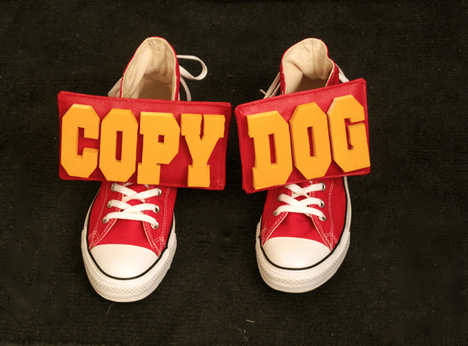 Your clothes are very unique and look like cartoon-character costume. How does this medium suit your ideas?
Partly because it is my final collection for my bachelor degree and I decided to make it as crazy as I can. But there's no doubt that I love cartoon style and funny looking clothing. I don't do fashion design in an ordinary way. I think it should be fun. My graduation collection is very eye-catching by the innovating silhouettes and unexpected colour combinations. The main idea throughout the collections is a sense of humour about the way I challenges traditional menswear design, which enables me to stay creative and playful and give a strong identity of expressing an interesting story. It was the same experience when I interned with Jeremy Scott in 2010 and I absolutely love the way he manipulates the cartoon style into his Adidas Original which is so much fun and appeals to more and more people now.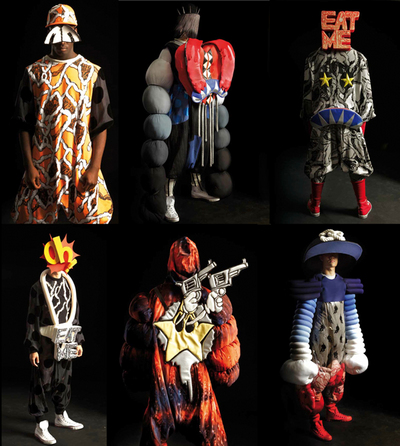 How was the graduate show? Please tell us about "Oh! My Dog". How did you come up with this idea?
The graduate show is really one of the most memorable thing in my life. It was pretty much chaos at the backstage with me panic all the time but thank god I got a group of supportive friends with me all the time. (Thank you so much, everyone!) Also the people at the show was laughing and talking about my collection which I took it as a great thing. I love things can make me laugh that means it is a success. "Oh! My Dog" is based on a story of a dog lover who loves his dog too much and wants to spend every minute with him. So his passionate about the dog pushes him to think about any possibilities that he could be bounded with his beloved dog: He chopped him up and put his dog's organs in his pocket and inside of his trousers; He wears the dog guts print jumpsuit so he can feel the dog surrounded all over the body; His clothes are dipped into dog blood and he smiles in the dark night of a playground recalling the moment he spent with his dog… I came up this idea because I used to have a yorkshire terrier and that was exactly how I felt when I was away interning in LA. I love dogs and I would like to express in my collection that an extreme and weird love by research the anatomy of human and dogs and observing the relationship between owners and pets. Moreover, I teamed up with Buzz Chen, a graphic designer and DJ who also graduated from Central Saint Martins, but in the graphic design pathway together we came up with many crazy ideas such as make a lot of stuffed organs which we put them in the transparent trousers which create a feeling of a black bin bag full of dog organs. we made all the big props and we like to make everything ourselves including accessories.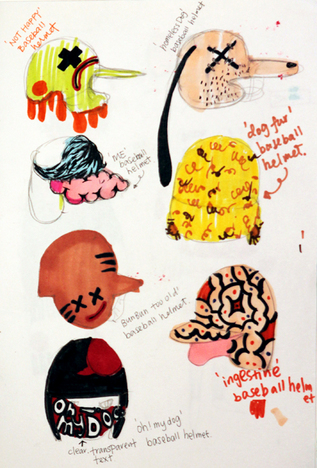 Where does the inspiration come from when you create your unique design?
Most of my inspiration comes from my daily life: people, event, surrounding, trips, mood etc. Also for a wider research I go to library or gallery looking into history, childhood etc.anything as long as it gives you any spark of ideas.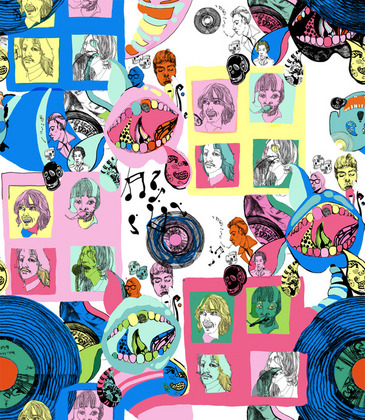 What are your favorite things to do besides making clothes? What do you do on holidays?
Recently I fall in love with this guy: Heston Blumenthal. He is a legendary chef creating the most unbelievable food in the world. If I don't do fashion I would love to become a chef like him. (LOL) On holidays I like to go to car boot sale or flea market. It's cheap and full of crowd.
What influences you on fashion scene? Who is your favorite designer?
My favorite designer is Walt Disney. He is the one who makes me believe that anything could happen as long as you have imagination. Talking about fashion sense, Walter Van Beirendonck, Bernhard Willhelm and Henrik Vibskov are the influence to me from time to time.
What are you going to do next? Please tell us your future plans.
I'm now applying MA for fashion in Central Saint Martins. At the same time I'm doing my first freelance job for a mens sportswear brand. Also I'm really excited to start my new collection which I think my childlike cartoon style will be continued. My dream is to create a brand that has the same spirit as Disneyland that remind people of their childhood dreams about happiness and purity.
Text: Memi Mizukami

[Help wanted]
Inviting volunteer staff / pro bono for contribution and translation. Please
e-mail
to us.