Calligraphy might be one of the art form that Japan is proud of. Aoi Yamaguchi is a Japanese calligraphy artist who based in the U.S. She grows up as an artist day by day with a combination of calligraphy, which is a natural way to express herself since she has spent more than half of her life with, and music, which she loves so much. Also, she is constantly seeking new methods of expression, such as organizing "RISE JAPAN" as a part of Japan restoration support and starting an artist group called "S.I.R." We conducted an interview with her.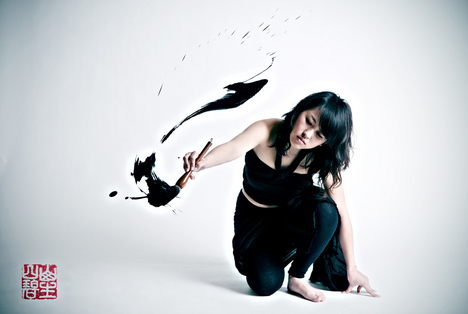 © Tokio Kuniyoshi
Could you please introduce yourself?
I'm a Japanese calligrapher based in San Francisco Bay area. I moved to the U.S. seven years ago and obtained an artist visa last November. I'm currently living in Oakland which is a city next to San Francisco. While I seek new tastes for my work, I work on my solo and group exhibits and live performance in various cities to achieve my goal, which is a blend of Japanese calligraphy and contemporary art such as music, video and dance to catch variety of people's attention to Japanese calligraphy. I also create logo with brush style font, jackets for CD and DVD and commission work.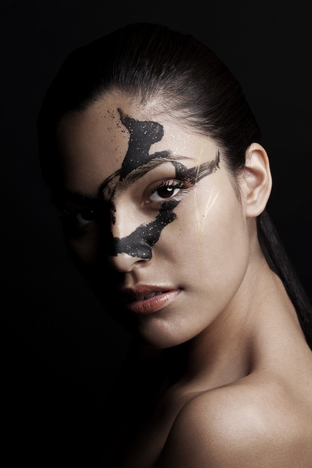 "Jet Black", Calligraphy x Beauty in collaboration with Taichi Imai, New York, 2011 © Taichi Imai
You started calligraphy since you were six which means more than half of your life. How do you find calligraphy being attractive from a standpoint of a creator? Were you good at calligraphy when you started?
My mom had me take calligraphy lessons. At the beginning, I kept practicing to get close to my teacher's perfect and beautiful sample. My dad was teaching Japanese at school, so I've enjoyed writing stories and poems and drawing. My dream at the time was to become an author. Since I was perfectionist and good at writing characters beautifully with a pen and a pencil, I remember getting compliments how fast I learned how to use a brush. Calligraphy is a form of art to value words, so the aspect suited me well to express myself.
What aspects of calligraphy appeals to me is the part that I can enclose my passion for the moment into a very minimal space which is black and white: how much of passion I can put into a brush and express on a paper, and how much I can decorate a paper with the balance of black and white and blank spaces. Calligraphers put so much effort to express the world in their mind with smoothness, strength and speed of lines, flow between characters and the balance of blank spaces. I believe that amazing work shows the perfect balance of feelings and attitude of a calligrapher and the meaning of word that he chose. My goal is to create a piece to show vivid colors by making words on a paper, which is a world of black and white, stand out.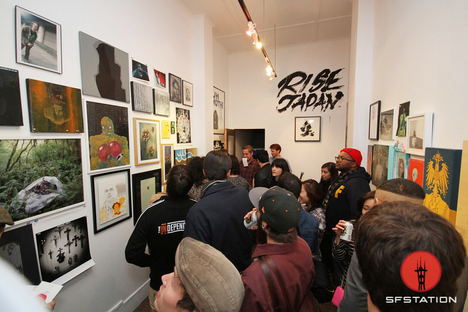 "RISE JAPAN", Gallery Heist, San Francisco, 2011
Aside from the charm of the appearance of calligraphy, I believe that there is a deep meaning in the characters that are written. How do you usually choose words to write? Could you please explain us using "RISE JAPAN" as an example?
I usually choose words by expanding images from my notes or words in books written by poets who I respect. Then, tweak these words into ones to reflect my message considering sounds, rhyme and flow. I prefer to think if I want to write the words in Hiragana, Katakana or English from the image of words once I settle down with rhythm and sound when they are read aloud.
"RISE JAPAN" is a title for the art exhibit to support earthquake disaster reconstruction in Tohoku. When I wanted to help Tohoku through art, the word came up during the discussion for the project with gallery owners. We chose the word "RISE JAPAN" with the image of a rising sun which keeps rising even in a tough condition. I wrote this title on a white wall inside of the gallery and advertising space on streets which the gallery owns. By writing the word "RISE JAPAN" where many people, can see, I was hoping to bring up the awareness to support Japan from not only artists but also locals in San Francisco. I also created prints from the mural and donated the profit of the sale to NPO. We are able to raise the total of $26,000 from both the first event "RISE JAPAN" and the second event "RISE AGAIN." I was moved so much at the moment and couldn't stop crying.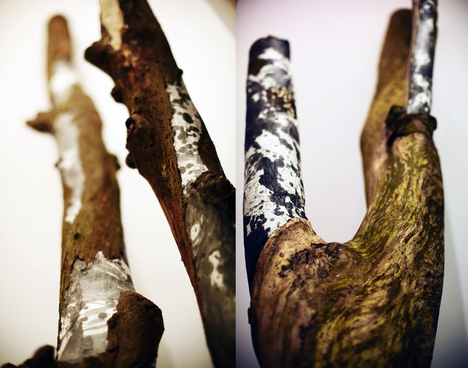 Installation with wood and calligraphy "KANGEN -Reunited with Nature", Gallery Heist, San Francisco, 2011, Photo by Akko Terasawa
Do you have any problems getting calligraphy supplies in the United States?
Yeah.. I usually buy most of supplies when I go home in Japan and bring them back to the U.S. It's hard to find good quality brushes and calligraphy paper here. Not only the traditional one, but I also do calligraphy on walls on streets, on bodies and clothes on dancers and on a canvas. So depends on the project, I use house paints and/or acrylics from home improvement retailers or art supply stores. But still, the most important item is a brush, so I always hope to have stores here where I can check items in person.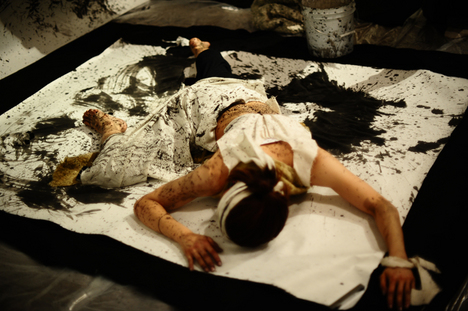 "KANGEN -Reunited with Nature", San Francisco, 2010, Photo by Akko Terasawa
When did you start doing a live performance of calligraphy?
It was about 6 month ago after I moved to the U.S. My desire to share the beauty of true Japanese art became stronger after re-recognizing Japanese traditions by living in a multinational art world. I believed that the calligraphy, which I have been doing since I was little, is the methods to make my wish come true.
I came across the idea of performing on streets overseas, so during the school time, I ended up with doing many at college festivals, self-organized DJ events in San Francisco and New York, concerts and art shows. I was able to work with many famous artists, such as Rich Medina, G-Ology, Cadron and Shing02.
Outside of Japan, there are not that many opportunities to experience calligraphy in public aside from museums and Japanese restaurants. Moreover, it hardly ever happens to see calligraphy at concerts and music festivals. So, with such rare opportunities, my goal is to let new audiences discover the potential of calligraphy from a perspective of the mixture of dynamic brush strokes, flow and energy of calligraphy and art, which is music and videos. I'd like people in overseas to experience Japanese traditional art, calligraphy, through contemporary approach which is the combination of three dimensional expression and digital media.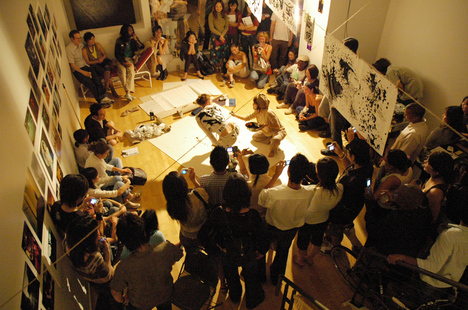 "Silence and Motion" performance, ensoma, San Francisco, 2006
Majoring in music at college gave some inspiration to your art work?
I've always liked music since I was little, so I come up with new ideas for my art from words that come to me inspired by the world, scenery, sound, rhythm and ambient of various genres of music. Majority of my poems were inspired by music.
I moved to the U.S. In 2004 with my dream to be close to music and support musicians. I majored in music business at college and succeeded to do an internship at a big record label. However, I started to question about handling music as commercial products. Then I changed my major to Humane Studies and minored in visual communication design. During the time, I was seeking a better way to involve in music while treating musicians soul with respects.
When I got an idea to utilize "live" part of concerts, I decided to do a live performance of calligraphy with live music. The burst of feelings and words coming up to my mind would only last for a moment through the chemical reaction by communicating expression forms of other artists. Since I value to share the moment with others, most of my performances are improvisation aside from the main theme.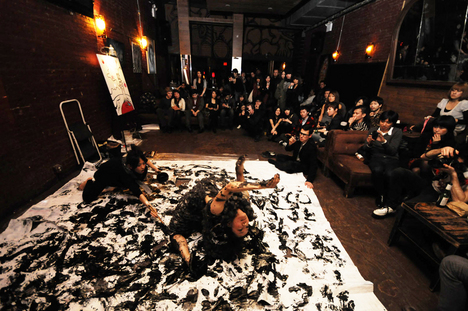 "CHISEKI -Traces of Nature-", 310 Bowery, New York, 2010
What was the reason to start "S.I.R."? Also, were there any big troubles?
I came across the idea to organize a show to connect Japanese culture and San Francisco local culture with Japanese artists from various fields, so I called them up for a meeting in the beginning of 2008. That's the start of "S.I.R." In the U.S. where multi culture constantly mingles, I wanted to design an audiences participating style art show to share drastically changing Japanese contemporary culture and art in interactive form. Over 40 artists participated in the past. The members include painters, photographers, illustrators, graphic designers, web designers, videographers, sculptors, DJ, music producers and me, calligraphers. We currently have about 10 active members, only 3 original members are still here. The rest are being creative on their own in Japan, San Francisco, New York and Europe.
We held the first event with "Unrealistic in a reality" as a theme and a title in May 2008. The characteristic of S.I.R is the process of deciding a different theme for every event in a meeting, then all members spend next 2 to 3 months to create art work following the theme. Since S.I.R. Started, we organized 11 events including four seasons themed events, "SAI" for summer and "Page" for fall. We also did 9 other shows including collaborating shows between Japanese and non Japanese artists. As people say "life is impermanence," the unique part of S.I.R which members are constantly changing is also a difficult part. Since our members move back home due to visa issues or move to other cities, while this provides new stimulations, it makes difficult to keep the quality and/or style of events. But I'd love to keep a place in San Francisco for artists to come back . That's what S.I.R. is for.
A Moment With: Aoi Yamaguchi from About Her Films on Vimeo.
What's your next plan?
I am performing the fusion of calligraphy and visual at "VOLT," an electronic music festival in Uppsala, Sweden on June 11th, collaborating with Joel Dittrich who is Swedish VJ and audio visual artists. We are the part of live visual for the performance of Berlin DJ Ben Clock, a pioneer of minimal techno.
I am trying out a new style for this project which is to operate motion of live calligraphy and audio/visuals together by scanning the movement of brush and dynamic lines into Dittrich's computer and showing the change of image on a screen. I will be showing the coexistence of nature and man-made city as a coexistence of organic calligraphy and digital art. It will be a 2 hour long performance.
Then, we are planning to hold RISE JAPAN Vol.3 organized by S.I.R. in San Francisco on June 17th. I will be performing in Europe, so won't be able to make it to be at the event. But it will be an art and music event to raise donation for earthquake disaster reconstruction with guests, Shing02 from Los Angels, Damon Soul from San Francisco/New York and a live paint unit called Gravityfree from Tokyo.
I always want to seek the potential how to express contemporary calligraphy without being stuck into an ordinary method. I would like to share the beauty and the pleasure of writing words with a brush via flat and three dimensional expressions by traveling various places, not only in Europe but also in Asia.
Could you please give a message to artists in Japan?
I'd like to make it visible if there is a world in my mind.
If you can connect with others through expressing your own, that is the happiest thing ever. Artists need to always keep creating. The uniqueness of Japanese sense of beauty is something that we can be proud to the world. It's even better if it's not self-satisfaction but something can provide positive energy. ART HAS NO BOUNDARIES – stay being an artists forever.
Text: Memi Mizukami
Translation: Yumico Miyagawa

[Help wanted]
Inviting volunteer staff / pro bono for contribution and translation. Please
e-mail
to us.