Mogollon is a New-York-based design studio, their commercial works including album and poster artwork for pop artists such as Madonna, Kelis, and Fischerspooner, as well as more artistic works in video and graphic. They present works in various forms and genres but still maintain their strong character in each of their work
SHIFT interviewed Mogollon who were at DIESEL ART GALLERY for the opening of their first solo exhibition in Japan.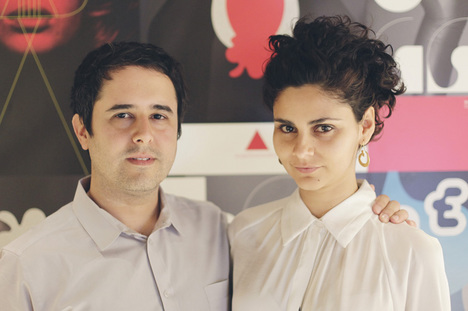 Your works cover graphic, video, typography, website, fashion, objets d'art, stage sets. Who is exactly Mogollon?
Mogollon is a design studio founded in NY in 2004 by Francisco Lopez and Monica Brand. Mogollon is a Spanish slang meaning "abundant" "plentiful" "many" or "very" depending on contexts. Based on this flexibility the word has, we aim to create regardless of genres something beautiful, more specifically the eternal beauty itself. We look for not only immediate "Wow!" but also the standard of beauty that will last for the next 20 or 30 years.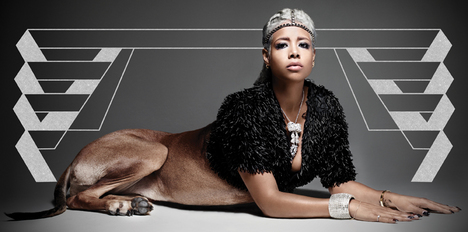 What's the beauty for Mogollon?
It's a difficult question! Art for us is an act of searching all the time what the beauty is. For instance, an everyday movement such as brushing dust off, or even an ugly one can be art, or can be beautiful depending on from which point of view. It all depends on contexts. Looking for such contexts is the attitude we have toward the beauty.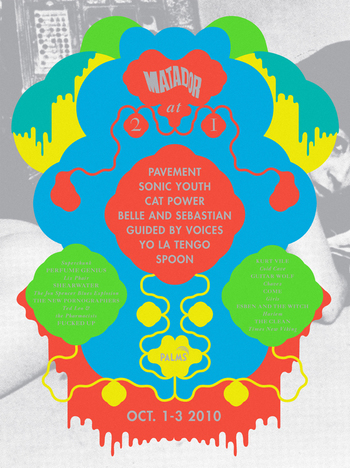 How do you work on projects? 
We brainstorm together. To do so, together we go to libraries or museums. For example, we go to the library to look for art books or documents but find ourselves fascinated by the classical library building itself. Living in New York has a huge influence on our creativity. Especially, we are inspired all the time by NY's classical design like art deco. How we work after brainstorming differs from projects to projects. Each of us has own specialty: Francisco is good at typography, Monica at production based on photography. But when the one finishes design, the other takes over, which means we work together. We really do.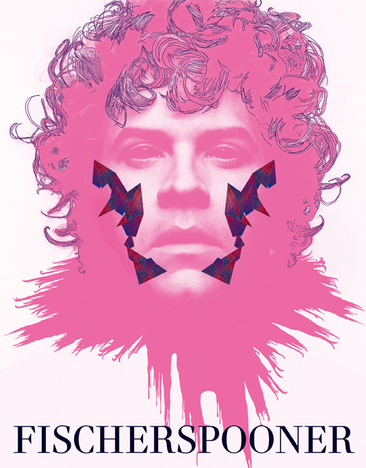 What's in your mind when you work on design?
The balance between decorativeness and functionality. Graphic design requires a firm communication with the receivers under certain limits. Even under such circumstance, we try not to limit ourselves only to functionality. We try to design as freely as possible. The whole spirit of it is like you scribble on your mother's books or journals, adding hairs or beard. What we do today is basically the same.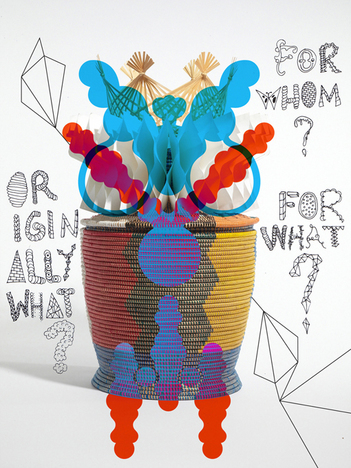 Besides art-deco, what inspires you?
The idea source comes from Serge Lutens. Besides that, we are inspired by art nouveau, Greek or Japanese traditions. We have had interests in aliens or futuristic objects. Since we arrived in Japan, we've been inspired by architectures, traditional or contemporary, or detailed gadgets. We have a feeling those might influence the way we work.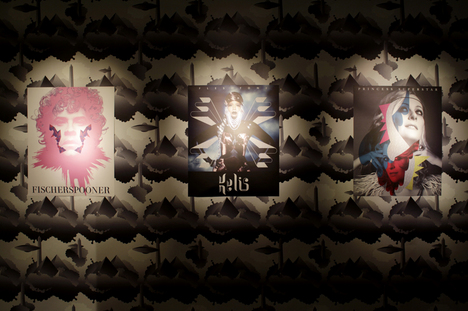 Photo: TAKAMURADAISUKE
What's the concept of this exhibition?
It exhibits more than 20 pieces of work from our past 7 years to the latest video and mirror work. We used mirrors from the concept of "Time Witness". A mirror reflects oneself minute after minute, which is newly-born oneself and newly-created beauty. The video work is inspired by old Hollywood movies and projects mysterious and mythic moments, by taking creation, chaos and insanity into one.

Photo: TAKAMURADAISUKE
Mogollon's future scope includes working on movies, furniture, and textile design. We cannot take our eyes off of their unique world, nostalgic but never seen before.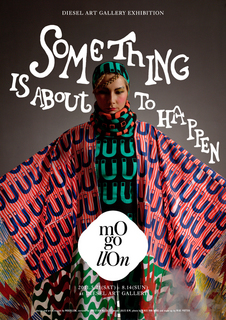 MOGOLLON "SOMETHING IS ABOUT TO HAPPEN"
Date: May 21st – August 14th, 2011
Opening Hours: 11:30 – 21:00
Place: DIESEL ART GALLERY
Address: B1F DIESEL SHIBUYA, Cocoti, 1-23-16 Shibuya, Shibuya-ku, Tokyo
Tel: 03-6427-5955
Curator: ASHU
Cooperated by: ZEAL Associate Corporation
http://www.diesel.co.jp/art/
Text: Wakana Kawahito
Translation: Ayako Ishii

[Help wanted]
Inviting volunteer staff / pro bono for contribution and translation. Please
e-mail
to us.