Over five-star buffets, champagne top-ups and canapes on trays that seemed to chase attendees around the galleries, the pre-opening party of the region's biggest art fair was no ordinary exhibition. It was here, a night before Art Dubai opened, that the biggest deals were made.
"How much is this one? My wife really likes it, so I want to buy it for her," one visitor hollered at a representative of one gallery. "$10,000," the woman replied back. That was just the tip of the iceberg, some were sold for hundreds of thousands of dollars on the night.
It is here, in this city that has been nicknamed 'Do-buy', that fine art and high commerce mix together to make something truly unique.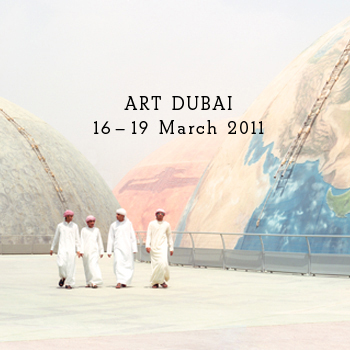 Art Dubai was held between March 16th and 19th for the fifth year and guests and exhibitors said that the show had evolved. In addition to the core venues, the Madinat Jumeirah and upcoming local galleries in Dubai, from this year, representatives from Doha, Bahrain and Abu Dhabi joined in.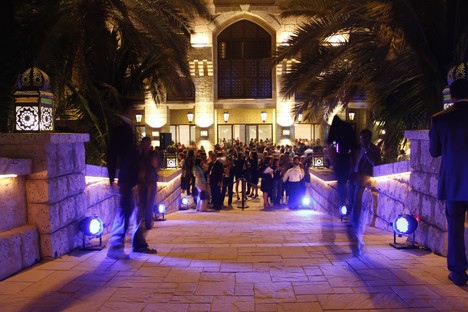 Jumeirah Patrons Preview. Courtesy Capital D Studio, 2011
"The UAE has definitely been bitten by the art bug," the new fair director Antonia Carver told local paper Khaleej Times.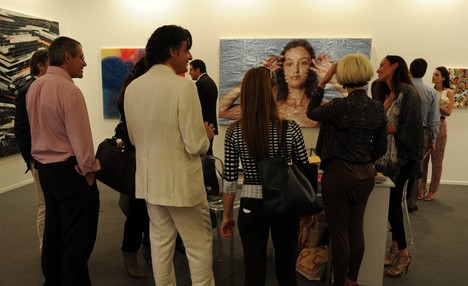 Dirimart, Art Dubai. Courtesy Capital D Studio, 2011
This year, there were over 82 galleries from 34 countries at Art Dubai. They were selected from hundreds of applications. One third of galleries were from the Middle East, another third were from Europe and the rest were from America and Asia.
More than a dozen of the participating galleries exhibited work for the first time in the Middle East. The fair saw over 20,000 guests this year, 60 museum visiting groups and a 30 per cent increase in international visitors.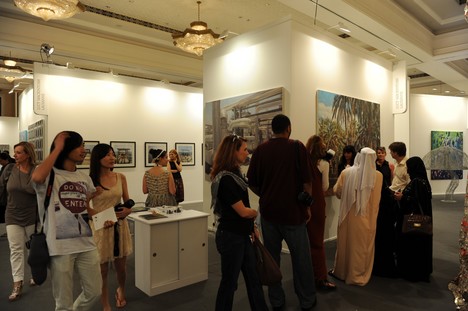 Lucy Mackintosh, Lausanne. Photo by Charlie Koolhaas
Antonia added: "We are not just a commercial event. We are the kind of fair that encourages audience participation and we put up workshops and artist tours. For the first time, we have the DXB Retail store where we have commissioned artists to make limited edition objects for sale as creative souvenirs of Dubai."
The connection between art and money indeed seemed more visible at this event.
It was reported that some works fetched $3,500 to a shocking $150,000.
Traffic Gallery of Dubai was reported in local media that 40 works at their booth were sold for a total of more than $100, 000. Saudi Artist Ahmed Mater's 'Evolution of Man series' was one of them.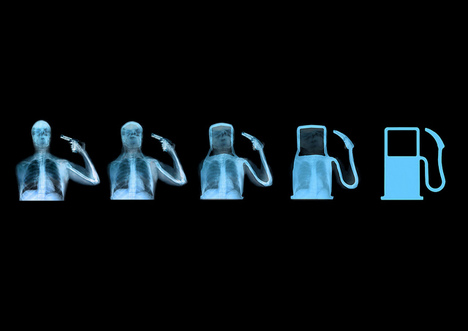 'Evolution of Man' by Ahmed Mater, 79.2 x 59.4 cm, 2010. Courtesy of Ahmed Mater
One of the big sellers from this year's event was the 'Evolution of Man' series by Saudi artist Ahmed Mater, which fetched $30,000 from a Saudi collector at the pre-opening of the fair. "For me, what means more is not the price, but it is the collectors that are buying the work," Mater told SHIFT. "I think it is so fantastic to see more Saudi people collecting such conceptual work that is addressing a very sensitive topic and making a powerful statement."
The 'Evolution of Man' series is broken into four consecutive pictures showing changes from a petrol pump into a man holding a gun to his head. Mater's thought-provoking work is open to many different understandings. "I do not want to say this work has 'one message', I want people to decide their own message," said Mater.
In Saudi Arabia, suicide is strictly forbidden and the theory of evolution proposed by Darwin is often regarded as heretical. Saudi blogger, Ahmed Al-Omran discussed Mater's work suggesting that "he(Mater) believes in evolution. But for him, evolution does not necessarily mean survival of the fittest. Sometimes, evolution can lead to one's demise."
Saudi Arabia was established as a nation less than 80 years ago and has undergone dramatic changes since discovering oil. Petrodollars have transformed the Kingdom from a fishing village to one of the richest countries in the world in a matter of a few years. Saudis too have experienced dramatic changes in their lives, none more so than Mater, who was born into a village farming community. "Today, I am the son of this strange and scary oil civilization," said the artist, who also a doctor by training.
That's a sentiment shared by many in his native country. "The oil money used to build the Kingdom's cities and modernise the infrastructure was not always used to develop minds or modernise their way of thinking," said Saudi Jeans blogger, Al-Omran.
The original title of Mater's work was 'Evolution of Man, What Darwin Didn't Know'.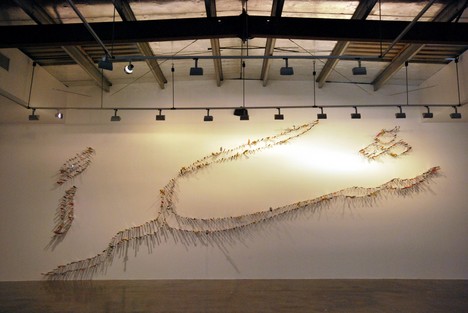 'Shukran' by Farhad Moshiri, 2011
Earlier this year, a young Iranian man scoured dozens of shops across Dubai to buy a bag full of knives and toy swords. Although he may have looked a little strange to shop staff, the man was in fact celebrated Iranian artist Farhad Moshiri.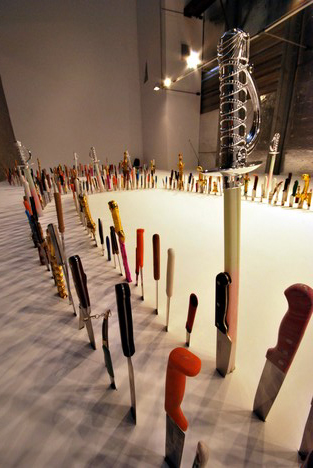 'Shukran' by Farhad Moshiri, 2011
Those knives and plastic swords have been driven into a white wooden board that occupies a vast wall in the Third Line gallery in Dubai. They are arranged to spell the word 'shukran' which means 'thank you' in Arabic.
Moshiri's piece aims to contrast the positive message in the threatening medium of knives and swords. "I go with a hunch and use materials I feel like," said Moshiri. "The usage of knives gives the work an edge. I also like to mix contrasting ideas. I am truly happy that my exhibition is in Dubai because this city has always been supportive to me."
Moshiri has been described as the 'Andy Warhol' of the region and some of his works have previously been sold for over a million dollars in Dubai.
Having had many of their artists in recent revolution in Egypt, the Artspace had a special booth at this year's Art Dubai. The Dubai-based exhibitor had, among various art works, a video footage of Tahrir Square movement.
"The people of the revolution were from all walks of life," said Artspace founder and managing director Maliha Al-Tabari in local paper's interview. "I really wanted a political booth for Art Dubai — we're in tough times now and people are not just concerned with pretty pictures, so to speak."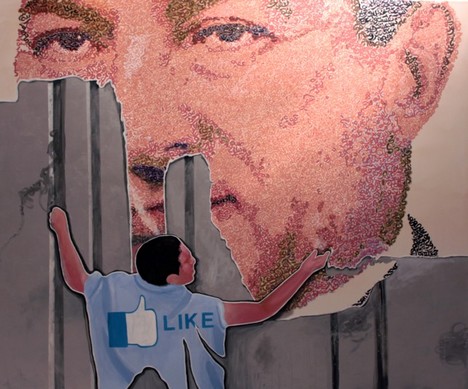 'Bye Bye Hosni' by Zakaria Ramhani, Acrylic on Canvas, 200 x 240 cm, 2011. Courtesy of Artspace Gallery
Moroccan artist Zakaria Ramhani's 'Bye Bye Hosni' is a photograph of a street poster of the former Egyptian dictator Hosni Mubarak covered with Arabic graffiti. A protester wearing a Facebook "like" button T-shirt, rips the picture off the wall.
The gallery also exhibited works by Mohammed Taman, who lost an eye to a rubber bullet during the protests. Other Egyptian artists who were exhibited, Nadine Hamman and Khaled Hafez, also took part in the demonstrations in Tahrir Square.
The visitor's reaction to this political booth was very positive, organisers said. "Since this year, we took on a completely different approach – which was actually unintentional due to the political climate around the region," said Sossy Dikijian, Art Director of Artspace told SHIFT. "People we really impressed with the types of artworks we had shown- and it was completely different then what we had done before."
"It was important for the artists to express these feelings and emotions. Especially since the region is quite strict on censorship, it was sort of a now or never type of an approach. As a gallery, since it was so relevant, we really had no objection in changing the concept of our booth."
All the works displayed in this booth were freshly made within three weeks and arrived on the day of Art Dubai opening. The artists preferred to use the regional unrest as inspiration for their work. "So you can imagine, we didn't even have time to promote or share the artworks from before," said Ms Dikijian.
Dikijian said that art in the Middle East was changing, and that artists there were "really starting to think outside of the box". She added that as the Middle Eastern art market is expanding, as people are more educated and researched and are now accepting all forms of art.
Through Artspace's participation in all five years the exhibition has been running, the gallery's art director Dikijian has seen lots of improvement. In 2003 when the first fair opened, the gallery was one of only three in Dubai. Dikijian told SHIFT that it is very important for them to be in Art Dubai as one of the pioneer galleries from Dubai.
"This year, we noticed a significant amount of top collectors, critics, curators and directors of museums from around the world present," she said. "Before, the Middle Eastern art scene was getting noticed by people around the region. Now, the world is curious to see what is going on with the Middle Eastern art scene – this year's Art Dubai fair is a perfect example."
Ayyam Gallery profiles artists from another country currently under the international spotlight. Since its founding in 2006, the Syria-based art gallery has established its presence regionally in Dubai, Cairo and Beirut.

'Enlightenment' by Nadim Karam, 200 x 360 cm, Mixed Media on Canvas 2010. Courtesy of Ayyam Gallery
In contrast to rebel sentiments, or perhaps in support of them, the piece by Lebanese artist Nadim Karam 'Enlightenment' draws utopian settings. A multi-coloured creature with two characters on the top of it shows a mixture of the real and the magical, which in turn raises the possibility of reconfiguring the modern state.
There were also many foreign re-entries at Art Dubai. Kalfayan Galleries, the only Greek gallery that was present at this year's Art Dubai, have participated for the past four years.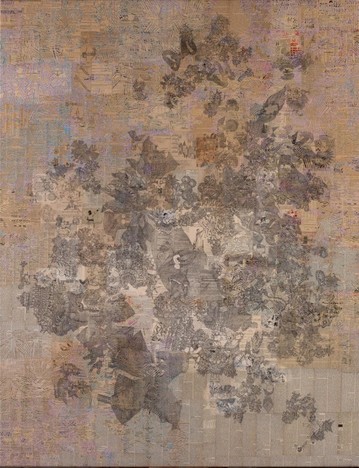 'Untitled' by Antonis Donef , Ink On Paper Laid Down On Canvas, 2011. Courtesy of Kalfayan Galleries
Part of the reason for their success at the fair is the aim of the gallery to act as a bridge between East and West. "This fact is reflected in the special identity of the Greek art scene," said Yuli Karatsiki, the gallery manager. "So this is one of the scopes of our presentation this year at Art Dubai, to feature artists of diverse backgrounds and to introduce the public to works of different media."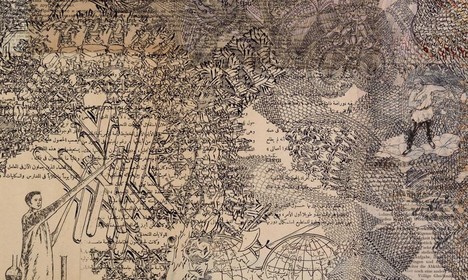 'Untitled' (detail) by Antonis Donef , Ink On Paper Laid Down On Canvas, 2011. Courtesy of Kalfayan Galleries
One of the art works the contemporary Greek gallery had was by Antonis Donef.
His complex mosaic-like work was like a magnet pulling visitors to ten centimetres close to his piece. Taking pages from old Greek and foreign encyclopaedias and books in many languages such as Arabic, English, German, French, Chinese, he created images based on the re-composition of knowledge. His patchwork hints at stories within stories that describe a world congested with information. It is also a personal history of knowledge by a young Greek artist.
It was not immediately obvious that it was the first year that Paris-based Galerie L.J. was taking part in Art Dubai.
The gallery director Adeline Jeudy's strong connection with Middle East brought them to the UAE. "I also believe that there is a great potential with the art market in the region," she told SHIFT.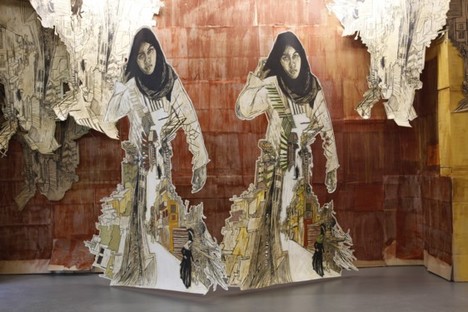 'Cairo Woman' by Swoon, Hand-painted blockprint on Mylar, 200 x 140 cm, 2010. Courtesy of Galerie L.J.
One of the most eye-grabbing artists on display was Swoon, an American woman who creates life-sized portraits of people she meets using woodcut block prints and paper cut-outs.
She created her displayed piece 'Cairo Woman' after her visit to Egypt's capital as a part of her project travelling around the emerging countries.
She has been covering the streets of New York with her signature cut-outs for over ten years. Her pieces can be found in many museums across the US, as well as the Tate Modern in London. Although Dubai itself is far from flourishing with street art, Art Dubai proved that the interest is there.
"I wasn't expecting that quite a lot of local people already knew the work of our artist Swoon," said Jeudy. This Parisian contemporary art gallery had a huge success at the fair. Countless visitors told the gallery it was their favourite booth from the fair. Such enthusiasm was beyond expectations, said Jeudy.
She says that through her experience of living in Cairo she can tell that art within the Arab world has definitely gained momentum."We definitely observe an evolution since the last three years," she said. She said that for the past ten years work from the region has largely been focused on Arab identity. However, recently more artists are open to new issues, owing to more experience abroad and a broader mindset. The change has meant that the work has become richer.
However, there is still room to grow for the region and for Dubai in particular. Jeudy said that the collectors at the fair seemed to be attached to local artists. "I think it will take about five to 10 years to make the mentalities evolve, to open the local collectors to something else," Jeudy said. "There is a potential for foreign
galleries", she added, "[but we] must be very patient".
Art Dubai's booth fee is not easy one for young galleries with limited finances. "Participating to Art Dubai again is really a bet on the future," she said.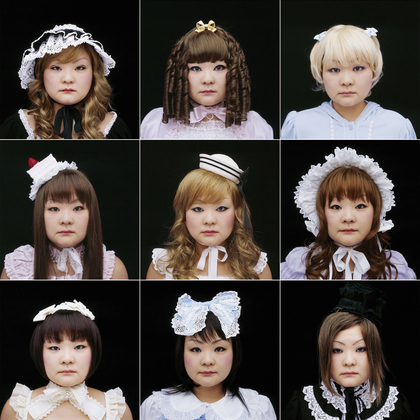 'Decoration/Face' by Tomoko Sawada, Digital C-Print, 60 x 60 cm x 9, 2008. Courtesy of Connoisseur Contemporary
Connoisseur Contemporary, based in Hong Kong, this year featured Tomoko Sawada's well-known 'Decoration' series which portrays the artist herself. Through this piece Sawada explores the tension between the outer image and inner truth. Her expressionless faces suggest the lack of personal individuality due to a social pressure to conform and even a sense of isolation. At one stage, a picture of her in Gothic Lolita costumes had large audience of stylish Emirati women dressed in Abayas (traditional black gown for women in the region). Some looked amused, some stared intensely, while others seemed slightly confused.
The quantity and richness of the art on display left many wondering if four days are enough. Although money is a large consideration at the fair, for many the biggest thing about Art Dubai is the benefit that it has on invigorating the regional art scene. With several bustling galleries around the city and more springing up every year, it may not be too long before the dreams of many are realised and Dubai becomes a leading city for the arts.
Art Dubai 2011
Date: 16th-19th March, 2011
Place: Madinat Arena, part of the beachside resort Madinat Jumeira
http://www.artdubai.ae
Text: Mamiko Kawakami

[Help wanted]
Inviting volunteer staff / pro bono for contribution and translation. Please
e-mail
to us.