What is "beauty"? Takashi Murakami's exhibit has created a heated discussion.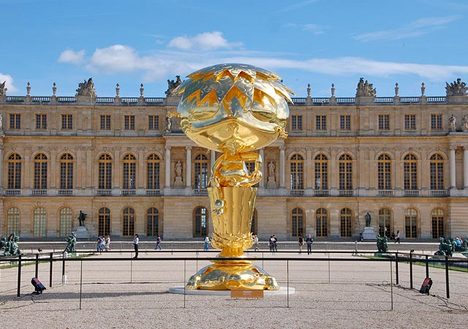 Takashi Murakami first heard about Versailles from a comic about the French Revolution, "The Rose of Versailles" by Riyoko Ikeda which is very familiar to Japanese people. Murakami, who is one of the artists whose art is appraised at the highest value, uses a way of expression from "manga" culture and introduces it in his art pieces. Twenty-two of his art pieces are displayed at the Palace of Versailles until December 12th. The Palace of Versailles is where many tourists come from all over the world to see crystals of Louis the XIV's power.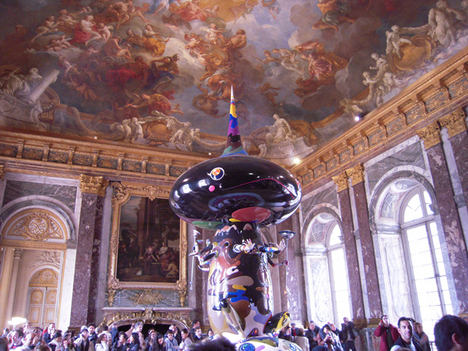 The very first piece of Murakami's that people will run into is this 8m (26 feet tall) "Tongari-kun" (pointy guy). This one is painted in multiple colors and looks like Buddha. It even seems like it is stabbing at the painting on the ceiling of the Hercules Salon.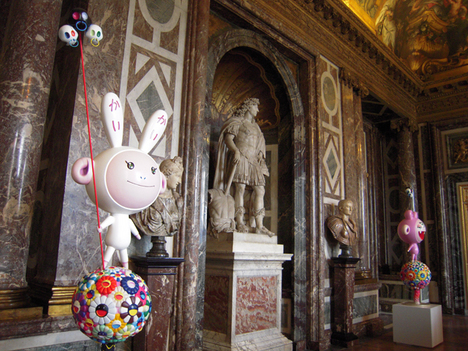 A pair of mascot characters that Murakami created, Kaikai and Kiki, stand in front of people as if the mascots are protecting Louis the XIV.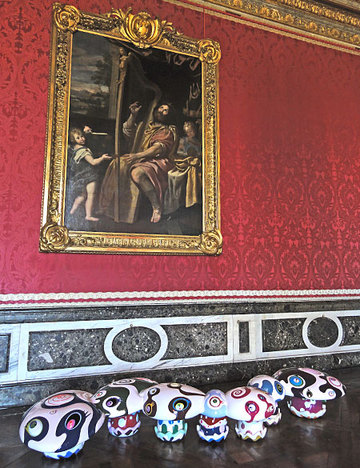 As a part of Murakami's artistic career, some of his most legendary and representative works, such as "HIROPON" and "My Lonesome CowBoy" could be thought of as pornography. Since the Palace of Versailles is a family-friendly sightseeing spot, Murakami regulated himself to exclude such mature works.
Moreover, although half of the entire collection is new and made for this particular exhibit, surprisingly, the rest of the pieces belong not to worldwide Murakami collectors, but to general art enthusiasts.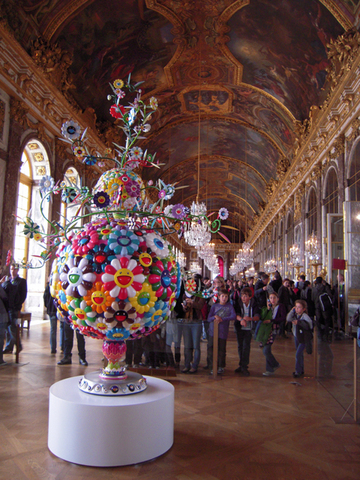 The main room in the Palace of Versailles, the Hall of Mirrors, has a bouquet in Murakami's colors with its branches reaching out.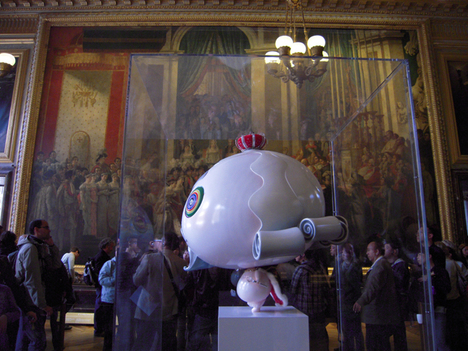 A piece that was inspired by the story "The Emperor's New Clothes" is displayed at the end of the Grand Apartment. It sits cutely in front of "The Coronation of Napoleon" by Jacques-Louis David.
In an interview, Murakami mentions that he set up the theme of this exhibit as "a clash of histories" or "a clash of different cultures." However, it actually could look like he secretly set another theme which is "a harmony" between Versailles and Murakami's pieces. Since Jeff Koons, an American artist, is the one who started this cycle of contemporary art exhibits two years ago, this Murakami exhibit is always compared to his exhibit.
Actually, this exhibit, even Koon's exhibit, have been getting criticism. The first regards displaying things which do not relate to Versailles, a symbol of traditional culture. Koons makes pieces called Post-Pop that are inspired by American popular culture. Koon's Post-Pop is contemporary, but does not exist in European cultures. The second is that both Koons and Murakami are two of the most "successful" artists even from a business perspective. The third one is that a mega art collector, Francois Pinault, who has a strong connection with a director of Versailles, Jean-Jacques Aillagon, loves both Koons and Murakami. Along with these three points, people criticize the fact that this Murakami exhibit looks totally the same as Koons'. In opposition to the advertisements for the exhibit before the opening, the French media has been criticizing Murakami's exhibit. Although people thought that Koons just had an American smile on his face, he actually was proud of having American culture-inspired art pieces as a challenge to Versailles. However, Murakami has tried to create harmony between Versailles and his ideas towards Versailles from a Japanese perspective. As a result, the artistic merit is considered pretty low.
This exhibit was introduced in various different types of media, such as television, radio, newspapers and magazines, and advertised on a large scale. Like Jeff Koons' exhibit, French extreme right-wing organizations and the Versailles membership organization have organized and collected almost 5,690 people's signatures against Murakami's exhibit as of October 1st, just about two weeks since the exhibition started. However, as an echo of this exhibit, the total number of visitors at Versailles has increased 15 – 20% over the previous year's attendance.
Although there are seven more years left for this contemporary art series at Versailles, the director of Versailles, Jean-Jacques Aillagon, has decided to stop displaying art in the Apartment area in the Palace of Versailles which continues to the Hall of Mirrors, the Hercules Salon, The King's Grand Apartment and The Queen's Grand Apartment, and to continue exhibiting only at the parks in the Palace of Versailles. Even though Aillagon mentions that "this decision was not made to cool off a disturbance from opposition movements," it seems as if the decision was made because another opposition movement is expected when Italian artist Maurizio Cattelan has an exhibit there in 2012.
Moreover, not only from opposition movements, the media, the internet, or even during daily conversation, this exhibit causes discussion and develops the argument as to "what is 'beauty'?" or "what is the base definition of 'ugliness'?". Is Versailles equal to beauty? No matter how much opposition occurs or how strong criticism is made, this exhibit re-started an art discussion not only about the exhibit itself. It should be worth it to check it out.
Takashi Murakami in Versailles
Date: September 14th – December 12th, 2010
Place: The Palace of Versailles
Address: De'partement of Yvelines, Ile-de-France, France
http://www.chateauversailles.fr
Text: Kana Sunayama
Translation: Yumiko Miyagawa
Photos: Kana Sunayama

[Help wanted]
Inviting volunteer staff / pro bono for contribution and translation. Please
e-mail
to us.