ZHU YU – FROM 'FOOD REMAINS' TO 'TEA STAINS'
A tale of how the flow of water drains away with it the flow of time.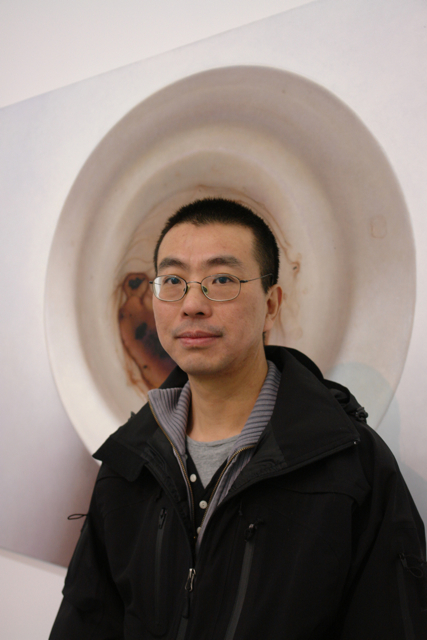 The long and distant journey
is packed with yesterday's dreams and the sound of far-off laughter
How many paths have we crossed in order to meet here, once again?
You're no longer the same old you, following the same old dreams with fire and passion
And I'm no longer the same old me, ready with the same old smile
This is a tale of how the flow of water drains away with it the flow of time
Changes a person
Just like the first, untainted spring you remember, ever sentimental in your memories
Artist Zhu Yu, who took 2 years to complete his series entitled 'Tea Stains', fully unveiled his works for the first time on 3rd April 2010 at Long March Space, located in Beijing 798 Art Zone. Almost immediately, the sepia-tinged memories of a more carefree era floated irresistibly to the front of my mind in an amorphous swirl, which were captured perfectly by the melody of the popular 80s Taiwanese folk song mentioned above. Infused with nostalgia and a sense of reminiscence, Zhu Yu's work resembles the song in the way it attempts to retrace and recapture the traces left by time.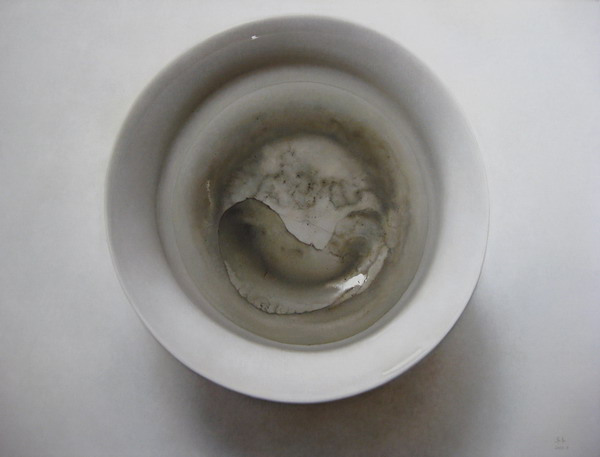 It's been 3 years since the public last saw Zhu Yu's work. In the summer of 2007, his series of works entitled 'Food Remains' was exhibited, and its unprecedented nature unexpectedly propelled the controversial artist back into the public spotlight. His paintings, though calm, still and silent in the way they depicted leftovers on stark white plates, spoke volumes and fired the imagination of the viewers with its outstanding sense of character and indescribable profundity in its meditative reflection on the state of things. Even though they were merely food remains, the objects brought with them a surprisingly rich visual experience. The scattered fragments of colour also managed to conjure up a mysterious sort of poignancy. Apparently, Zhu Yu was attempting to combine the ethereality and tranquillity of the pictorial style used by scholars in the Song and Yuan dynasties together with the realistic techniques of Western painting, which closely mimics reality. Personally, I think the clash of these two artistic visions creates a still and silent epic which leaves a lingering impression in the mind. Compared with 'Food Remains', the grey tones used in 'Tea Stains' lacks the complexity and vividness of the colours used in 'Food Remains', but actually better conveys the shadows of time and memories. Within Chinese contemporary art, the characteristics of an artist's style and the concepts behind his works are very often defined by the technicalities of visual art. Zhu Yu's artistic choices mean his works contain a complete series of clues that hint at the remnants of memory and expression. From 'food remains' to 'tea stains', his complete series of works not only highlight his pursuit of simplicity through the use of colours, but also uses food to display human experiences and history.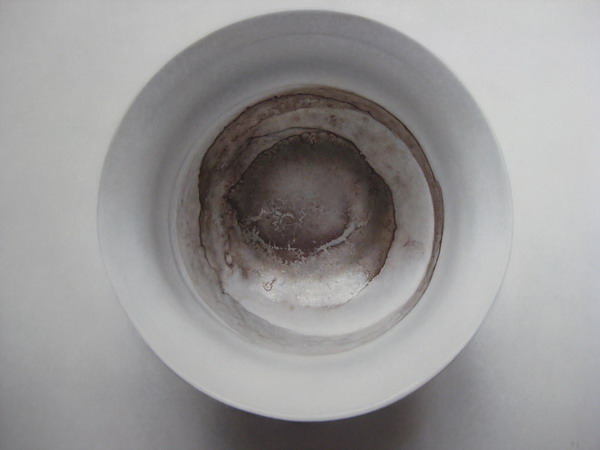 The clamorous din of modern life often perplexes us, yet at the same time, it also allows us to retrace our steps and discover the pace in life at which we wish to walk. We find our equilibrium through our own experiences, ideals, fantasies and realities, combined with what we take away from our emotional experiences of art. Zhu Yu's 'Tea Stains', with its focus on grey tones, may actually become a mirror to our lives. Perhaps the mottled stains of tea, left glaringly behind after we finish the drink, reflects the human fear that as the layers of our lives are slowly removed and we start to approach the remains of the day, we might only be left with stains both twisted and unrecognisable.
Yet it is precisely these stains that most beautifully render our inner states of being and the deepest, darkest recesses of our souls. The countless, endless quirks and imperfections and battle scars, left behind by the process of growing up and the constant ups and downs of life from which we fall and recover.
A tale of how the flow of water
drains away with it the flow of time
'Tea Stains' surprisingly becomes the noiseless spectator who archives precisely this tale.
Credits: The lyrics used in the text come from the song, 'Guang Ying De Gu Shi'. Lyrics and melody written by Luo Da You. Sung and performed by Zhang Ai Jia.
Zhu Yu Solo Exhibition – What on Earth Is That?
Date: 3rd April – 16th May 2010
Place: Long March Space
Address: 798 Art Zone, No. 4 Jiu Xian Qiao Road, Chao Yang Zone, Beijing
Tel: +86 10 5978 9768
http://www.longmarchspace.com
Text: Ralph Yuu
Translation: Bonnie Oeni
Images Courtesy of Long March Art Space
Text: Ralph Yuu
Translation: Bonnie Oeni
Photos: Courtesy of Long March Art Space

[Help wanted]
Inviting volunteer staff / pro bono for contribution and translation. Please
e-mail
to us.