The music industry has changed in the last 10 years. Perhaps the main difference is due to the digital distribution, in legal or illegal ways, the result is turning out to reach a wider audience and more bands becoming more popular. Lots of bands are glad to see how more people can get to know the band and eventually see them live. Live music gets stronger, people love to hang out for a good gig, even more if you easily can listen to it before or if someone that you trust recommended it. In fact if the gig is for free or if it is quite cheap entrance fee, you probably will follow your friends. How amazing is that? Get the opportunity for free or with at least a very nice price to see interesting up & coming acts, more or less well-known for the most demanding audience. You wonder now, is that possible? Fritz´s Corner is a non-profit organization in Stockholm that since the last decade makes this possible and much more.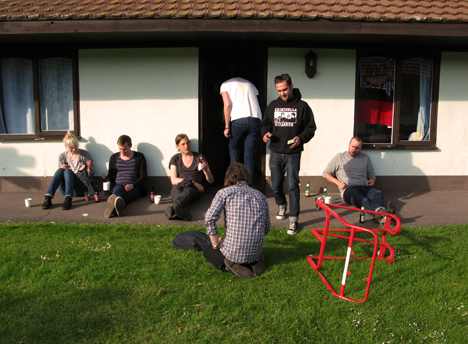 How did the project start?
Fritz's Corner started in 1997 by Henric Sandgren among others at an old sqash hall at St Eriksplan in Stockholm.
What does Fritz's Corner mean?
"Fritz's Corner" was a favourite song of Henric's back in 97, with an american band called Local H.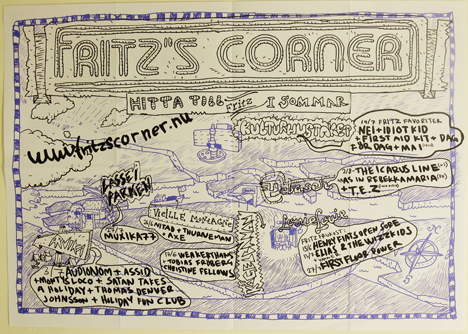 How many people is involved with Fritz's Corner?
We are a non-profit organization, we have a board concisting of 8 people, 2 people that works at the office with production and booking, then we have around 20 more or less active friends who help out at shows and other things.
Is it the same team that has been working from the beginning?
It's not the same people who started Fritz's Corner who run it now, we elect new people in to the board from time to time. I guess thats one of the reasons thet we've been around for more than 10 years, we get new people involved with the club.
You are a non-profit music association and the gigs you offer are often free or small fee entrance. Which are the key factors that could make this happen?
We have a good reputation in Stockholm, and a lot of people come out and support us, and wants to see the bands that we put on. So we have a large following that makes it easier to fill venues, and make it possible to make the shows break even. As we are a non profit organization our goal isn't to make that much money. As long as we break even and put on great bands, we're really happy! We don't get much funding from the government, so the government support it's not that big of a factor for us when we do shows..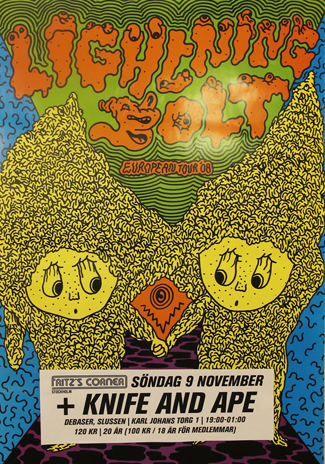 Do you think the government in Sweden has a good approach and gives support to the music industry?
Hmm, actually no. Other cultural industries, such as theaters, operas, museums get more attention and funding than the live industry. I think maybe that local people probably go to more live music shows than museums for example.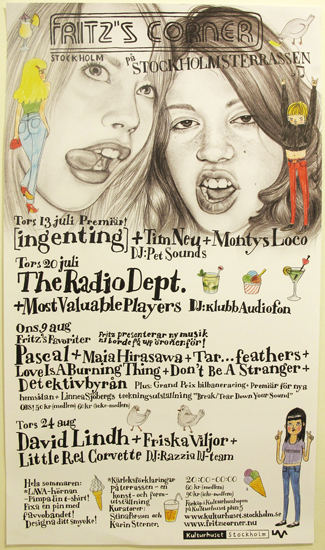 You do different venues. Please explain me a bit what is what and if you are planning to continue with such structure or change to different ones?
We do shows at Debaser Slussen, a 500 cap room on Saturdays, then on Wednesdays we do shows at a smaller venue, Lilla Hotellbaren. At Debaser we book bigger bands, often foreign acts. It's cool to have different opportunities to put up different show, a band that plays on Lilla Hotellbarens smaller stage, might not work that well at Debaser Slussen, and vice versa. We do shows at other venues as well, we try to do bands where we think they suits best, and they do a better show. And the dates that the bands are avaialble doesn't always fit in our Wednesdays or Saturdays.
Which are the main sources for you to get to know new and upcoming bands?
Friends, blogs, music media in general, bands who recommend their friends, demos and myspace-links we get sent, and so on..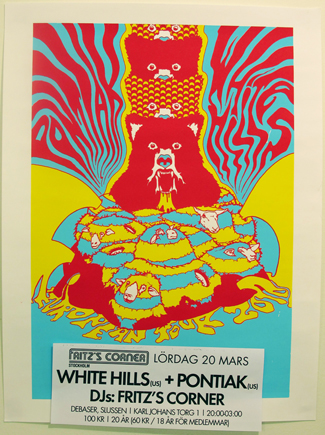 How important is it for you to promote Swedish bands?
It's important, as Sweden have really good and interesting bands. We feel that our audience want to see a diversity of different acts.
Have you ever booked any band just with a demo released?
Sure, we book bands that we feel are interesting and good, and want to see ourselves, a new band with only a demo out are in many cases more interesting than other more experienced acts.
How is to your opinion the current scene in Stockholm/Sweden?
I think that the scene in Stockholm is better now that the last couple of years, there are more diverse venues for bands to play!
Do you manage gigs/tours out of Stockholm or out of Sweden?
No, not really, we do help foreign bands to get in touch with other venues in Sweden and so on. But not really as a booking company.
Do you have freedom enough to select the bands that you are interested in?
Yes!
Do you combine any other projects with Fritz´s Corner?
We're doing some things outside the normal shows, we help with Nordic Venues, an music industry summit during the fall, last two years it's been in Stockholm. And we also do the production for the Manifest Awards (the indie awards in Sweden).
There are lots of great bands who have played at Fritz's Corner. I bet is hard to pick up something in particular but perhaps do you remember any interesting anecdotes that you would like to share with us?
Oh there are several funny and interesting stories, for example when Babyshambles played with the Black Lips for a case of beer, and Peter Doherty trashed the stage or when MSTRKRFT demanded pepperoni pizzas to be delivered up on stage during their set.
What´s the plan for 2010 and next year. Is it any important improvement in mind that you would like to share with us?
We're really unsure how long Debaser Slussen is open, they're renovating the area, so we'll see what happens there. A lot of things are in the plannig stage, people just have to keep their eyes peeled.
Text: Victor Moreno

[Help wanted]
Inviting volunteer staff / pro bono for contribution and translation. Please
e-mail
to us.