AZITO is an online gallery which brings the hottest contemporary Japanese artworks to the international scale. By collaborating with Japan's leading galleries and artists, AZITO makes these works readily available for purchase online. And with new arrivals every month, this is truly your personalized insight into the thriving world of Japanese contemporary art.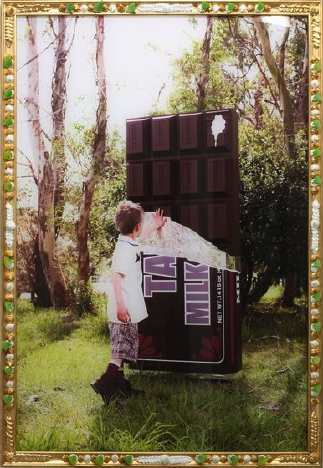 "Chocolis" by Tetsuya Tamanoi
AZITO is pleased to introduce the cute but scary photographs by Tetsuya Tamanoi and the fashionable collaged artworks by Kosuke Tsumura.
Like a child's imagination coming true, Tamanoi's debut photo series explores what happens when two of his favorite things – candy and horror movies – become one and the same.
The effect is addictive. Tapping into a person's instinctual delight, as well as sense of humor, one cannot help but find that these images seem to speak to the "id"; and, not unlike a sugar rush, the urge to have more is almost compulsory.
Tetsuya Tamanoi was born in —- and is a visual artist and graphic designer, with an impressive client roster. His technical excellence is due, in part, to his past experience as a sculptor in Takashi Murakami's Kaikai Kiki studio, where perfection is the norm. However, Tamanoi's sense of humor and fantasy is all his own.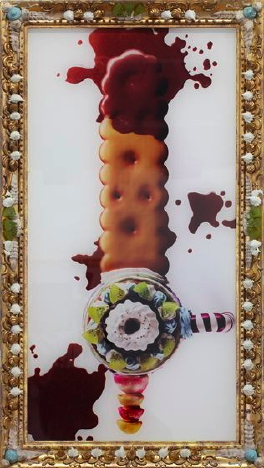 "Chengo" by Tetsuya Tamanoi
In "Chengo", Tamanoi has designed a cookie-chainsaw. Rendered with the drama of bloodshed, this image captures an ironic humor; made even more explicit by the cute gumdrop accents of the custom frame.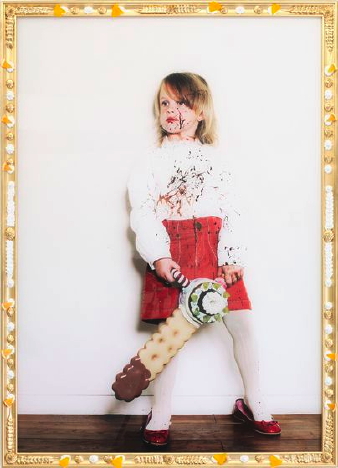 "Chengo" by Tetsuya Tamanoi
And in "Chengo" with a girl, Tamanoi captures the menacing effect of that very chainsaw, as a young blond child leans nonchalantly against a wall, blood-spattered and candy-chainsaw in hand. It is at once horrifying to imagine that the child could have committed such a repulsive act of violence; or what could happen if a child-like unawareness of consequence turns into senseless bloodshed. The toy-like aspect of the candy-chainsaw is both humorous, yet makes the image all the more disturbing; although any blood shed by a cookie-gun has no bearing in reality, the violence comes to life in the child's imagination via Tamanoi's image. It illustrates the cognitive dissonance of a child's sweetness turning into aggression.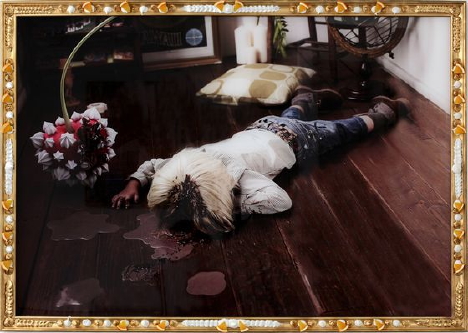 "Chulebu" by Tetsuya Tamanoi
"Chulebu" is rendered like a still from a horror film, the aftermath of violence. A figure lays prostrate, with chocolately-looking blood spilling onto the floor. It captures the true essence of this series: what can happen when you get to live out your fantasies? The delight and humor of finding out the absurdity of our interests…and how they define us as individuals.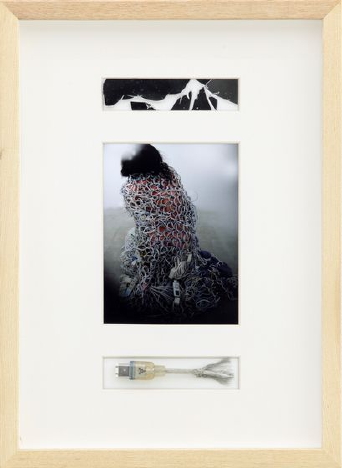 "code blanket record1" by Kosuke Tsumura
Next up is the artworks by Kosuke Tsumura.
By its very nature, collage is a medium which evokes the many possibilities of texture, purpose, and presence. Composed from photographs and original artworks, Kosuke Tsumura's distinctive series, entitled "Code Blanket", "Code Lace" and "Dragonstole", further stretches the possibilities of the two-dimensional surface by wrangling together fashion pieces with the artistic mediums of photography and collage; hand-craft with digital technology; and photographs with their respective objects.

"codelace record2" by Kosuke Tsumura
In the pursuit of creating a new code through traditional craftwork, Tsumura hand-knits cables, cords, and other tough industrial pieces like wires into purely aesthetic objects. Turning away from their developmental, mechanical functionality of their raw parts, these fashion pieces are valuable for the artistic attention given to them.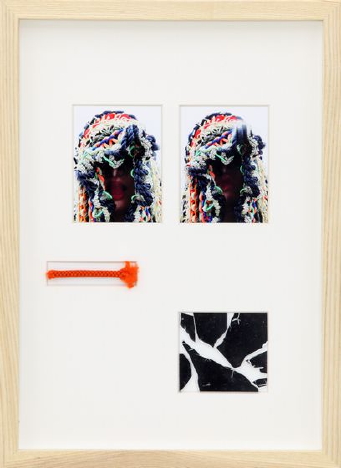 "dragon stole record2" by Kosuke Tsumura
A celebrated fashion designer with an impressive roster of contemporary art awards, Kosuke Tsumura plays up his artistic sensibilities freely, seamlessly combining his hand-crafted objet with other media. By directing the composition of the photographs, as well as the final collage, Tsumura also plays numerous roles as artist cum designer.
The medium of collage serves a platform for showcasing the many processes of Tsumura's artistry. As the art object is encased in raw form alongside its glossy photographic renderings, Tsumura sets up an interesting twist in visual processing: the present version of an object is realized simultaneously to its artistic history, as if to hint at an evolution of expression, unique to his visions of dreamy new codes.
All works are available on AZITO.
AZITO's partner gallery for this project: Mori Yu gallery, Nanazuka Underground
Text: Teriha Faye Yaegashi from AZITO

[Help wanted]
Inviting volunteer staff / pro bono for contribution and translation. Please
e-mail
to us.