The event "Roppongi Art Night 2010" illuminated Roppongi for 2 days on 27th and 28th of March.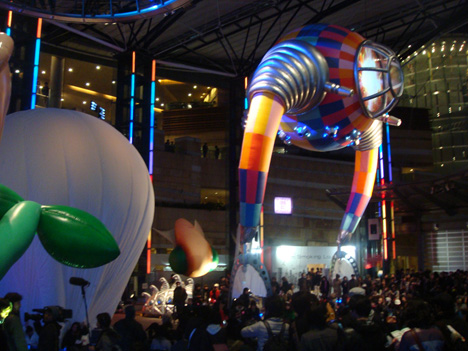 "Roppongi Art Night 2010" created an unusual space in Roppongi by integrating various works of art, design, music, film, performances and dances. These various elements took place at mega-complex areas such as Roppongi Hills and Tokyo Midtown, Mori Art Museum, Suntory Museum of Art,21_21 DESIGN SIGHT, and The National Art Center, Tokyo as well as local areas such as Roppongi Shopping Street and public spaces in the district of Roppongi. The theme for this year's event was "Dream Town" with many venues opening during the "core time" from sunset on the 27th until sunrise on the 28th for this exciting one-night art event.
The town of Roppongi was transformed into an open-air museum where you could fully enjoy a wide range of art events. You would need to check out the schedule prior to the event , if you wanted to enjoy as many events as possible. You wouldn't want to miss your favorite shows, and also some events allow a limited number of visitors.
One popular show was a live painting performance by artist Hiraku Suzuki x Shing02, an energetic Japanese lyricist and producer who works in both California and Japan. Prior to the starting time at 11pm in the Mori Art Museum, there were lines of people in front of the entrance. And soon after the door was opened, the show space was fully packed. First Shing02 started his live show and Hiraku Suzuki followed to the music to do live-painting.
Along with Shing02's sound, Hiraku Suzuki brought a sense of united atmosphere by his painting on a piece of paper over 4-meters long laid on the floor.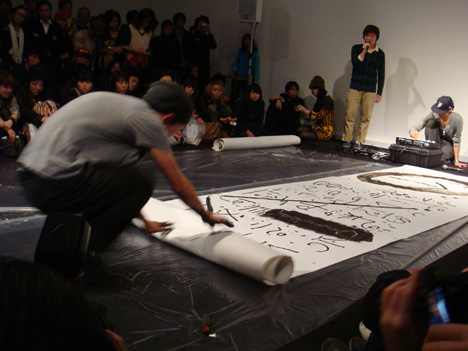 Soon after finishing the painting, Hiraku rolled up the paper, so we only had a few moments to see the finished art piece, which might be a part of his performance.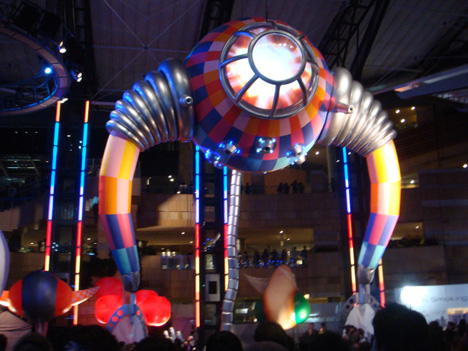 One of the biggest installations was this giant monster that appeared in Roppongi Hills Arena. Last year we saw "Giant TORAYAN" by Kenji Yanobe. For this year, the 13-meter-high symbolic piece "Before Flower" by Noboru Tsubaki took over the town of Roppongi. Other highlights were talks and performances held every hour.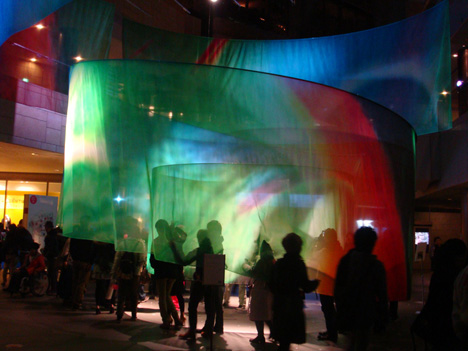 At Roppongi Hills, there were many interactive installations using sound, light and film. The "Aurora '10 Roppongi" by Takefumi Ichikawa was an installation utilizing semi-transparent fabric and painting, which you can see through from inside or outside.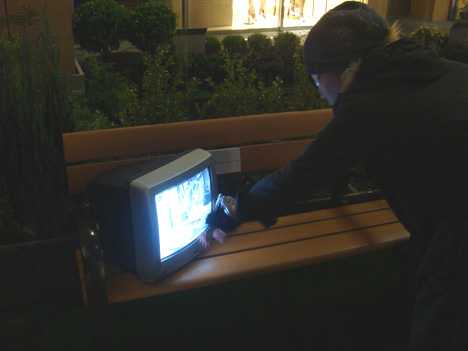 There were interactive art pieces everywhere in town. One of the 'Roppongi as art gallery!' programs was Kohei Asano's "Can Paths in Roppongi", an interactive art piece which you can communicate with the stray cats of Roppongi using video cameras and screens.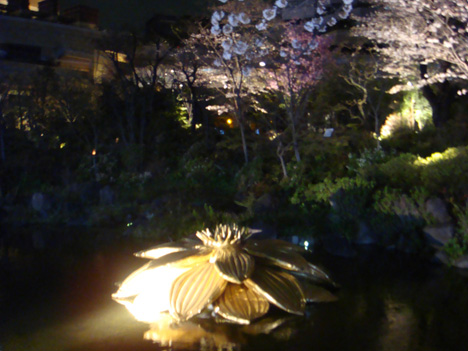 Korean artist Choi Jeong Hwa showcased a big lotus flower, brilliantly bloomed on the water at Mori Garden, along with cherry blossoms in full bloom for the night of Roppongi.
Mori Art Museum was full of visitors, as visitors could get in with 500 yen admission fee, only from 12am until 6am. Even outside of the museums, there were many people enjoying the art night in the town.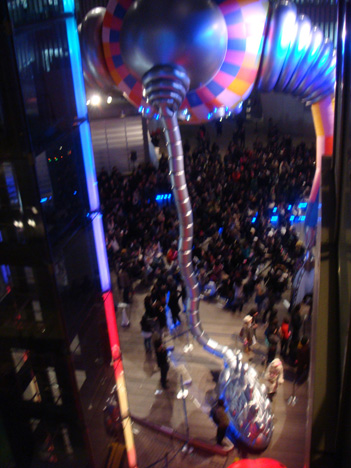 In one night, more people came to the town at midnight and even early in the morning than as usual. It might be because Roppongi is known as a sleepless town in Tokyo. During the art event, it seemed like the whole town looked more revitalized than ever. This report was focused on happenings at Roppongi Hills, but there were many more things going at 21_21 DESIGN SIGHT, Tokyo Midtown, and other venues. Can't wait to see more evolved art night next year!
Roppongi Art Night 2010
Date: March 27-28th, 2010
Place: Roppongi Hills, Mori Art Museum, Tokyo Midtown, Suntory Museum of Art,
21_21 DESIGN SIGHT, The National Art Center,Tokyo, Roppongi Shopping Street, public spaces, participating shops and restaurants in the Roppongi area.
Admission: Free (Some exhibitions and programs are subject to fees.)
http://www.roppongiartnight.com
Text: Kayo Tamura
Translation: Mariko Takei
Photos: Kayo Tamura

[Help wanted]
Inviting volunteer staff / pro bono for contribution and translation. Please
e-mail
to us.