The Danish duo, The Raveonettes hits the road again. "In And Out Of Control" (Vice/2009) is their 4th LP if we include "Whip it on" as their EP debut. After an European tour to introduce the new album the will be back in the U.S to play in the desert of Coachella and also in Mexico for a myspace show. We hold of them somewhere between Spain and Germany to talk about the past and how things has developed so far. They are currently looking for a label in Japan and they did a cover song for Dr, Martens 50th anniversary.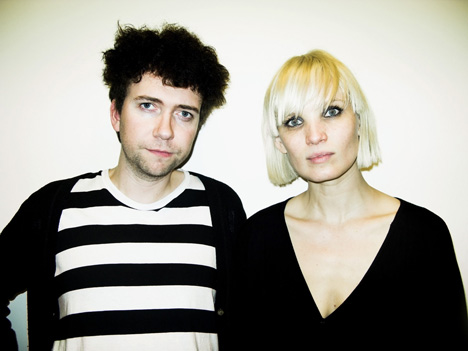 How did you start the band?
We met in Copenhagen back in the late nineties through mutual friends. Then started playing together in 2000 and released whip it on in Denmark in 2002.
Then and now, how is it in Copenhagen when you aim to play in a band?
Denmark has good financial support of culture, that is the very positive thing. The difficult part can be finding your audience with music that is more alternative since there is only 5 million people altogether. So we had an urge to seek outside of Denmark and have lived in London, New York and Los Angeles for the last 8 years.
You both are currently living in different cities, aren´t you?
Correct.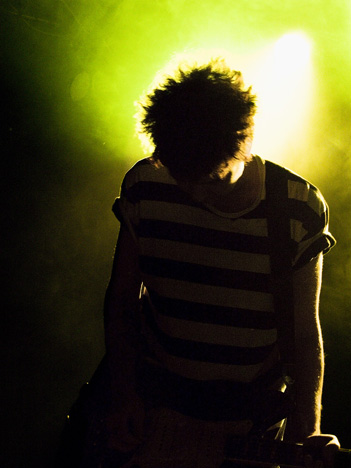 I do understand mp3 is an important facet into your workflow.
Yes. We email sound/music files back and forth and add to recordings that way. But we also meet up a lot, either in NYC, Los Angeles and Copenhagen.
Where is the rehears usually based?
We have a space in Brooklyn.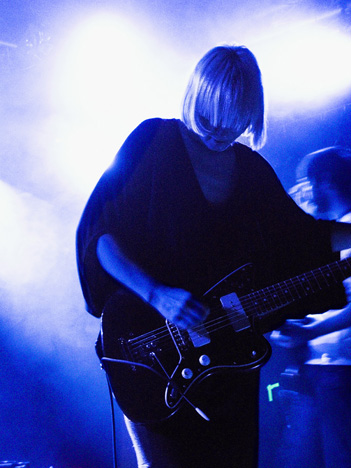 What have changed in how you record between "Whip It On" (2002) to "In And Out Of Control" (2009)?
All our albums have been different. "Whip It On" was recorded in a studio that we borrowed at night when there were no sessions. So we could get it for free. "Chain Gang of Love" was recorded at home and all the vocals done at a big fancy studio in NYC. "Pretty In Black" was done at an even bigger residential studio close to Woodstock. More of a traditional production. "Lust lust lust" was done completely low-fi at home in NYC, LA and Copenhagen. And this last one was done in our producers studio in Copenhagen. But kind of a big production done fast and spontaneous so it has a very low fi approach and attitude but with many layers.
Do you usually work with the same music producer or do you like more to change on every occasion?
We have mostly recorded without [a producer]. Richard Gottehrer has been collaborating with us but has been more of a supervisor. Thomas Troelsen who produced this last album is probably the one that has had more of a producer role, deconstructing The Raveonettes.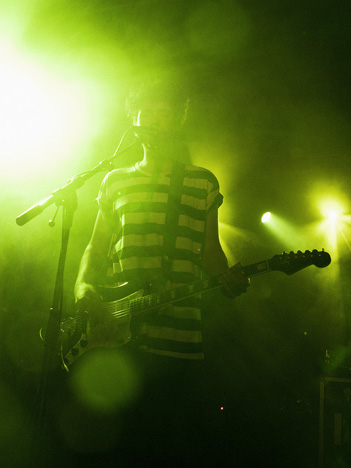 Have you recorded in both Europe and U.S?
Yes, and most albums are done in both Europe and the US.
Is it interesting for you the idea about to produce other bands?
For Sune yes, for me no. (says Sharin).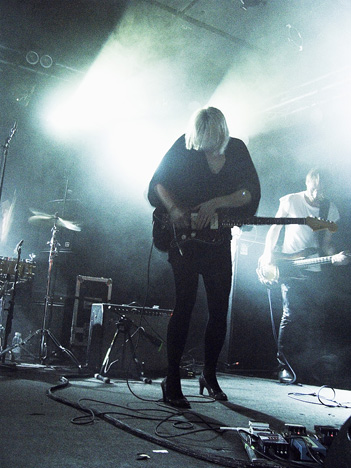 Lyric wise, is it both of you involved?
No. Sune is the songwriter and lyricist.
What is inspirational for you?
Art, literature, friends and foes, stories and destinies that we come across.
The band usually tour with the same musicians?
It changes. Sometimes we play as a duo, sometimes, trio, quartet. The most we have been is 5 people on stage.
The tour with Depeche Mode I bet was a big step for the band. Could you please brief me a bit how it was that experience?
It was an incredible experience. It was flattering that Martin Gore and Dave Gahan both were fans of our band and then it was a great learning process to try and translate our music to such huge venues. I have very fond memories of the tour. We also played with them again recently in Mexico City which was the largest venue we have ever played.
We still stay in touch with Martin Gore.
Few things hat grabbed your attention during that tour?
Well mainly the magnitude of everything. And we had an interesting realization that the more intimate songs worked better for us in the large scale show.
I remember to see a picture of you at the bullfighting arena in Madrid watching Depeche playing.
Oh yes I remember that! It was such an incredible space, so beautiful. And I remember the production ready to kill themselves for how difficult it was to work in that bullfighting arena.
Have you ever played in Japan?
We have only played in Japan once and that was at the Fuji Rock Festival. It was probably on our top 3 best show experiences ever. And I am personally very fascinated with Japan. But I have no idea why we have never been back. We really want to, but I guess we haven't had the offer or interest. We want to find a label in Japan!! If do you know someone get in contact with us through twitter.com/theRAVEONETTES or something.
Text: Victor Moreno
Photos: Victor Moreno

[Help wanted]
Inviting volunteer staff / pro bono for contribution and translation. Please
e-mail
to us.